Photo Credit: Lazy Otter Charters
It's easy to see a glacier if you're in Anchorage. Within just an hour or two (quicker by plane!) of Alaska's largest city, you can be looking at some of the most dramatic glacier scenery in the state.
Jump to: South of Anchorage | North of Anchorage | Winter
From Anchorage: By Air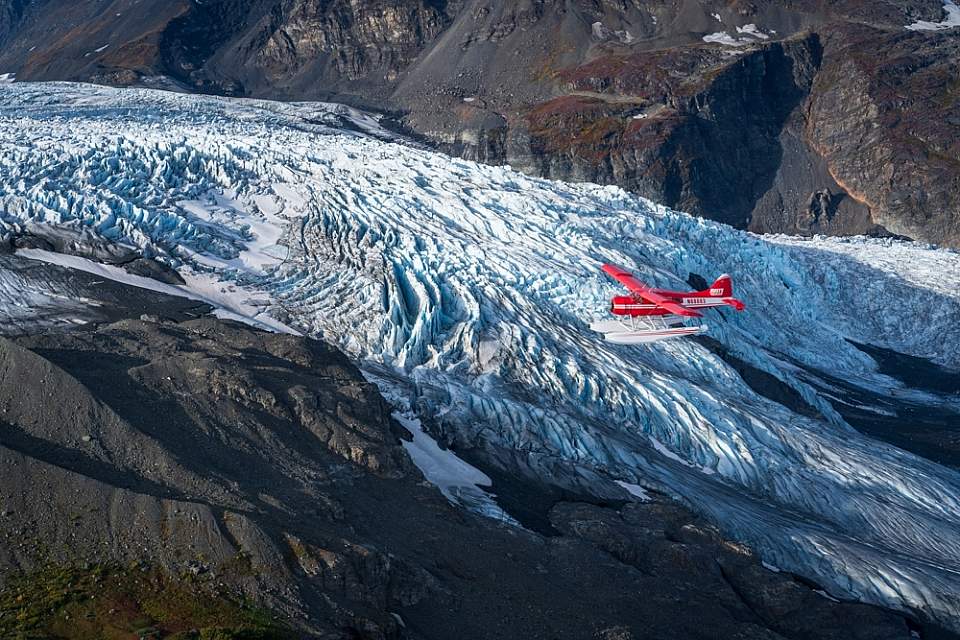 The quickest way to see a glacier from Anchorage is to hop in a plane or helicopter, and soar over the sweeping glacier landscape. You'll get a true sense of how enormous these rivers of ice are, and will be able to see all the amazing crevasses and features from above. Tours will fly to the nearby Knik Glacier or Lake George, or over Prince William Sound. This is a great option if you're short on time, but the price tag is higher than a tour by boat or other means. Still, flightseeing is worth it if you can swing it.
South of Anchorage
There are three areas south of Anchorage you can go check out a glacier, and they're all doable as a day trip.
Portage Glacier
The closest is Portage Glacier (1 hr), where you'll take a small boat up to the face. You can also stop into the Begich Boggs Visitor Center. This is another great option if you're short on time, but don't have the budget for a flightseeing tour.
Getting There: Drive or arrange for a bus transfer when you book your boat tour

Whittier: Prince William Sound
Whittier provides access to Prince William Sound. Here you'll find the largest concentration of tidewater glaciers in North America. You can see them on a day cruise, jet ski, or kayaking trip.
Getting There: You can drive, arrange for a bus transfer with your day cruise, or, travel on the Glacier Discovery train.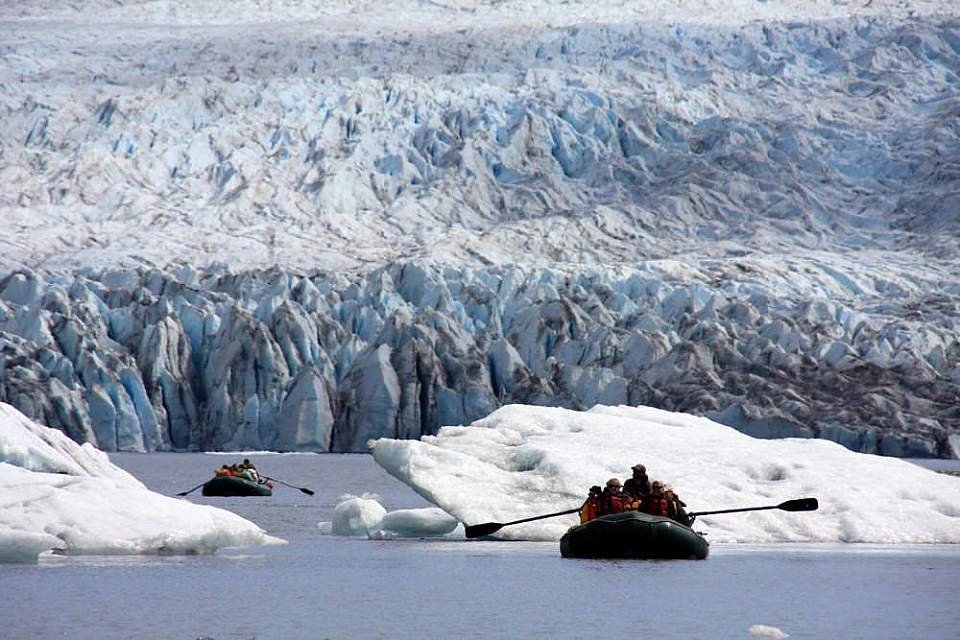 Spencer Glacier
In summer, Spencer Glacier is only accessible by railroad! Once there you can walk the trail down to the lakefront, or opt for a tour that gets you closer, which is what we recommend. You'll raft or kayak among the icebergs that have calved into the glacier lake.
Getting Here: Glacier Discovery Train
Seward: Kenai Fjords National Park
Seward is the furthest from Anchorage, but still makes for a great day trip from Anchorage. Here you'll take a day cruise or kayak into Kenai Fjords National Park to see glaciers and wildlife. Or, you can opt for a hike to see (or walk on) Exit Glacier.
Getting Here: Drive 2.5 hrs from Anchorage, travel by motorcoach, or ride the Coastal Classic train (4.5 hrs). Both the train and the motorcoach schedules align perfectly to take a day cruise and return to Anchorage the same day.
North of Anchorage
Knik Glacier
Not accessible by road, you'll see the Knik Glacier from a rowdy and fun ATV tour, or from above by helicopter. You can even land on the glacier and go dog sledding!
Getting Here: Drive 45-minutes to the Palmer / Wasilla area for the start of your tour.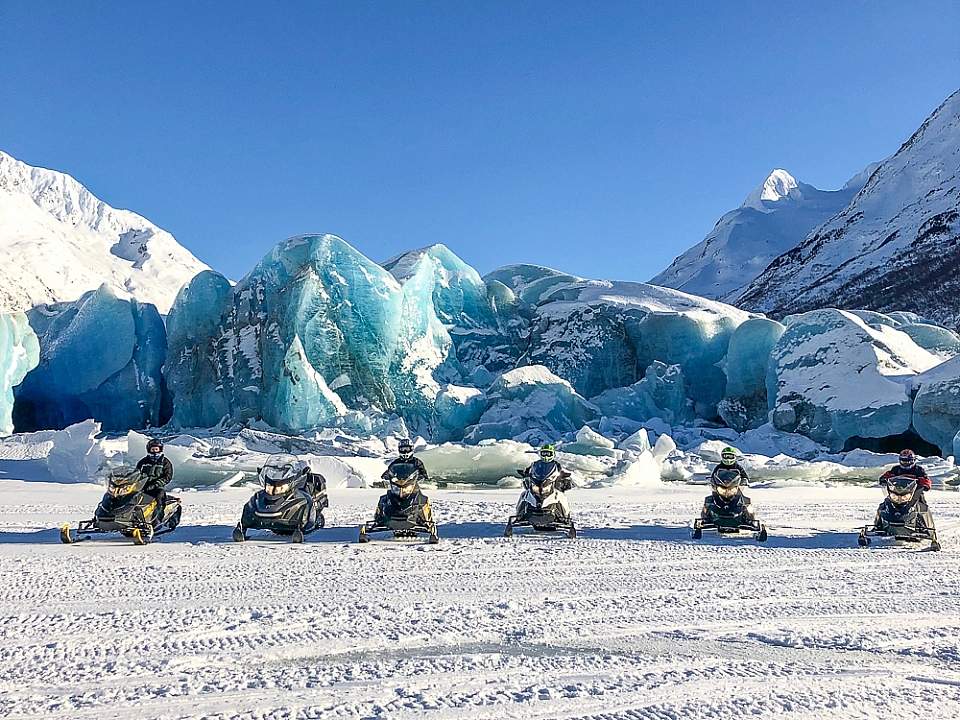 Matanuska Glacier
The Matanuska Glacier is the largest roadside glacier in Alaska. Get up close, and walk across the ice on a guided glacier trek, or for something a little more adventurous, try ice climbing! You can also see it via ATV, or, an aerial view on a zipline ride!
Getting Here: Drive 2.5 hours from Anchorage along the scenic Glenn Highway. Some tours may provide a shuttle.
Winter
Seeing a glacier in winter is not talked about much, but it is possible, and the experience can be pretty extraordinary. One amazing adventure is by snowmobile. Operators based in Girdwood guide visitors to Spencer Glacier, where if conditions are right, you can explore inside the bright blue ice caves! You can also join a guided hike on the Matanuska Glacier. Or, in early winter or early spring, Lazy Otter Charters will do custom charters out in Prince William Sound.