Season: Year Round $329+ 1.5+ hrs
Glac­i­er trekking, kayak­ing, ice climb­ing, and oth­er activ­i­ties are even more spe­cial when com­bined with a spec­tac­u­lar heli­copter ride through Alaska's dra­mat­ic scenery. Thanks to key part­ner­ships with oth­er expe­ri­enced Alaskan tour oper­a­tors, Palmer based Out­bound Heli Adven­tures is able to coor­di­nate seam­less out­ings of a life­time! And, they pride them­selves on offer­ing the most amount of flight time with their excursions.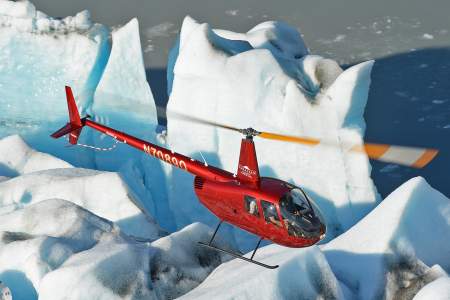 Season: Year Round $429+ 1 hr - full day
For out­stand­ing view­ing and incred­i­ble access to remote places, there's noth­ing like flight­see­ing by heli­copter. Join Alas­ka Heli­copter Tours – a local­ly-owned, high­ly-respect­ed heli­copter tour and char­ter com­pa­ny – for excur­sions that reveal hid­den sites just min­utes from Anchor­age. Spot wildlife from the air, stand on a glac­i­er or land on a remote airstrip.