This bear viewing adventure is all-inclusive and located on private land that neighbors Lake Clark National Park. The camp can hold just 14 people—so compared to bear-viewing trips that can accommodate hundreds of people at a time, this feels like a VIP, front-row experience. Spend 2-5 days in hi-tech "tent cabins" with heat, light and bathrooms, along with gourmet meals, knowledgeable local guides, and spectacular scenery. With over 70 resident bears in 2018, this is some of the most consistent bear viewing in Alaska.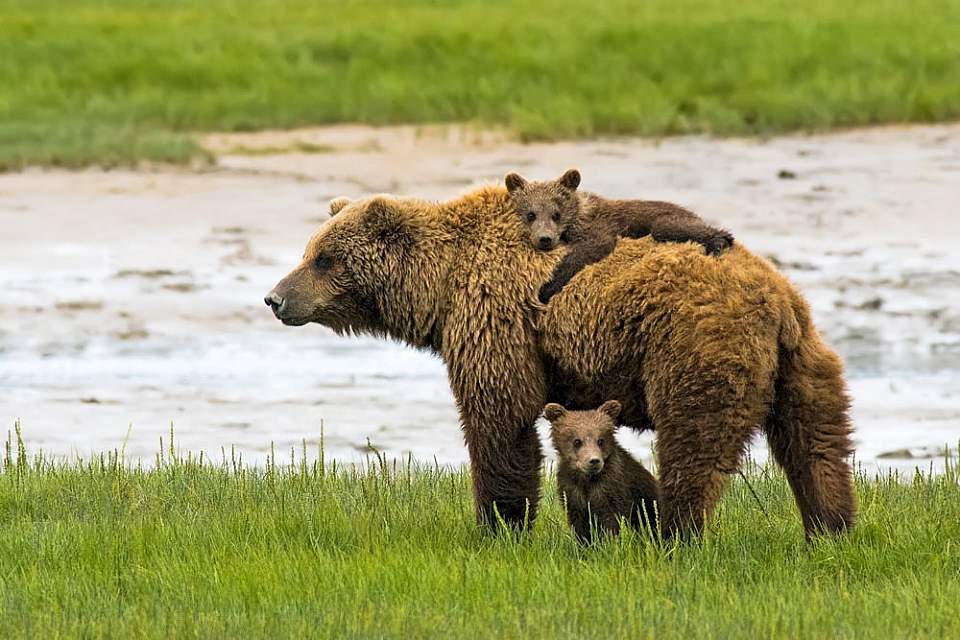 Tour Itinerary
Day 1 - Check-in at Main lodge / Fly to BearCamp, View Bears & Overnight
For no transfers version, please call the lodge the day before your trip to find check in time. We'll confirm the flight schedule for the day and give you a check in time (typically between 8:00 and 12:30 depeding upon tides and other factors). Please be in Soldotna the night before your trip begins, unless you are using our Anchorage van transfer, in which case we'lll pick you up at 7:30-8:00 a.m. Orientation is followed by a flight to BearCamp©, our incredible bear viewing camp in Lake Clark National Park. Following your arrival at BearCamp and a new orientation, you'll spend the afternoon viewing the amazing coastal Alaskan Brown Bear. Overnight in high-tech Weather-Port tent cabins with heater, porta-potty, writing desk, and twin beds. Camp features an electrified fence perimeter.
Day 2 - All Day With the Middle Day(s) Bears of Chinitna & Overnight
(Note: this day applies to any middle days on 3, 4 or 5 day trips). Today is that pearl of a day…in a wilderness Shangri-la with nowhere to go! Wake up to hot coffee and a wash basin of steaming water. After a hearty breakfast, you guides will discuss the best viewing options, then it's off to one or both of our special viewing locations. Watching bears clamming, fighting, feeding or playing are all on the agenda- each time period and season brings it's own unique combination, and every single trip is different. (The Bears begin fishing in the late July/August time frame). A wonderful Lunch and dinner will be served back at the main camp in the dining tent, with evening beach fires (weather permitting) then overnight with the staff of BearCamp.
Day 3 - Morning with the Bears / return to main lodge (this describes your final day, whether a 2, 3, 4 or 5 day trip)
A final day with the bears…you and your guides will perhaps choose another viewing location, walk the beach, and spend the morning in true wilderness beauty with the royalty of Alaskan wildlife.After some morning viewing, it's back to the planes for the trip to our riverside main lodge. No transfers version guests will depart on own after afting at main lodge. If you chose r/t transfers from Anchorage, see below:
PLEASE NOTE: FOR R/T TRANSFERS FROM ANCHORAGE, THERE WILL BE A LAYOVER AT THE LODGE BEFORE YOUR DEPARTURE BY VAN BACK TO ANCHORAGE. If that does not work for your schedule, choose the "no transfers required" version. The "No Transfers" version is complete when you land and are transferred to the lodge and check out- dinner on your own.