Where To Stay in Tongass Nat'l Forest Set­tlers Cove State Recre­ation Site offers two of the best sandy beach­es to be found in the Ketchikan area and pro­vides pit toi­lets and shel­tered and unshel­tered pic­nic tables with fire grates. A camp­ground with eight camp­sites is avail­able as well and one pub­lic-use cab­in on the water that can be rented.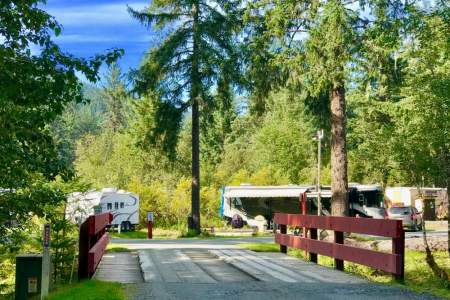 Season: May 1 - Sept 30 $40+
Nalu means ​"wave" in Hawai­ian, and the Glac­i­er Nalu Camp­ground Resort com­bines the stun­ning scenery of Alas­ka with the relaxed atmos­phere of Hawaii. Whether you're trav­el­ing by RV or tent camp­ing, this spa­cious, 12.5‑acre park — sur­round­ed by large spruce trees with a creek run­ning through it — is per­fect for cou­ples or fam­i­lies who want to expe­ri­ence out­door living.