Alaska Salmon Viewing Spots
Best Places To See Salmon
Pacific salmon start returning to Alaska during green-up in May and continue to show in some rivers well after leaves have turned in the fall. Gazing down into a channel jammed with fish may be one of the Last Frontier's most iconic experiences. At the climax of a run, salmon might be arrayed bank-to-bank, like an armada of blushing torpedoes. Further upstream, watching lone fish reach the end of their epic journey can also be awe-inspiring but in a profound and elegiac way. Pairs of decaying spawners swirl and wiggle in crystal water, as females deposit eggs and the males fertilize. Close to death, they have completed one of nature's great cycles, consuming every bit of strength in their primal mission to reproduce in the waters of their birth. From river mouth to feeder stream, the spawning spectacle is always engrossing.
Jump to: MAP | Anchorage Coastal Wildlife Refuge | Indian Creek | Williwaw Fish Viewing Platform | Tern Lake | Quartz Creek | Russian River | Kenai River | Hatcheries | General Advice | All Locations

Most Popular Spots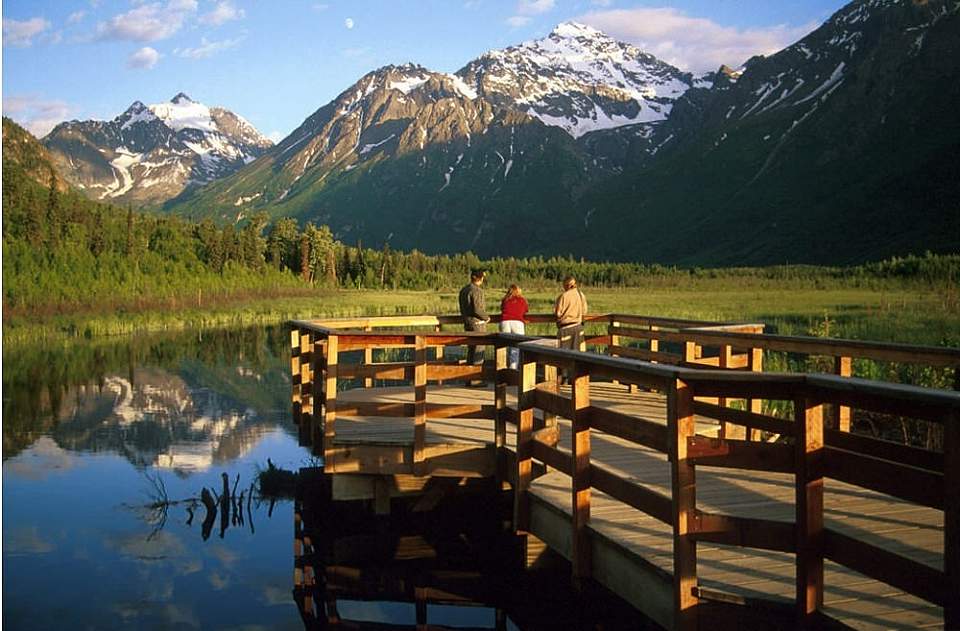 There are literally scores of good prospects, especially in coastal Southcentral and Southeast Alaska. Pick a link that corresponds to your travel itinerary or destination to find possibilities, and then dial in where to go based on run timing.
Anchorage Coastal Wildlife Refuge – Potter Marsh
20 mins from downtown Anchorage along Seward Highway
Here you'll find one of the most accessible wildlife viewing areas in Alaska with a reliable salmon-watching venue. You'll often find fish in clear pools right off the 1,550-foot family-friendly boardwalk system. Take the leg that parallels the highway until you reach the channel of Rabbit Creek, from mid-June on. A great place to see giant Chinooks dominate a pool with lesser fish scurrying out of the way.

Indian Creek along Turnagain Arm
30 mins from Downtown Anchorage along Seward Highway
In a classic display of coastal spawning, thousands of pink salmon converge on Indian Creek each July and August. Almost every rising tide from mid-July through August fills this shallow, easy-flowing stream in a wooded park just off the highway. This amazing natural spectacle occurs in one of the safest places to view spawning salmon in the region: No steep banks, crystal clear water and fish so close they could be touched. Bears visit this place, so make noise as you approach.
Williwaw Fish Viewing Platform in Portage Valley
1 hr south of Anchorage via Seward Highway
Located at Mile 4 of the Portage Glacier Highway at the head of Turnagain Arm, this large deck (handicapped accessible) overlooks classic spawning habitat. A bankside trail also winds into the brush with many overlooks that feel wild. These channels feed Williwaw Creek and were enhanced by the U.S. Forest Service decades ago. Spawning sockeye, chum, and coho salmon arrive in late-July and remain throughout early fall with the best viewing in mid to late-August.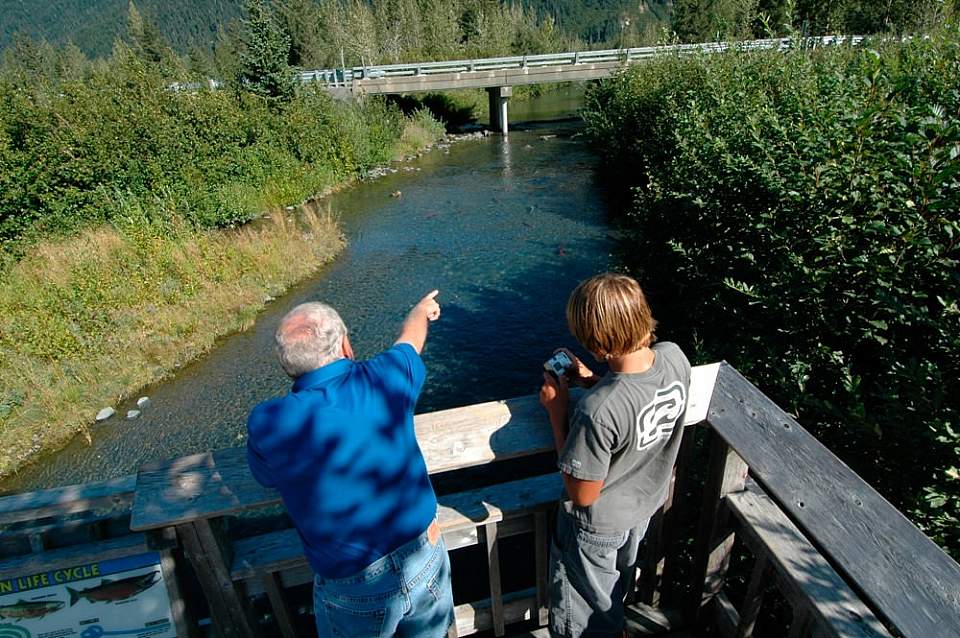 Tern Lake
1 hr 45 mins south of Anchorage on Seward Highway
This productive lake at the junction of the Seward and Sterling Highways about 90 miles south of Anchorage is the final destination for a decent run sockeye salmon. (And a very popular wildlife viewing spot in general.) A day-use picnic area located on the west side of the lake features a wooden deck for viewing spawners in the clear Dave's Creek from mid-July though fall.
Quartz Creek
1 hr 50 mins South of Anchorage on Sterling Highway
To intercept even more sockeyes further downstream, turn onto Quartz Creek Road at Mile 45 of the Sterling Highway and drive two miles into the campground and park near the creek. Angler's trails and overlooks will open a window on gobs of famous Kenai reds that are almost home, from mid-July into August.

Russian River
2 hrs South of Anchorage on Sterling Highway
Russian River & Russian River Falls The crystal Russian River attracts two world famous runs of sockeye salmon—in mid-June and July-August—that draw thousands of anglers every summer. It may be the most productive salmon sports fishery in the state. It's also a great place to see fish. Try the angler's trail below the U.S. Forest Service campground. Or hike two miles to the Russian River Falls, where a deck affords a view of fish leaping up a cataract in a gorge.
Offbeat idea -Kenai River mouth dipnetting harvest
3 hrs south of Anchorage in the town of Kenai
You won't see spawning pairs finning in clear water, but you might see hundreds if not thousands of sockeyes hauled ashore in this annual meat fishery reserved for Alaska residents. When the reds run strong, the scene becomes astounding and raw—almost primeval—as people use dipnets to yank fish from the current and then strike them with small clubs before bleeding, gutting or filleting them on the beach. There's nothing else like it. On a sunny weekend, the beach takes on a carnival atmosphere, with venders, dippers dashing in and out of the water, family groups speaking multiple languages, blood, guts and a couple hundred screaming seagulls. From July 10 to July 31, with peak action during the last 10 days. In Kenai, take Spruce Street to North Beach parking. To avoid congestion, park in the city near the Kenai Visitor Center and walk to the beach down Meeks Trail from Alaska Way.
Guaranteed Viewing – Salmon Hatcheries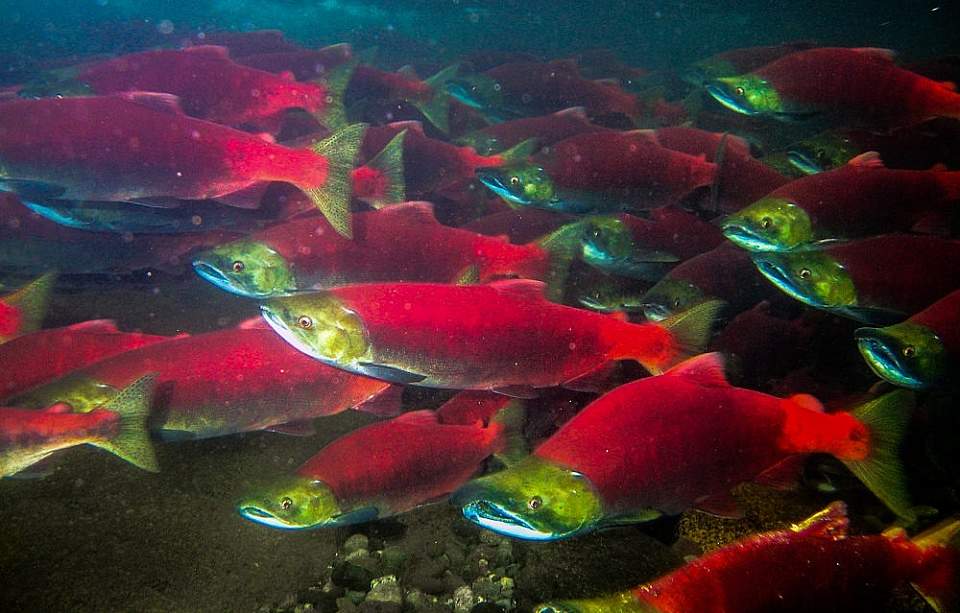 William Jack Hernandez Fish Hatchery
10 mins from Downtown Anchorage
If you want to marvel at the sight of thousands of fish schooling in gigantic tanks, take the self-guided tour inside the state fish hatchery on the banks of Ship Creek east of downtown. The museum-quality observation deck offers intimate views of a complex operation that produces up to six million sport fish each year.
Macaulay Salmon Hatchery
5 mins from Downtown Juneau
The hatchery raises just over 130 million chum, king and coho salmon annually and is designed to allow visitors see the outside operations of an active hatchery. You'll learn about what it takes to raise salmon, the importance of the Alaska hatchery system, and the near shore marine environment that salmon share with other marine life.
Ruth Burnett Sport Fish Hatchery
5 mins from Downtown Fairbanks
The Ruth Burnett Sport Fish Hatchery stocks arctic char, arctic grayling, rainbow trout, chinook (king) salmon, and coho (silver) salmon in the Fairbanks region. All told, the fish produced by the Hatchery provide fishing opportunities for 137 landlocked lakes located within the Fairbanks, Nenana, Delta and Glennallen regions.
Other Hatcheries
Two state-chartered non-profit corporations operate nine hatcheries that release salmon to augment commercial fisheries in Southcentral Alaska. Two are on the road system (Trail Lakes Hatchery and Gulkana Hatchery), with the others located at remote coastal sites. Depending on staff activity level, visitors can sometimes view salmon in all life stages inside these facilities, through open houses or pre-arranged tours. If you're in the vicinity anyway, feel free to call to find out what's possible during your trip.
General Advice
To see beyond surface glare into the depths, consider wearing polarized sunglasses—the same thing worn by serious anglers.
Caution, Bears: Bears love to eat salmon and may be present whenever there are fish. If you're venturing away from developed sites or places with other people, watch for half-eaten carcasses or fresh "bear pies" on access trails. Always follow best practices for hiking in bear country. Travel in a group, make noise and carry bear spray.