The Best Wildlife Viewing Spots in Anchorage
The City of Anchorage may be largest urban area within a thousand miles, but it still supports a full menagerie of its original Alaska wildlife. You might call it a wild city.
Unlike many other populated zones of similar size, the city contains an intact ecosystem with hundreds of wild species thriving in its greenbelts and parks. Biologists say it's the largest metro area in the world with resident brown bears. Along with this iconic "wilderness" animal, the city is home to hundreds of moose and black bears, not to mention Dall sheep, mountain goats, wolves, wolverines, coyotes, lynx and beavers.
The city hosts one of the largest and most savvy populations of ravens in North America. It's home to bald eagles and other raptors, nesting loons and swans, epic migratory travelers like Arctic terns and resident songbirds like black-capped chickadees. An endangered population of beluga whales and harbor seals can sometimes be seen just offshore. And wild pacific salmon spawn in most of its creeks.
Try Kincaid Park at the west end of Raspberry Road for your best chance to spy moose, black bears and resident birds. While brown bears are definitely out there, especially along the creek bottoms in Far North Bicentennial Park, you're probably better off viewing them under safe conditions at the Alaska Zoo and the Alaska Wildlife Conservation Center.
Waterfowl and raptors frequent Potter Marsh in South Anchorage inside the Anchorage Coastal Wildlife Refuge, and is one of the best places in the world to see those stunning black-billed, snow-white trumpeter swans up close. For a glimpse of Cook Inlet's isolated beluga whales, swing by Beluga Point and Bird Point along the Seward Highway south of town along Turnagain Arm. Along the way, pull safely off the highway at Windy Corner at Mile 106. Then look up. Dall sheep often perch on the cliffs just above the highway.
Best Wildlife Viewing Spots in Anchorage
Migratory Birds & Eagles Viewing Spots
Here you'll find one of the most acces­si­ble wildlife view­ing areas in Alas­ka. The marsh is a rest area for migra­to­ry birds includ­ing trum­peter swans, red­necked grebes, gold­en eyes, and pin­tails. Also watch for beavers, moose and bald eagles. You may even spot salmon spawn­ing in the deep­er water.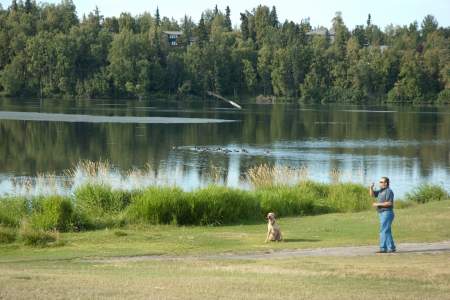 Difficulty: Easy
If you're look­ing for a wild oasis that's just a 15-minute walk from down­town Anchor­age, look no fur­ther than Westch­ester Lagoon (also known as Mar­garet Eagan Sul­li­van Park). One of the city's most pop­u­lar places, this is where locals come to play, as it has some­thing for every­one. You'll find access to great trails and wildlife, as well as year-round activ­i­ties and events for the entire family.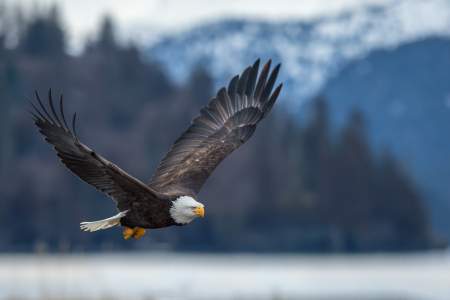 Bald eagles can be seen from just about any high­way pull­out and trail­head along Tur­na­gain Arm, a stun­ning world-class fiord that stretch­es south­east from Anchor­age for almost 50 miles along the Seward Highway.
Beluga Whale Watching Spots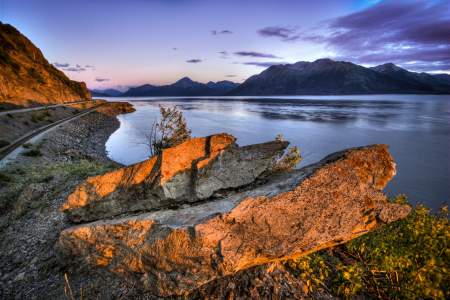 This is a pop­u­lar stop as you trav­el the Seward High­way. Here you'll find 180 degree views of Tur­na­gain Arm with spot­ting scopes and inter­pre­tive signs. Look for bel­u­ga whales rolling in the surf, often seen from mid-July to August fol­low­ing the salmon run. And, try and catch the bore tide, and incom­ing tide that stretch­es the entire width of Tur­na­gain Arm and can be up to six feet high.
Bear Viewing Tours from AnchorageView All
An easy day trip; pick up and drop-off at your hotel in Anchorage. Lake Clark or Katmai National Park
Zoos & Conservation Centers
Season: Year Round $20
At the 200-acre Alas­ka Wildlife Con­ser­va­tion Cen­ter, see Alaskan wildlife up close. The center's mis­sion is to pro­vide refuge for orphaned, injured, and ill ani­mals — those that can't sur­vive in the wild. The cen­ter, which opened to the pub­lic in 1993, edu­cates vis­i­tors about Alaska's wildlife. Coy­otes peer out from behind the brush while a bald eagle swoops in on the salmon remains left by a griz­zly bear. Wood Bison plod through 65 acres of tidal ...more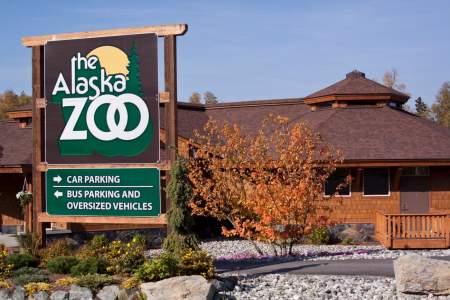 Season: Year Round $17 1.5 - 2 hrs
The Alas­ka Zoo start­ed in 1966 with one baby ele­phant named Annabelle that was won in a con­test. Since then, it has expand­ed to include over 77 ani­mals across 25 acres of the Anchor­age hillside.