Photo Credit: Annie Bender
In one of the most extraordinary wildlife spectacles in Alaska, dozens of moose converge on the brushy upper valley of the South Fork of Campbell Creek every fall during moose-mating season. This annual rut in Chugach State Park draws an amazing number of these large animals into the open, with 20 to 30 antlered bulls and cows often mingling within sight of easy walking just about any day in September and October. It's this no-fuss access that makes the phenomenon so remarkable.
Where Will You Find The Most Moose?
Many animals can be viewed from the shoulder of the wide, gravel Powerline Pass Trail, with several panoramic overlooks into the valley, beginning only about half mile from paved parking at the Glen Alps trailhead of Chugach State Park. The event has become increasingly popular in recent years, too, drawing hundreds of local photographers and wildlife enthusiasts over the course of a given week.
Viewing Tips:
With so many moose and people around, following best viewing practices becomes even more essential. Bulls can react aggressively during the rut!
Bring binoculars and long lenses so you aren't tempted to approach too closely.
Remain at least 50 to 100 feet from any animals, especially if you descend from Powerline Pass Trail into the valley on hiking routes or move off trail into the brush and tundra.
For More Information:
Getting There
View on Map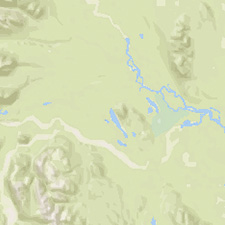 Glen Alps Trailhead
13101 Glen Alps Rd
Anchorage, AK 99516
Take the Seward Highway to O'Malley Road and drive toward the mountains. Follow O'Malley to Hillside Drive and turn south (right if facing mountains.) Turn left (toward the mountains) on Upper Huffman Road. About a half mile up hill, the road forks into Sultana Drive (left) and Toilsome Road (right.) Glen Alps is at the end of Toilsome Road. A $5 fee or state parking pass is required. Outhouses are open all year.
Note: Toilsome Road has a switchback and steep grades, and may require four-wheel-drive and/or winter tires during snowy or icy conditions.
Driving Directions