The guides of Alaska Air Service are specialists in flying visitors to Lake Clark National Park, which they consider the best bear-viewing destination in all of Alaska. While the highlight may be the magical bear viewing, it's just part of an Alaska Air Service experience that's flexible, customized, and unforgettable.
Small Group Journeys in Lake Clark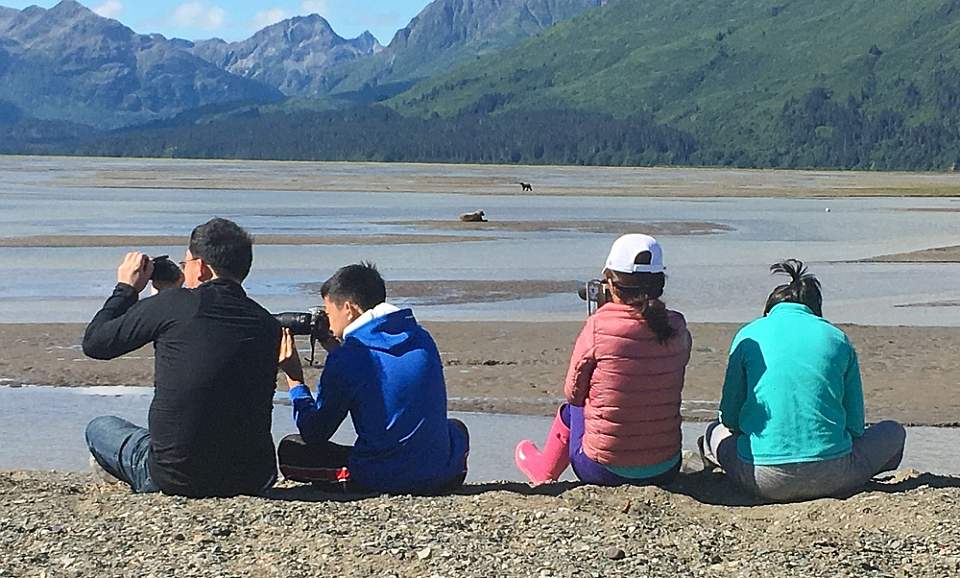 The 6- to 7-hour expedition begins when you take off from Anchorage with an intimate group (there's a 4-to-1 guest-to-guide ratio). Settle into your leather seat and take in the view from your window of shimmering seas and snow-capped peaks. All pilots are local Alaskans, which bring authenticity to their narrative about what you're seeing as you chat over two-way, Bose noise-cancelling headsets.
While many tour operators take visitors to both Lake Clark and Katmai national parks, Alaska Air Service only journeys to Lake Clark, where they're a licensed park concessionaire. You'll start to see why they love this untouched national park as you spend some time flying over its vast 3.5 million acre expanse—including some spots where no human has ever set foot.
You'll land inside the park on a beach or in the grasslands—your first stop to watch bears. With your small group and guide, you'll then have the mystical experience of watching bears in their natural habitat. The wealth of food in this park attracts the giant creatures, and you'll see them grazing on sedge grass, digging for clams, and catching spawning salmon. Thanks to the abundance of food, the bears are tolerant of one another, as well as the humans who come to watch them. All possible steps are taken to respect and help preservation of these animals in their environment.
Then you'll travel, unrushed, to other spots —places like Chinitna Bay, Silver Salmon Creek, Spring Point, or other locations. Few operators include multiple locations, but showing you as much of the park's variety as possible is important to Alaska Air Service.
You'll also go to a great spot to enjoy a catered lunch. Just ask and they can accommodate any dietary needs, like vegan, vegetarian, or kosher.
The pilots of Alaska Air Service have been flying guests for over 15 years; take advantage of their experience and knowledge as you have the day of a lifetime.