Convenient and cozy: This small historic hotel has big rooms, a casual atmosphere, and is centrally located in Anchorage.
Big Hotel Perks, Little Hotel Vibe
A homey atmosphere and just 31 suites make up the intimate Anchorage Grand, and all come with living room, bedroom, and a full kitchen, so it's perfect if you need some space to spread out, or if you want to make your meals. Dark woods and gold give the hotel a formal feel, but the service is low-key, friendly, and personal, creating a welcoming atmosphere. Located downtown, the Grand is within walking distance of the railroad, performing arts center, Saturday Market, and downtown's shopping and restaurants. To really make it feel like home, you'll find fresh-baked cookies made at 3 p.m. every day. And despite its size, you'll find plenty of big-hotel perks, too, such as free high-speed Internet, a business center, and great views of either the city or the Inlet.
Suite Life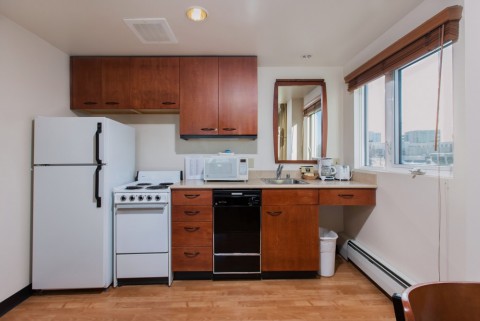 Many guests are drawn to the spacious, 500-square-foot rooms. Inside, you'll find top-of-the-line beds and luxury bedding, sleeper sofa beds, and plenty of elbow room. You can choose from 25 queen-bedroom suites (which offer more privacy with a separate living room, kitchen, and two TVs), four king bedrooms (which have a more open floor plan), or two double bedrooms (2 double beds and an open floor plan). Since the suites feature a full kitchen with dishwasher, refrigerator, and microwave, you'll feel right at home. To make your life even easier, the Anchorage Grand also offers an onsite washer and dryer. Looking to stay awhile? Monthly rates are available.
A Piece of Anchorage's Architectural History
One reason you'll feel at home here is that back in the 1950s, this was an apartment building, and the owners have kept the large rooms and kitchens. It was already a hotel when owner John Wirum, a longtime Alaskan, bought it in 2000, but he still undertook extensive renovations. You might say Wirum had building design in his blood: His dad, a born-and-raised Alaskan, was the architect who designed many of downtown's buildings, helping to shape the Anchorage skyline.