Situated on the shores of Lake Hood, The Lakefront Anchorage (formerly the Millennium Alaskan Hotel Anchorage) is an Alaskan lodge in the heart of the city. Anchorage's only lakeside hotel, The Lakefront Anchorage provides first-class lodging with a unique Alaskan twist. Polar, Kodiak, and black bears decorate the lobby with an extensive array of mounts and Iditarod memorabilia- walk in the front doors to a slice of Alaskan wilderness. Lake Hood provides the world's busiest floatplane base; the floatplane action set against the majestic Chugach Mountains makes for an unbeatable view. Newly renovated deluxe rooms feature comfort and convenience, equipped with pillow-top mattresses, refrigerators, and coffee makers. Amenities include a tour desk, seasonal downtown shuttle service which also extends to the train station, storage space, brand-new event space, fitness center, business center, and more. 1 mile from the airport and ten minutes from downtown Anchorage, The Lakefront is the perfect place to start or end your next Alaskan adventure.
Dinner With a View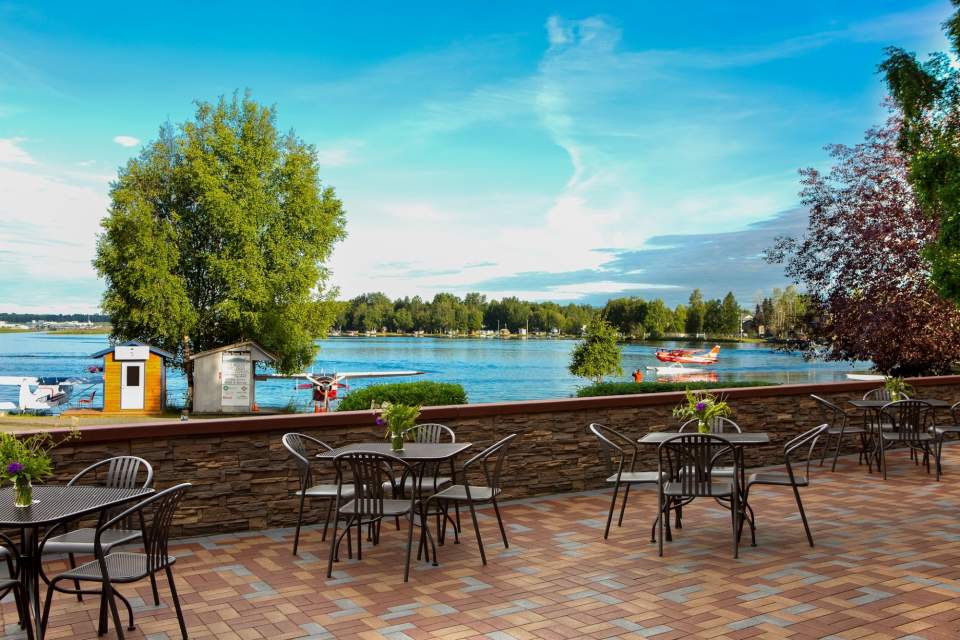 Looking for a good view of the Alaskan scenery? Walk no further than any of the three restaurants overlooking the lake. Stop by the Fancy Moose, the gastro-pub and local favorite, for pub-style Alaskan fare including award-winning seafood tacos or the famed bison burger, washed down with a large selection of local brews and specialty cocktails. In addition to the indoor bar, The Lakefront Anchorage features a seasonal outdoor seating area, The Deck at Lake Hood, with the only lakeside dining in town. The Deck offers weekly featured cocktails with special events and celebrations all summer long, including the Annual Beer & Bacon Festival in August. For a fine dining experience, step into The Flying Machine Restaurant, an upscale Alaskan bistro charmed by Alaska's rich aviation history and breathtaking views. Pair your fresh Alaskan seafood and succulent steak with the extensive wine list. Whether you choose a three course meal, or simply stop by for a beer, you will dine along sweeping views of Lake Hood. With the private floatplane dock as the cherry on top of your meal, you can sit back, relax, and watch the floatplanes come and go….
Up, Up, and Away
Of course, if you want to get a bit closer to those mountains on a flightseeing, fishing, or hunting excursion, this is the place to be: you'll take off from right outside the hotel.
Iditarod Headquarters
If you're here in March, The Lakefront Anchorage takes on a very special role: that of official headquarters for the Iditarod, Alaska's Great Race. In fact, the hotel has sponsored and hosted the 1,000-mile dog sled race for 25 years. Each year, the hotel becomes the nerve center of the race's Anchorage communications, and you'll find the hotel buzzing as the latest information comes off the trail.