Anchorage Area Public Use Cabins
Would you like to spend the night inside a warm, dry and secure cabin tucked into a wilderness forest or overlooking a fun lake? And let's say you don't to spend all day driving to get there. Well, you're in luck! The Anchorage area has 23 different public use cabins, yurts or shared hut space available to rent in two state parks — all within 90 minutes (or less) from town. They are spread among four distinct areas — the lake-studded Nancy Lake region, a remote valley up Eagle River, the fiord-like Eklutna Lake, and the shore of Turnagain Arm. The choices range from well-appointed cottages only one step from the car to authentic wilderness outposts miles from the trailhead.
Kid-Friendly Destinations
There's nothing like a weekend spent at an Alaska cabin in the woods when you're a kid. The mysterious forest. The smell of wood smoke. The cry of a loon over a mirror-smooth lake. The first experience of trekking with all your gear down a friendly trail. Located three miles out on a flat trail along the shore of Eklutna Lake in Chugach State Park, Yuditna Creek Cabin is the perfect destination for a family with children who want to experience wilderness for the first time. The lake offers the option of paddling, while the lakeside trail is one of the region's classic cycling trips.
Other options great for kids - three yurts and one cabin managed by the Eagle River Nature Center — less than two miles from the trailhead over a mostly flat trail. Fabulous for wildlife viewing along Eagle River. Also, Nancy Lake Cabin #4 — lakeside, floating dock, gigantic covered porch, and all of it an easy walk from parking.
Cabins On Lakes With Canoeing
For those who want to paddle a boat to their snug cabin, the Lynx Lake Loop Canoe Trail near Willow is the premier destination. The eight-mile loop traverses 14 lakes to touch and four different public use cabins. Many people make the trip over several days, staying at two or more cabins along the way. New in 2015, Lynx Lake 2 is a log cabin with space for six about halfway through the loop. It offer miles of paddling with portages leading to other lakes, great pike fishing and even has foot access to the park's extensive trail system.
More canoe destinations? Try the four cabins on Red Shirt Lake - Red Shirt Lake Cabin #1, Cabin #2, Cabin #3, or Cabin #4. All of these are short paddles after backpacking to the end of a three-mile trail. Or Kokanee Cabin on Eklutna Lake. Paddling is the only summer option.
Great Biking
For people who yearn to spend the day cycling before they hunker into their cabin for the night, the two drive-up cabins at Bird Creek Campground near Mile 101 of the Seward Highway are great choices. Both Bore Tide and Beluga cabins are yards from the Bird-to-Gird paved bike trail, a stunning route that follows the Turnagain Arm fiord for 12 miles from Indian through Bird Point to Girdwood. A spur goes beneath the highway and leads to a network of multi-use trails suitable for mountain and snow bikes beneath a temperate rain forest.
Other PUCs suitable for wheels - Serenity Falls Hut sits at the end of 12 miles over a mostly flat trail that reaches beyond Eklutna Lake into the Chugach Mountains. A classic bike-packing destination. Park outside the gate on Lynx Lake Road, and ride a rugged "pioneer" road to Lynx Lake Cabins 2 & 3.
Cabins You Can Drive Up To
You just want to get there, get dinner cooking and light the campfire. The new Dolly Varden Cabin inside the day-use loop at the foot of Eklutna Lake sleeps 12 in a setting that offers all the amenities of a developed campground. Close to water and outhouses, the cabin also has handicapped access. At the same time, after a hearty breakfast, you can paddle, hike, climb, bike, and ski for miles in the Eklutna Valley.
You can also easily drive to Bore Tide and Beluga in Bird Creek Campground on the Seward Highway along Turnagain Arm, as well as Bald Lake Cabin in Nancy Lake area during summer. It's only a half-mile from parking.
Hardcore Wilderness
Serenity Falls Hut is about as far as you can go into the Chugach Mountains without strapping on crampons and gripping an ice ax. Some 12 miles from the trailhead beyond Eklutna Lake at the mouth of a canyon, the hut offers 13 bunk spaces in a sprawling shared space that overlooks a fabulous waterfall and a remote glacial stream. A true outpost, the hut gives guests the option of exploring territory beyond the reach of a day hike, bike or ski.
Other Remote Destinations
James Lake Cabin is in the middle of Nancy Lake State Recreation Area outside Willow. A half-day of paddling and portaging from the trailhead, James Lake is one of the most secluded public use cabins near Anchorage. The three yurts and one cabin in Eagle River Valley are less than two miles in, but these facilities feel like deep backcountry.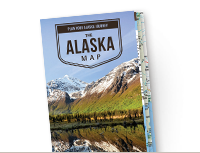 This state map includes top destinations and attractions, driving guides, & more!