Photo Credit: Knik River Lodge
If you want to get away from the city, there are some great cabin and vacation rentals within 45-minutes of Anchorage.
Peter's Creek Cabins & Vacation Rentals
25-Minutes North of Anchorage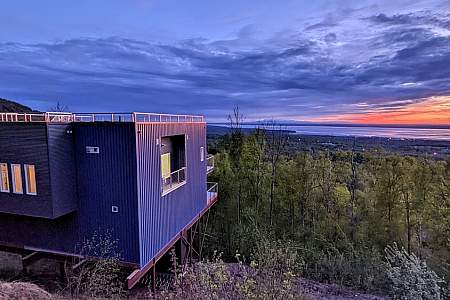 Season: Year Round Summer $700+ | Winter $300+ 2+ Nights
Immerse your­self in the Alaskan lifestyle by rent­ing this sophis­ti­cat­ed home with mag­nif­i­cent views in the foothills of Chugach State Park, just a 25-minute dri­ve from Anchorage.
Girdwood Cabins & Vacation Rentals View All
45-Minutes South of Anchorage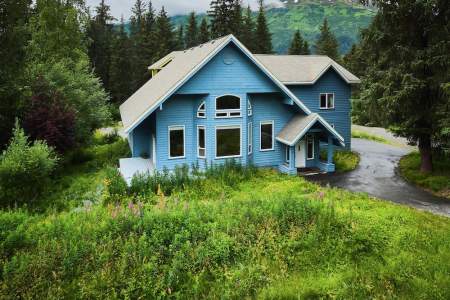 Season: Jun 12 to Nov 30 $1400 / night, 3 night minimum, sleeps 8
Stay at Bob's (founder of Alas​ka​.org) fam­i­ly cab­in in Gird­wood — a charm­ing town that's home to Alaska's famous ski resort, just a 45-minute dri­ve south of Anchor­age. The cab­in is per­fect­ly locat­ed at the base of the ski resort, Alyeska. It's just a few min­utes' walk to Girdwood's best shops and restau­rants, yet set apart from the bustle.
Palmer Area Cabins & Vacation Rentals View All
45-minutes North of Anchorage.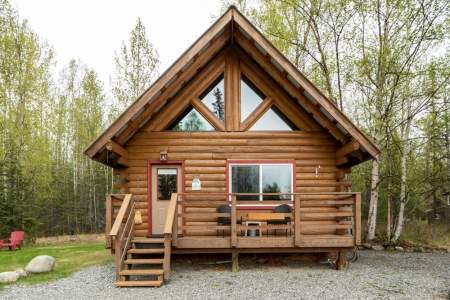 Season: Year Round $134+ 2+ nights
Enjoy your own pri­vate log cab­in in the wilder­ness, with all the mod­ern con­ve­niences, just an hour north of Anchor­age and min­utes from Wasil­la and Palmer. Nes­tled at the entrance to Hatch­er Pass in the Tal­keet­na Moun­tains, your cozy log cab­in makes an ide­al base camp for all your Alaskan adventures!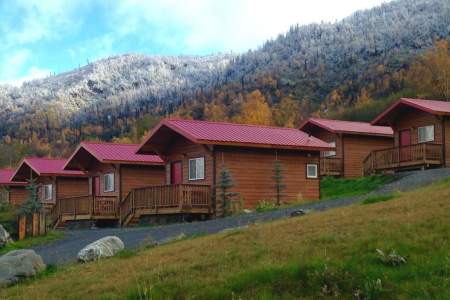 Season: Year Round $199+
Dis­cov­er cozy cab­ins, great food, and big Alaskan adven­tures at this inti­mate lodge that sits on the edge of the wilder­ness yet is super-acces­si­ble from Anchor­age. It lies tucked in at the back of the Knik Riv­er Val­ley and at the end of Knik Riv­er Road, where Alaska's real wilder­ness opens up, with moun­tain and riv­er views — but with­out a flight or long dri­ve. It's the per­fect place to escape for a few days, with lots of activ­i­ties avail­able from ...more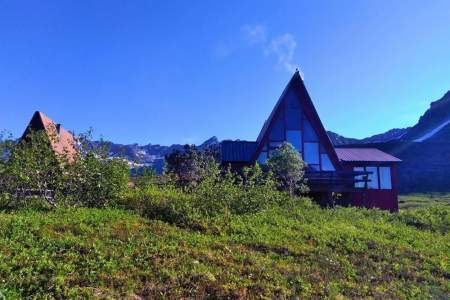 Season: Year Round $150+ per night
Icon­ic and remote Alaskan adven­ture lodge in the Tal­keet­na Moun­tains, acces­si­ble by road just 60 miles north of Anchor­age. Open year-round, you'll stay in rus­tic, com­fort­able cab­ins with access to some of the best hik­ing and ski­ing in the world, just out­side your door. The lodge and cab­ins sit dra­mat­i­cal­ly above tree­line, offer­ing breath­tak­ing moun­tain views and end­less adven­ture opportunities.