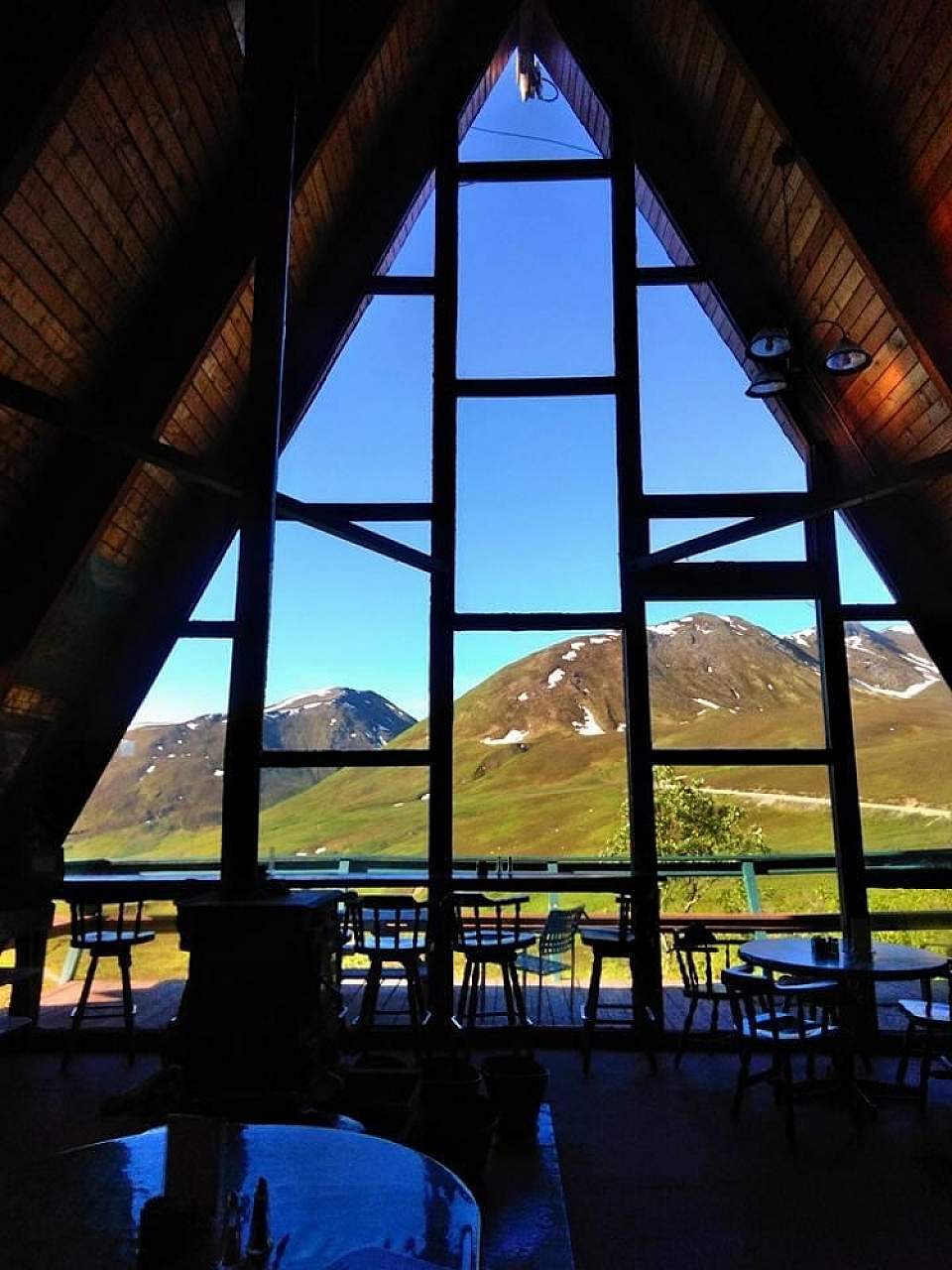 Escape to an iconic and remote Alaskan adventure lodge in the Talkeetna Mountains, accessible by road just 60 miles north of Anchorage and on the way to Denali. Open year-round, you'll stay in rustic, comfortable cabins with access to some of the best hiking and skiing in the world, just outside your door. The lodge and cabins sit dramatically above treeline, offering breathtaking mountain views and endless adventure opportunities. Gaze out at a lush valley backdropped by snow-capped peaks, then go explore!
In summer, you'll find wildlife to spot, wild berries to pick, wildflowers to photograph, and lots of blue sky. In winter, there's amazing backcountry skiing, as well as separate, groomed snowmobile and cross-country ski trails—the same ones used for training by the U.S. Olympic team! And in the winter evenings, just look out the window or step outside and gaze at the stars or the northern lights dancing in the sky.
Enjoy delicious cuisine from the café, which is open to cabin guests for a home-cooked breakfast. Guests and non-guests can enjoy lunch and dinner, including amazing homemade, soups, salads, sandwiches, pies, and other Alaskan fare—and don't miss the lodge's famous fondue! There's also a full bar that stocks local Alaskan beers and spirits as well as a large selection of warm cocktails – perfect after a fun-filled day of adventure.
The café is in the main lodge, where you'll also find a coal-fired stove to warm up next to, an outdoor deck to enjoy the sunshine, and books, games, and live music on most Saturday afternoons. Come sit by the fire and sip on a warm beverage and enjoy the rugged vista amongst fellow adventurers.
In the evenings, retire to your cabin; overnight guests can take advantage of the sauna that sits over the top of a flowing creek. You may decide to plunge into the cold Alaskan waters, by just walking down the ramp and stepping in. You might even find a gold nugget in the water—after all, this was originally Gold Rush country, and you can tour the abandoned mine, which is now a state park, less than a mile up the road.
The Cabins
You'll find 11 rustic cabins on the property. In the spirit of a remote Alaskan adventure, the cabins do not have individual running water, but each cabin does have a bathroom including a sink and an RV-style toilet. There's also conventional restrooms and a shower in the main lodge for guests. Cabins come with varying configurations: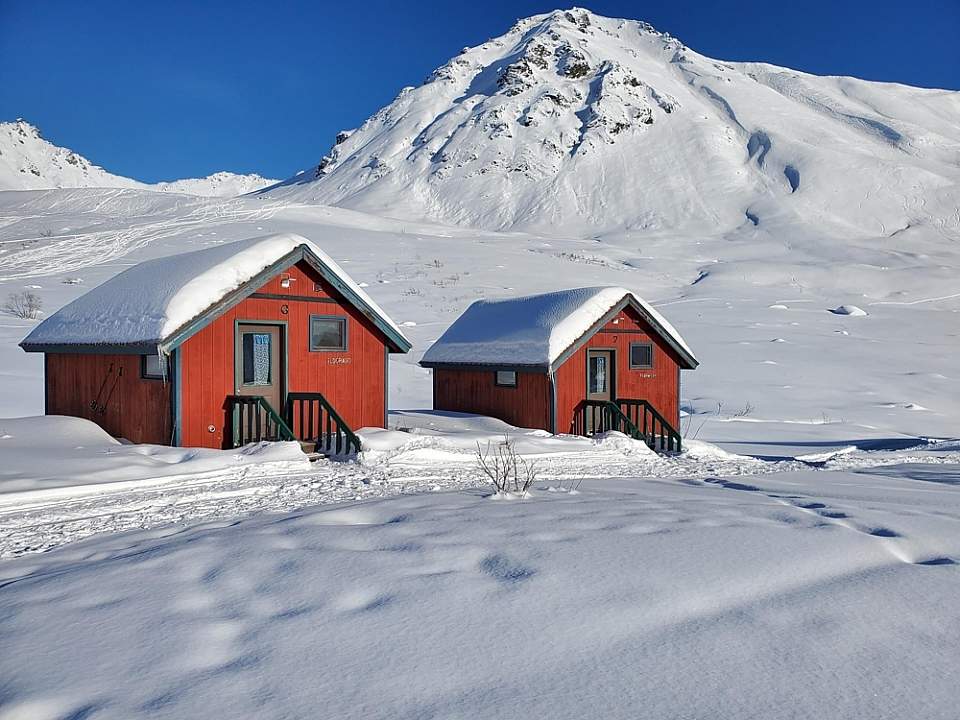 Cabin 1: Sleeps 2–6; loft cabin with two queen beds upstairs, sofa bed downstairs.
Cabins 2 & 3: Sleep 2­–4; loft cabins with a queen bed upstairs and sofa bed downstairs.
Cabins 4, 5, 6, 7: Sleep 2–4; single floor, large open room with a queen bed and sofa bed in same room.
Cabins 8 & 9: Sleep 1–2; single floor with a double bed nestled next to the creek.
Cabin 10: Sleeps 4–6; two-story cabin (dedicated to the man who built the lodge), queen bed in the loft and futon downstairs, plus futon pads for more futons.
Cabin 11: Sleeps 4; two-story cabin, double bed in the loft and futon downstairs.
The History
During a backcountry ski trip while in the army, Karl "Hap" Wurlitzer dreamed of opening a ski mountain in the Talkeetnas. Hap researched and eventually filed to homestead 10 acres at Hatcher Pass in 1963, to begin his dream to create an Alaska adventure lodge, serving the local community as well as travelers from across the world. Hap, along with some army friends started building in 1967 and have been adding to it ever since.
While Hap passed away in 2020, Hap's vision to be a premier remote adventure lodge, serving locals and visitors alike, continues.