The Hilton Anchorage is not just the largest—and most centrally-located—full-service hotel in Anchorage. It's also the tallest, so you get the best of the city, plus the best views of mountains and wilderness. With restaurants, business centers, concierge, room service, and more, the hotel offers everything you've come to expect from Hilton yet in an unexpectedly beautiful place.

Heart of the city
You're a quick ride from the airport and a short walk to the convention center, as well as city shopping, restaurants and bars. But you're in Alaska, so the rooms have great views of Cook Inlet and the Chugach Mountains, and the waterfront is just a short walk away.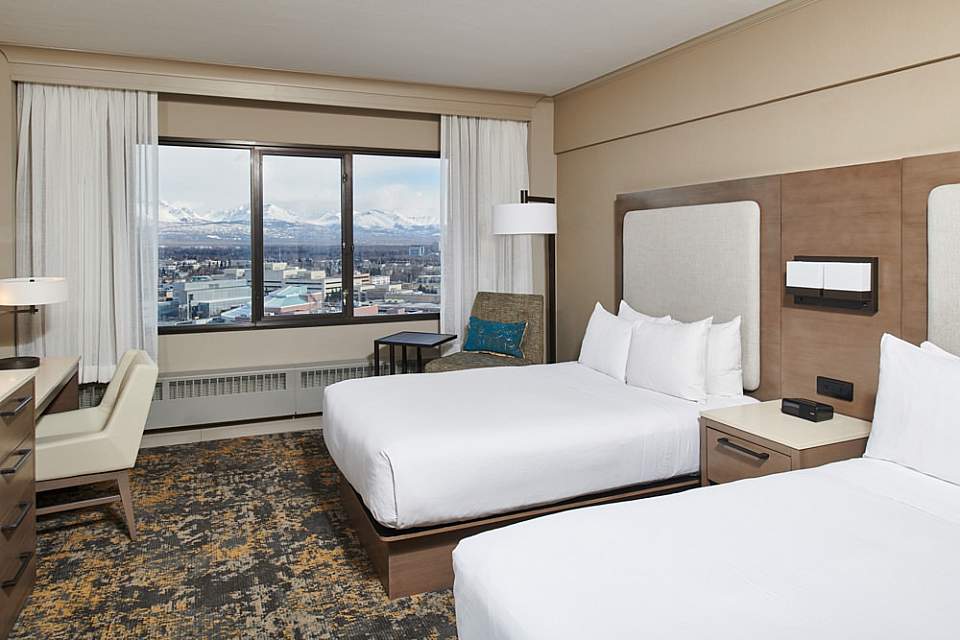 Top Drawer Service
The hotel prides itself on its staff, most of whom have been around for years—if not decades. They'll help you get out of town for a glacier cruise or stay urban, offering recommendations of the the best new restaurants, ors etting you on the path to the Native Heritage Center. They can also book train rides to Denali National Park.
Elegant Old-Timer
The Anchorage Hilton survived the 1964 earthquake, and as a result is one of Alaska's longest standing hotels. That said, everything was beautifully renovated in 2019. The 600 rooms are spacious, with excellent beds and new granite counter tops and tables. Little touches, however—like quilted down comforters and Alaska art—create an intimate feel for such a large hotel. If you have some spare time around the hotel, take advantage of the Alaskan art walking tour in the lobby. Other amenities include work stations with high-speed internet , Cuisinart coffee makers and MP3 ports.
Everything You Need
Business travelers take advantage of the meeting rooms and 24-hour business center with computers, faxes, copiers and printers. The fitness center was also recently renovated, and includes free weights and Precor fitness machines, steam rooms, a sauna and a kid-friendly indoor pool.
Dining with Character
The hotel may offer a Kaladi Brothers coffee kiosk, but everything else has a nicely local vibe. The Hooper Bay Cafe, a casual dining area with an outdoorsman feel, does great Alaska and American fare; at the breakfast buffet, you can ask for Alaska crab or salmon to be added to your omelette. Next door is the Bruin Bar, where you can sample an Alaska microbrew or specialty cocktail.