Photo Credit: Hotel Alyeska
Planning a Destination Wedding in Alaska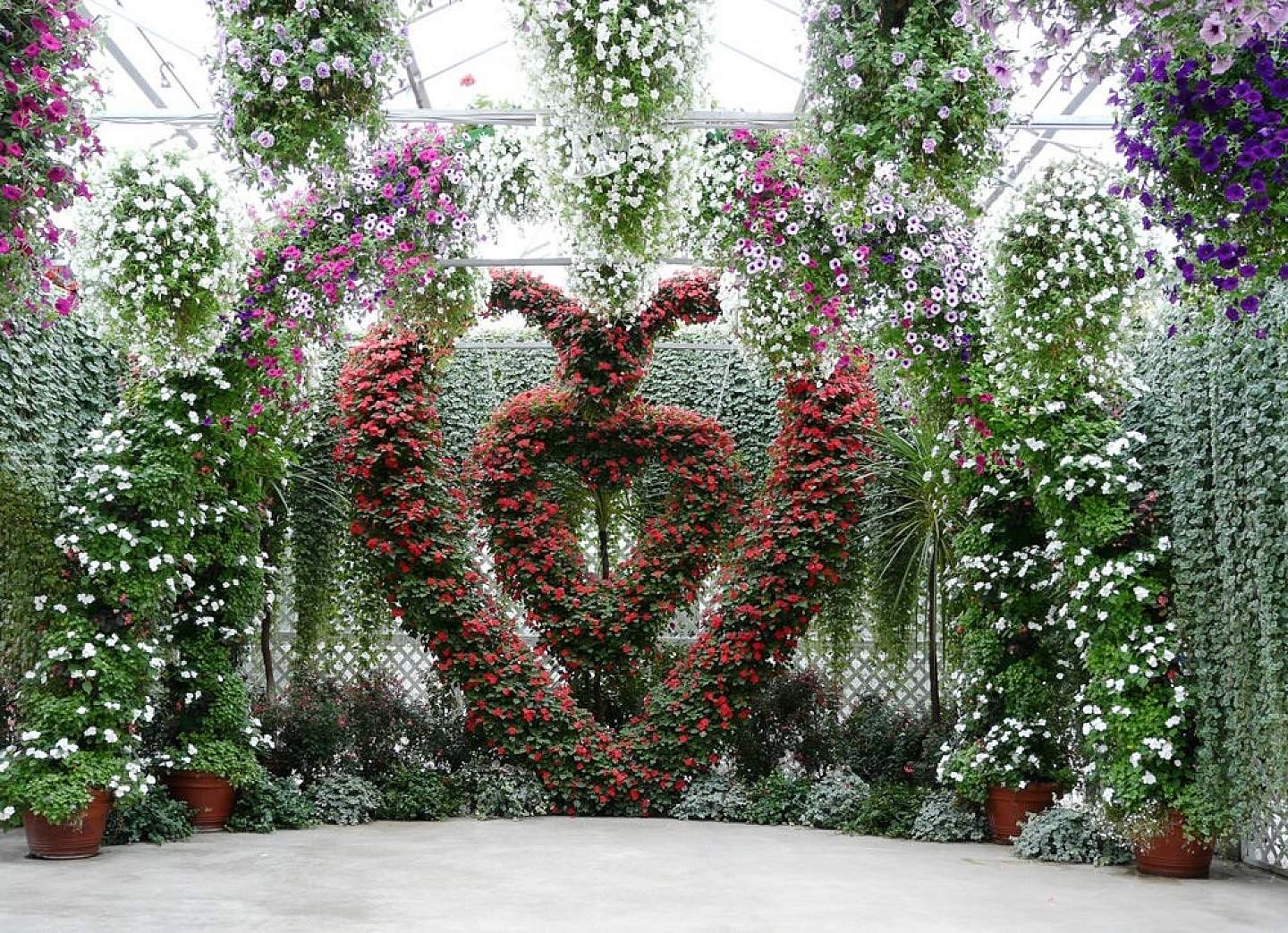 As destinations weddings go, you can't beat Alaska, with its picture-perfect backdrops, friendly residents, and exciting experiences like seeing grizzlies in the summer or the northern lights in winter. Alaskan weddings can be rustic, extravagant, or anything in between, depending on the venue and your vision for the perfect event.
A wedding in Alaska does have its challenges. We recommend planning 12 to 16 months in advance, not only to book a venue, but to give your guests time to plan their own trip around the wedding. Logistics can be tricky, especially if you choose a more remote location for your ceremony. After all, some lodges are only accessible by plane or boat, and those on the road system can be up to a five-hour drive from Anchorage. Fortunately, you can rely on local experts to help you create the wedding of your dreams.
When to Get Married
There are two seasons when an Alaskan wedding makes sense: summer or winter. Late May to early September coincides with the highest tourist season, with July being the busiest time. In summer, there are plenty of choices for lodging, activities, and of course, fresh Alaskan seafood on your menu. Winter weddings, while less popular, can also be magical and romantic. Snowy vistas create a bright landscape and pink alpenglow on mountainsides, and cheery fireplaces invite you in from the invigorating cold.
Friday, Saturday, and Sunday are the most popular days for weddings in Alaska, with possibilities for midweek weddings if weekends are booked.
Where to Get Married
The choice of venue is somewhat dictated by the size of your wedding party and guest list, as well as your preference for the season (not all venues are open in winter) and remoteness of your location. All lodges and hotels have helpful lists of preferred vendors to help you make choices about photography, catering, flower arrangements, and entertainment.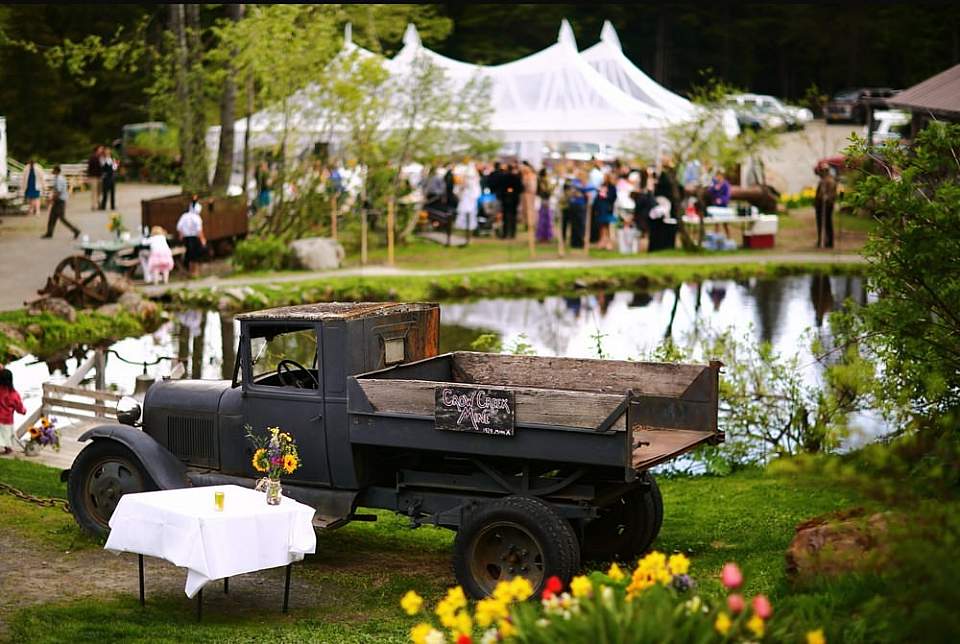 Hotels and Resorts
Large Alaska hotels and lodges are typically located on the road system, open year-round, and offer dining, accommodations, and beautiful on-site (or nearby) locations ideal for your ceremony. Get married on the beach at Homer's Land's End Resort, for example, or on a mountaintop terrace at Alyeska Resort in Girdwood. Anchorage has its own great views, especially from the top of the Captain Cook Hotel, a popular choice for local weddings. In Fairbanks, your party can celebrate on 30 acres of landscaped grounds and a bird sanctuary at the Wedgewood Resort.
Intimate Wilderness Lodges
Smaller wilderness lodges are usually family-owned and operated, and are well-suited to more intimate gatherings. Expect great hospitality and the ability to customize your ceremony at retreats like the Kennicott Wilderness Lodge in McCarthy, Alaska Heavenly Lodge in Cooper Landing, Taku Glacier Lodge in Juneau, Ridgewood Lodge in Halibut Cove near Homer (ideal for intimate weddings), Between Beaches in Seldovia (also near Homer), and Salted Roots in Seward.
Outdoor Venues
The options for non-lodge based locations are as limitless as your imagination. They require more coordination on your part, but are extremely flexible and can help stretch your budget. You pick and choose the ceremony location, lodging, and dining options. For smaller weddings, local restaurants like Settlers Bay and Glacier Brewhouse offer banquet rooms. Venues in or near Anchorage include Crow Creek Mine, Eagle River Nature Center, and Kincaid Park Chalet. In Southeast Alaska, Juneau's Glacier Gardens offers a profusion of colorful hanging floral displays among a lush rainforest.
Adventure Venues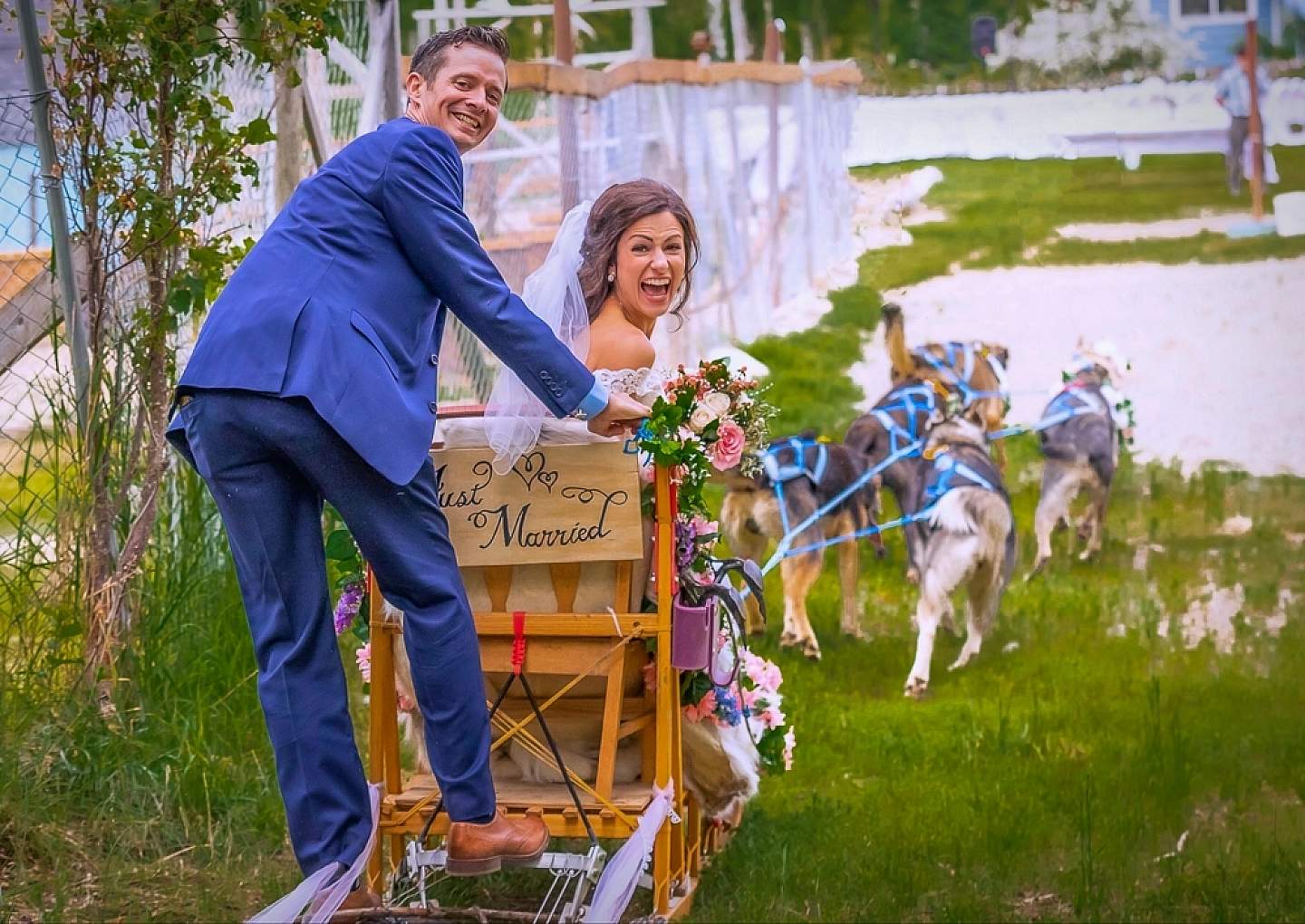 For a simple but awe-inspiring event that's perfect for an adventurous elopement story, hop aboard an Alpine Air or Tanalian Aviation helicopter that can set down just about anywhere, from an icy glacier to a wildflower meadow or in the remote tundra. Or charter a private yacht with Northern Explorer Adventures for a few days. Choose the perfect spot on Prince William Sound for your exclusive ceremony, and then partake in kayaking, hiking, and bear-watching, fueled by gourmet meals prepared by your on-board chef. For a shorter cruise with more than 100 guests, Kenai Fjords Tours offers a private boat, dining, and a beautiful ceremony location on Fox Island in Resurrection Bay. Or take a dog sled ride down the aisle Alaskan-style just north of Anchorage in Willow with Alaskan Husky Adventures.
How Much Will It Cost?
Like any wedding, you can go all out or find ways to cut costs. A venue will typically run between $4,000 and $15,000. Catering, a photographer, and entertainment are separate costs unless they come as part of a lodge or hotel package. Smaller budget items are arguably the most important, like the marriage license ($60) and marriage commissioner or officer of the court to marry you ($25). A local planner can give you realistic estimates based on your preferences for when and where you'd like to get married in Alaska.
Insider Advice
Transportation
Your guests are going to want to know how to get around. If they're comfortable driving, a rental car gives everyone the most flexibility. But, if you want to keep the group together, there are a few fun options. Depending on where you're getting married, everyone may be able to pile onto The Alaska Railroad. Half tour and half transportation, it will impress everyone on your guest list. Or, you can charter a private bus, such as the luxury 27 passenger coaches operated by Alaska Bus Company.
Photography
Alaska's natural beauty will complement the romance captured in your wedding photos. A local photographer will know how to work with the unique quality of light in Alaska to produce stunning images. Depending on your venue, you could have oceanfront views (Ridgewood Wilderness Lodge), manicured gardens and rustic buildings (Crow Creek Mine), and glaciers (Hotel Alyeska) Ask your venue for photographer recommendations. Or browse social media; searching hashtags like #alaskaweddings will bring up local photographers. It may also inspire other aspects of your day.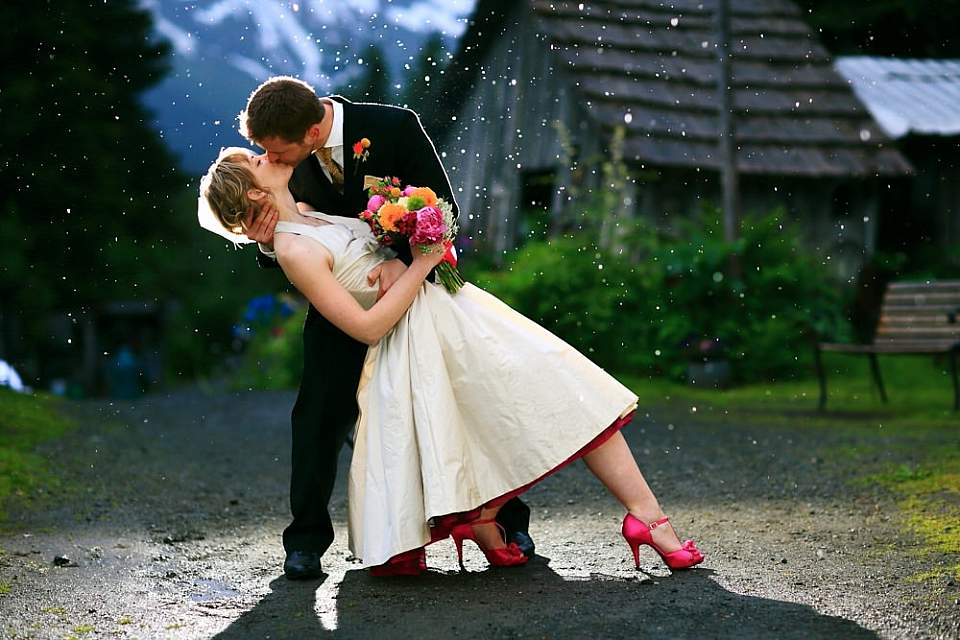 Officiant
Alaska law says that you can be married by anyone, resident or non-resident, as long as they have a marriage commissioner certificate. This means you can ask a relative to officiate, or even arrange for your pilot or other Alaska-based lodge staff to help out in this capacity.
Honeymoon
Once you're in Alaska to exchange vows, it makes sense to stay and spend your honeymoon here as well. Romantic, adventurous, and fun locations abound!
Convincing Your Crew to Come
When you tell people you're considering an Alaska wedding, you might get your fair share of, "It's so far!" or "It's too expensive" or "I won't be able to go!" It could take some time to convince your friends that celebrating your big day with you in Alaska is very doable! But the burden doesn't have to be on you to plan your guests' vacations. Encourage them to get in touch with us! We don't plan weddings, but we do work with a local itinerary specialist here in Alaska who can recommend a custom itinerary for your guests around your wedding events.