Photo Credit: Homestead Trail at Rogers Loop Rd
Homer Side of Kachemak Bay Trails
On the Homer side of Kachemak Bay, several hikes will connect you with both land and sea wildlife. Trails into the hills above Homer bring you great exercise as well as the beauties of trees and flowers and the occasional encounter with wildlife such as moose and bear and smaller animals. Above the high school, an easy trail into the woods is a pleasant stroll into the wilds. A trail that starts behind the McDonald's restaurant on the east side of Lake Street takes you to Ben Walters Park, along the shore of the Beluga Slough. The Calvin Coyle Trail (which starts at the end of Mariner Drive which also accesses the Cottonwood Horse Park), leads to a wetlands observation deck as does a short trail just east of the airport. Both decks put you in likely wildlife encounters, including bears and moose. Uphill on Bartlett Street above the Pratt Museum, take a left on Fairview, then right on Campground Road to the Karen Hornaday Park for more great outdoors fun which includes a playground for children. The city campground is just above this park.
Strolling through town, mainly on Pioneer Avenue and by the High School, is like visiting an art gallery, mural walls and businesses adorned with art are on display.
Bishop's Beach, just below Old Town, and easily accessible, is a great place to wander in the the sand and watch for whales, seals, porpoises and other sea life.
Kachemak Bay State Park Trails
Across the bay from Homer, Kachemak Bay State Park tempts hikers to explore numerous easy and difficult trails.
There are over 25 miles of trails in the park, many accessed by boat only. They range from easy to difficult. Many climb over steep, rugged terrain and offer excellent views. Others wind through coastal forest and meadows. Many of the trails are passable but challenging. There are areas of exposed rocks, roots, wet boggy areas, downed trees or tall grass. Trails and trailheads are marked with orange triangle signs with a "T" in the center. All trailheads are accessed by boat or plane, and some of the hikes require crossing glacial streams.
One of the easiest hikes with some of the best views is the Grewingk Glacier Lake Trail. One of the most traveled trails in the park is the China Poot Lake Trail, where switchbacks lead you to a place called First Lake, an excellent spot to take a dip on a hot day. Another popular option is the 8.2 mile Grace Ridge Trail North Access, where views from the top include views of Eldred Passage, Sadie Peak, and Cook Inlet Volcanoes.
Trails in the park are maintained through the efforts of volunteers and volunteering is a great way to do a service to mother earth and fellow humans as well as enjoy the park.
Looking to stay in the state park longer? Book into Alaska's Loonsong Lake Wilderness Lodge, a private log chalet surrounded by more than a million acres of Kachemak Bay State Wilderness Park. Only one booking at a time is accepted, two couples or a family have exclusive use. There are miles of lovely hiking trails, diverse enough to fill a week and match any appetite.
Kachemak Bay State Park Trails
Trails accessible by boat or plane across the Bay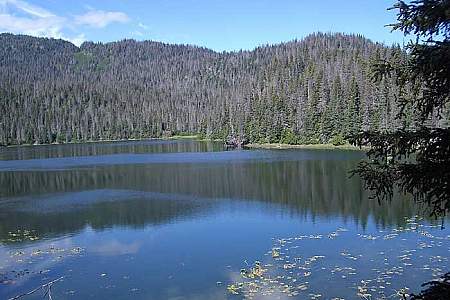 Difficulty: Moderate Distance: 2 miles
Prob­a­bly the sec­ond most trav­eled trail in the park, this trail offers a great day hike for those spend­ing time in the lagoon. You can start hik­ing the trail from the ranger sta­tion or the trail­head in Hal­ibut Cove Lagoon. The trail tra­vers­es up numer­ous switch­backs to a place called First Lake. On a hot sum­mer day, a soak in this lake can't be beat.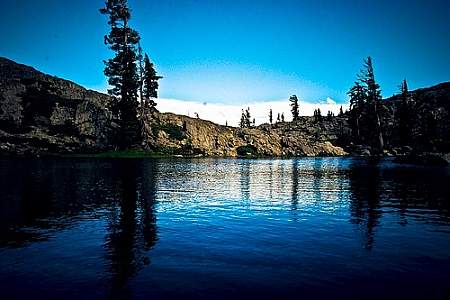 Difficulty: Easy Distance: 3 miles
This trail, hands down, is one of the most pop­u­lar hikes in the Kachemak Bay State Park. It is one of the eas­i­est hikes in the park as the trail is well main­tained, and you can't beat the view of the glac­i­er at the lake. For the first 1.5 miles, the trail mean­ders through mixed cot­ton­wood and Sit­ka spruce. These cot­ton­woods are some of the largest in the park so take time to appre­ci­ate their enor­mous size. After 1.5 miles, the trail proceeds ...more
Homer Trails
Trails on the Homer side of Kachemak Bay