Just south of Anchorage, the Seward Highway hugs the dramatic shorelines of Turnagain Arm, arguably one of the most beautiful stretches of highway in America. Chugach State Park's 3000-foot mountains jut up on your left.
On the right, the sprawling, sometimes four-mile-wide flats of Turnagain Arm seem to stretch like a plain to the opposite shores of Cook Inlet, where mammoth sloping mountains abruptly stop their flat expanse. Each turn reveals another scenic wonder. Take in a few of them in about two hours-plus, or make a day of it.
Other popular Anchorage Scenic Drives include the Hatcher Pass Drive and the Matanuska Glacier Drive which lead you north of Anchorage. Or, tack on the Portage Valley & Whittier Tunnel Drive to the end of your Turnagain Arm Scenic Drive to visit the small town of Whittier.
No Rental Car? Book a Tour
If you're in Anchorage without a rental car and still want to experience the beautiful scenic drive along Turnagain Arm, you're in luck. Contact our friends at Salmon Berry Tours, Wild Journeys Alaska, or AK Tripping for a guided trip along the arm, complete with photo stops at all the highlights.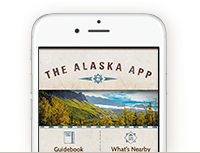 Browse all points of interest on a map and enjoy a collection of audio guides.