Explore some of Southcentral Alaska's most breathtaking wilderness, just minutes from Anchorage. Locally owned Ascending Path offers several day trips departing from Anchorage and Alyeska Ski Resort in Girdwood. Hike and kayak to a glacier, explore a rainforest or head far out into the backcountry by helicopter. Each choice offers stunning views, crisp mountain air and insight into the flora, fauna and history of the area.
Your Options
Kayaking with Icebergs at Spencer Glacier
Experience the closest Iceberg Kayaking to Anchorage on a guided tandem kayaking tour through the pristine glacial waters of Spencer Lake. In this awe-inspiring outing, touch icebergs along the way and get a new perspective of one of Alaska's incredible glaciers. This trip includes all your equipment, lunch and a guided 1-3 mile hike where you'll get up-close views of the inspiring glacier face and blue walls. Begin and end your day with scenic mountain & ocean views from the Alaska Railroad Train en route from Anchorage or Girdwood. This trip is the most popular excursion at Spencer Whistle Stop. Great for families with kids ages 7 and up!
Times: Operating 7 days a week from Anchorage and Girdwood. Trips run 9-12 hours with four departure times.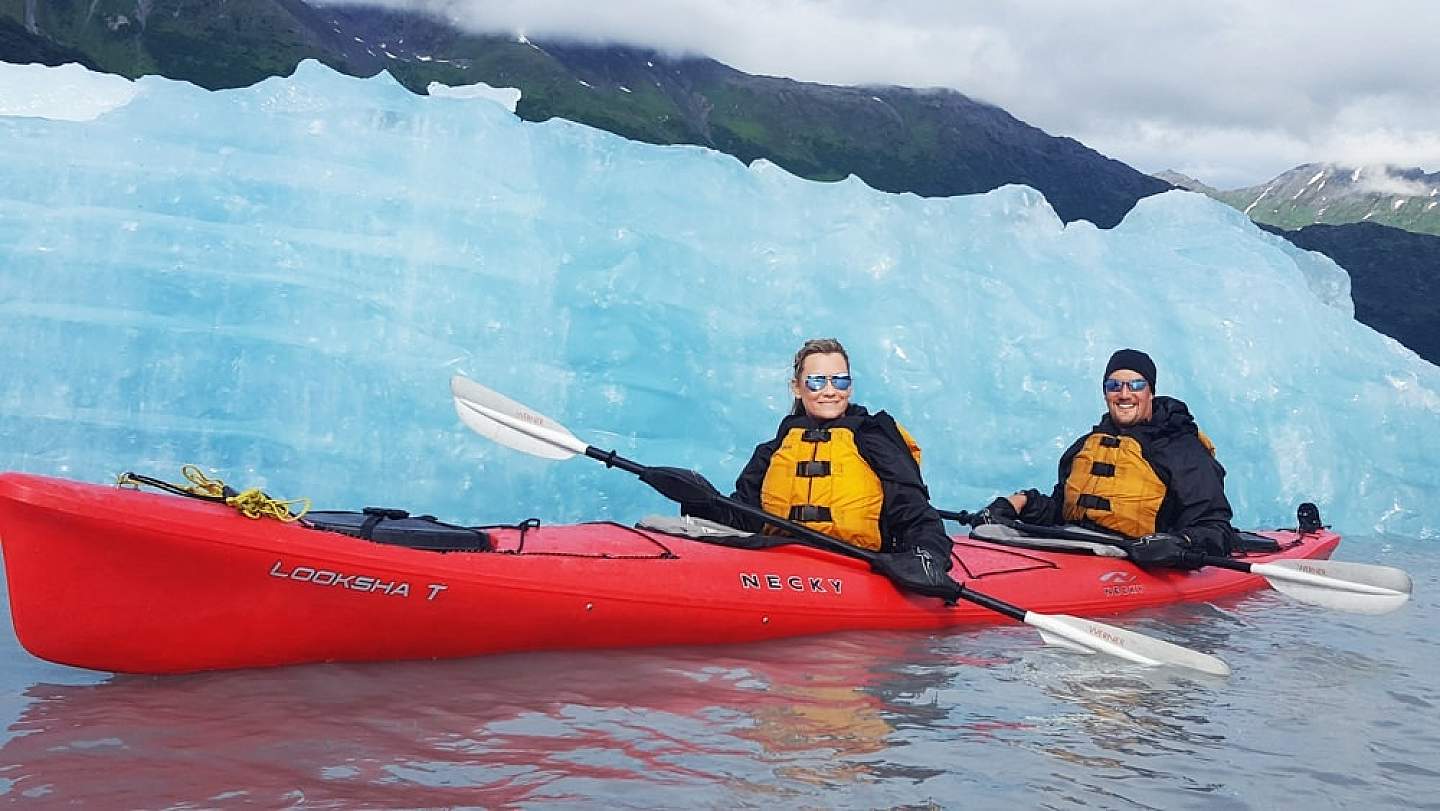 Helicopter Glacier Hiking or Helicopter Ice Climbing
Discover amazing features of glacier ice over several hours on a heli-glacier tour. Board a R44 helicopter for a quiet and awe-inspiring ride into the remote back-country. Land on a glacier and begin your ice exploration after gearing up with helmets and crampons. With a small group, your glacier guide will be able to provide maximum attention to your technique and individual experience. Explore ice caves, find crevasses, moulins, blue ice and more. The trip includes all your equipment, lunch, snacks and water. Try ice-climbing as an add-on if you also want to get vertical!
Times: Operating 7 days a week year-round from Anchorage and Girdwood. Trips run 6-12 hours depending on departure location with several departure times daily. Requires advance reservation and fills up quickly!
Iceberg Viewing Hike
Your small group will hike along the iceberg-filled Spencer Lake, sculpted over thousands of years by the Spencer Glacier. Touch icebergs and get up close to the massive face of the glacier – all in relative peace and quiet. To access this area, you ride Alaska Railroad's Glacier Discovery Train, which brings you to the Spencer Whistle Stop. There, your Ascending Path guide will transport you along old mining roads to start your trek to the glacier bringing you closer to the ice to start your hike. You start where everyone else turns around!
Times: Departing from Hotel Alyeska in Girdwood at noon: 6 hours. Departing from the Anchorage Train Depot at 9am: 9 hours.
Alpine Hike
Hike the alpine tundra, learn mountaineering skills and get out onto a glacier - all in one excursion. Your trip begins with a bird's-eye view of the stunning Girdwood scenery as you ride the Alyeska tram 2,300 feet up into wildflower valleys and mountain tundra. Hike for 2-3 hours on a scenic ridgeline surrounded by the 7 Glaciers of the Girdwood Valley. This hike takes you up 800 feet and back (1-mile total) with plenty of "Natural History Breaks" to rest your lungs and muscles. Be ready for stunning views of the glaciers, the Chugach Mountains, Turnagain Arm and the Girdwood Valley. Great for families with kids ages 7 and up!
Times: Departing daily at 9AM from Hotel Alyeska in Girdwood: 3 hours.
Nature Hike
Perfect for families or folks looking for an educational and enjoyable stroll in the woods. This affordable trip explores Girdwood's Winner Creek Trail in North America's northern-most temperate coastal rainforest. A fairytale path through lush foliage and old-growth trees forming a canopy overhead, Winner Creek Trail also has historic connections to the original Iditarod Trail. Hike out-and-back on a five-mile journey, while a friendly naturalist helps you interpret what you're seeing, hearing and tasting! Nibble on edible leaves, flowers and berries, explore traditional and contemporary herb lore, identify bird song and animal behaviors and enjoy stories about Native and Alaskan history. Keep your eyes out for wild moose!
Times: Daily departures year-round from Alyeska Hotel
Girdwood Snowshoeing
Explore the Chugach Mountains in Girdwood while snowshoeing. Your naturalist snowshoeing guide will point out and discuss the flora and fauna of this unique winter wonderland and how it changes from season to season. In the company of a naturalist guide, you will: Look for animal tracks, explore traditional and contemporary herb lore, Identify bird song & animal behaviors, Enjoy stories about Native and Alaskan history.
The Winner Creek trail has gentle snowshoeing conditions ranging from packed-down snow and icy trails to off-trail powder snow. This is a moderate and informative 5 mile (round trip) snowshoe trip.
Times: Winter departures daily at 10AM from Lobby of the Hotel Alyeska in Girdwood: 3 hours
About Ascending Path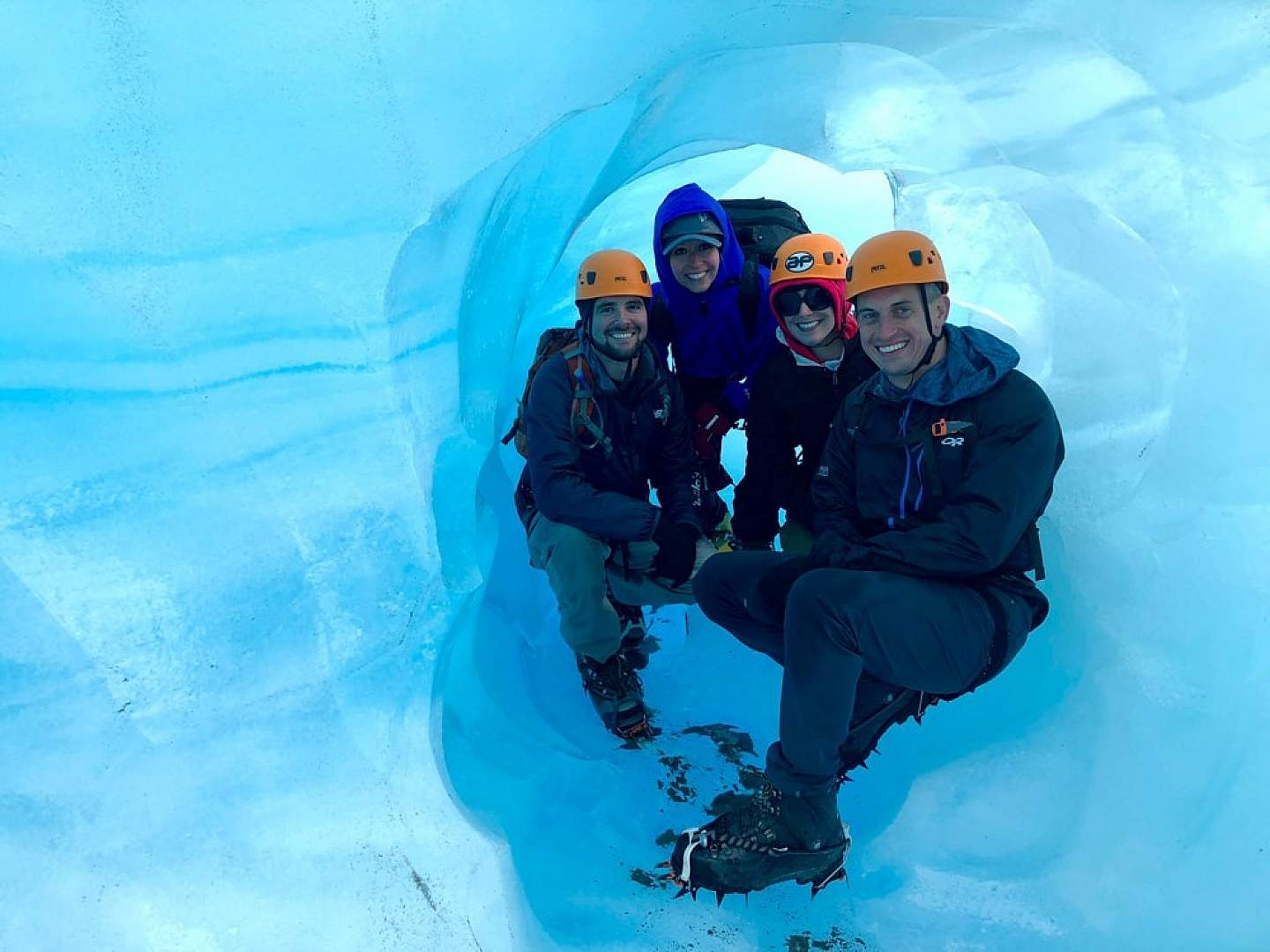 The local owners of Ascending Path, Matt and Heather Szundy, live & have been growing the business since 1995. (In fact, they met on an ascent of Denali!) Matt and Heather have spent their adult lives exploring, from Nepal and New Zealand to Antarctica and Alaska. Matt has guided for Hollywood film crews, acted as a stunt double for ice climbing films – and was even called on by the White House to guide President Obama on a 2015 trip to Exit Glacier. Their company is award-winning and has been a Recipient of TripAdvisor's Certificate of Excellence for almost 10 years running.
Here are some of the reasons Ascending Path is the go-to guiding company for so many:
Exclusive Access
Ascending Path is one of three permitted operators at Spencer Whistle Stop in the Chugach National Forest. Ride the train to the Whistle Stop and then travel by bus for closer access to the Spencer Glacier. Ascending Path nurtures relationships with local partners – such as the Alyeska Resort, Alaska Railroad and Alpine Air – so that visitors can have convenient access to Alaska's wilderness areas.
Accomplished and Enthusiastic Mountaineering Guides
Ascending Path is the rare guiding company that employs expedition guides for day trips. Your adventure may be led by a guide who has summited Denali, kayaked on month-long ocean expeditions and/or climbed in the Himalaya mountains. Enthusiasm and love of the outdoors is something the Szundy's look for in every guide they hire, so when you opt for an Ascending Path guided trip, you're guaranteed a fascinating adventure filled with tons of interesting facts and maybe even some corny jokes.
Small Ratios
Each trip Ascending Path runs offers a small group to guide ratio. Small groups have less impact on the environment and allow for maximum interaction between guests and guides. Having a fun, friendly and attentive guide can make a regular outing a spectacular day. Learn about glacier formation while sea kayaking or walking beside an iceberg-strewn lake. Discuss the uplift of coastal mountains, and then identify wildflowers. Step into a harness and crampons to learn about glacier hiking while viewing crevasses as you explore an ancient ice field. The pros here not only guide, but they teach and inspire, and with very small ratios, you won't be lost in a crowd. Each trip is customized to your skills and interests. No previous experience is necessary!
As soon as there is the potential for the unknown and uncontrollable, that's where adventure begins.
Meet me