An all-inclusive retreat on 25 acres at the confluence of the Moose and Kenai rivers, the Great Alaska Adventure Lodge is a comfy log lodge that combines serenity with an extraordinary lineup of guided adventures. Drive or arrive by floatplane, then go salmon fishing or take a glacier cruise. Return for dinner and an evening on the deck overlooking the rivers and admiring the snow-capped Kenai Mountains with the Harding Icefield glistening in the distance. Or get in a little more fishing along the property's premium quarter-mile shoreline before bed. Stay a few days, or sign up for a multi-day adventure package.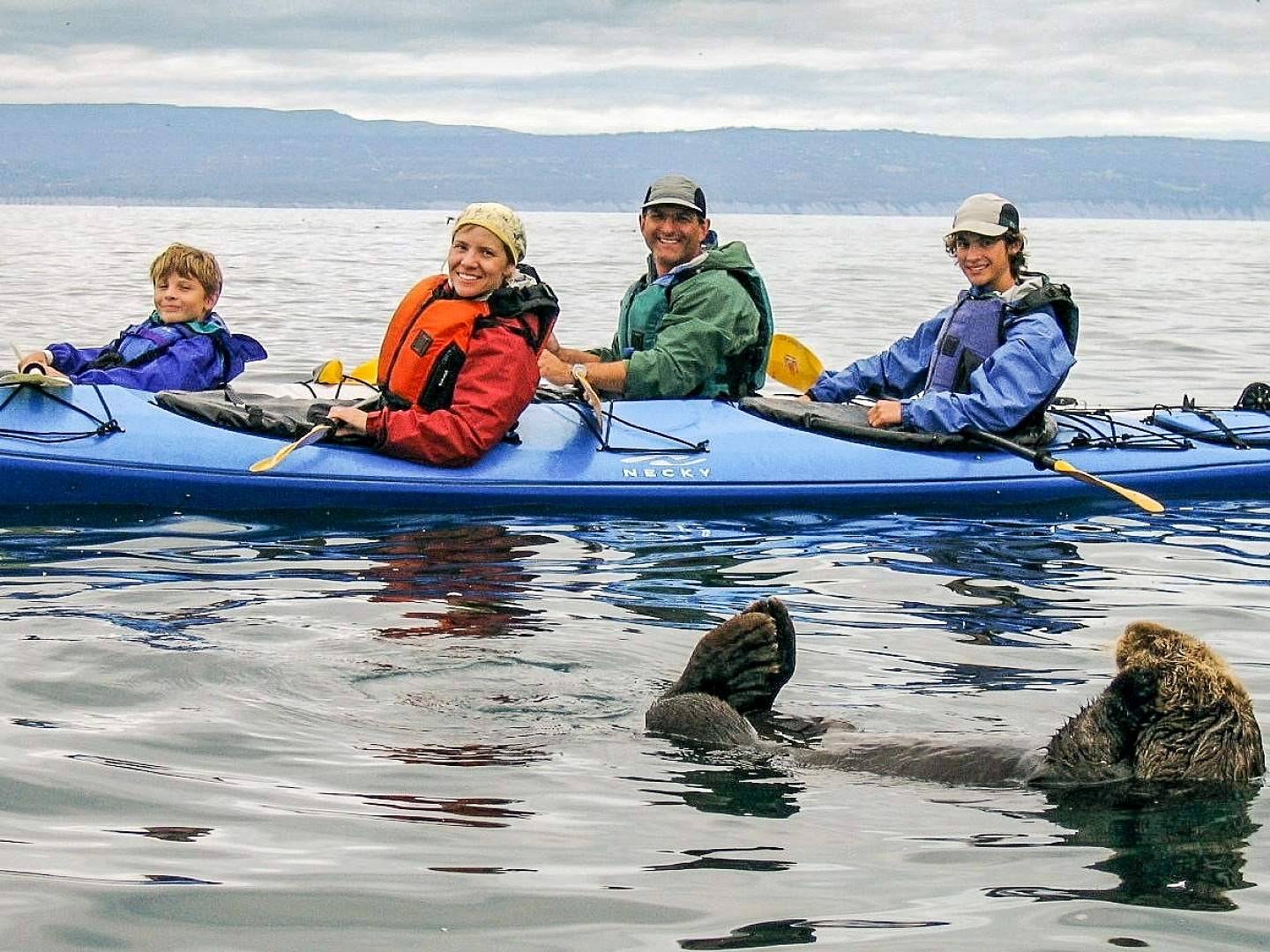 Surround Yourself with Character
Founder and co-owner Laurence John took over the property, a former homestead, in 1981. At the time it was a popular campground folks flocked to for its spectacular views and salmon fishing along its shores. The current lodge still retains historical elements of the original homestead while offering comfortable double, triple and family suites, all steps from the river and featuring amazing Mountain and river views.
Nearly-World-Famous Happy Hour
One of the highlights is the lodge's family-friendly happy hour. In addition to enjoying an open bar and hors d'oeuvres, you'll mingle with other guests, guides, and management, swapping stories and photos of your day's adventures and finalizing your plans for what's next. Then you'll drift into the dining room for a scrumptious dinner of prime rib and scampi, or fresh salmon or halibut, or some innovative special. The chef is happy to cater to guests' dietary restrictions as well.
Breakfast is served in the main lodge each morning, while lunch is generally served on the trail, in the boats or wherever your day's adventure has taken you! Each day when you return, there will be hot soup, chowder or some other warm meal to tide everyone over until happy hour and dinner that evening.
Multigenerational Family & Group Trips
The multi-day packages offered by Great Alaska Adventure Lodge are ideal for family vacations or group travel. Unpack once at the riverfront property, and experience new activities each day. Fish for salmon and halibut, raft, and include a visit to their exclusive bear camp to see bears in their natural environment. Trips are all-inclusive including pickup in Anchorage, meals, nightly happy hour, day and evening activities. While there is cell reception at the lodge, take the opportunity to unplug in the wilderness and truly connect with your friends and family.
Epic Adventure Packages
The owners and their expert guides have been fine-tuning their itineraries for 30 years. Maybe you'd be happy just fishing; the guides can take you someplace new every day. But there's also a candy store of adventure opportunities, from small, insider tours of Denali to the lodge's remote bear-viewing camp at Lake Clark National Park, a 50-minute flight across Cook Inlet.
They really excel at extraordinary, action-packed packages—accommodating even large groups, such as big families, reunions, groups of friends traveling together, or business retreats. The National Park Safari includes stops in Seward, Denali, Talkeetna and at the exclusive Bear Camp. For fishing enthusiasts, there's The Great Alaska Bucket List Trip, which combines bear viewing with salmon and deep-sea halibut fishing.
Their most popular package is the 5- or 7-day Ultimate Alaska Family Adventure, which combines Bear Camp, fishing, glacier cruising, and even a scenic bald eagle float. And it's especially family-friendly in that for each adult that books, a child under 15 can go half-price.