This year-round private lodge sits on an eleven acre 1901 historic gold mining claim, backed up against the Chugach State Park, and has sweeping views of Turnagain Arm and the mountains beyond. The view makes the lodge seem very remote, like you have ventured into the wilderness, yet it is a convenient 30-minute drive south from the Anchorage International Airport.
A Hand-Made Lodge with Character
The three-story lodge has three guest rooms, one on each level, to accommodate up to 12 guests. Local outdoor enthusiast Roger Cowles completed the lodge in 2009. You will admire the hand-hewn logs, the meticulously constructed copper end caps that protect the ends of the logs from weather damage, and the see-through steel railing around the deck.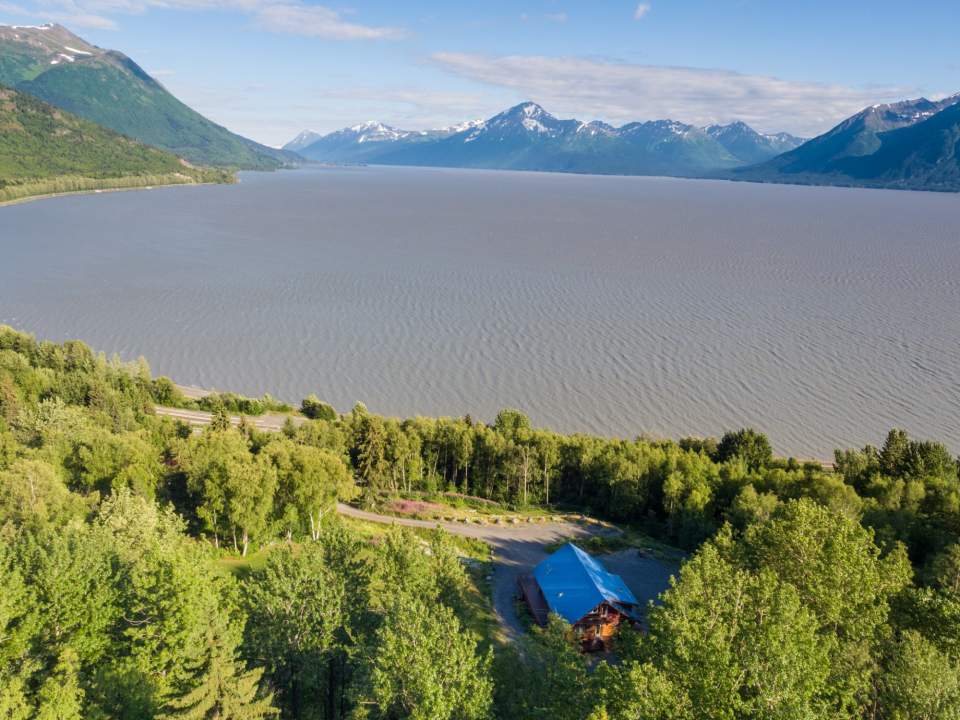 Play Rock-Paper-Scissors to Choose Your Room
Each floor has its own space and personality. The ground floor 'Rock Room' has a king bed, bathroom, and is decorated with photos of when Roger and a few buddies rode bicycles 1,160 miles on snow from Anchorage to Nome on the Iditarod trail—the first cyclists to do so.
On the middle floor, the 'Paper Room' has a queen bed and large bathroom. This level also has the living room, dining room, and the roomy kitchen, as well as the big wrap around deck. To avoid stairs drive around to the back door and walk right in!
The 'Scissors Room' on the top floor has two queen beds, four single beds, and an en-suite bathroom. The bedroom balcony looks out onto Indian Mountain, while an attached second room has a comfortable leather couch & chair, a heavy wood game table that seats six, and floor-to-ceiling windows overlooking Turnagain Arm.
From The Property
Indeed, you will want to spend a lot of time enjoying this comfortable lodge that sleeps 12. The 2,000-square foot wrap around deck allows unobstructed views that continually change with the tides and weather. Guests have seen bears (both black and brown), coyotes, moose, eagles, ravens, fox, and ermine here in the yard — even a black wolf from 10 feet away one early morning.
Guests find plenty to do without even getting in their car. A short walk down the hill is the historic gold mine, Indian Valley Mine, where your hosts, Roger, his wife Arlene and his brother Dan, will personally show you around the miners digs, his home, and workshop. They will even treat you to a bucket of pay dirt and teach you some panning skills to recover the gold. Yes, you get to keep all the gold you find! Gold mining has played a huge part in Alaska's history and comes with a warning: There is no cure for gold fever!
You may even enjoy talking turkey with Arlene while collecting eggs at the goldmine's coop or harvest some vegetable greens from the garden. If kayaking is your interest, Arlene is a veteran, having paddled most of the mainland coast of Alaska over a period of seven summers.
Up the hill, behind the lodge is a hiking trail that connects up to the Turnagain Arm trail, which follows the cliff line to the south edge of Anchorage. Their favorite after dinner walk, is less than a mile to a bluff perch over looking the Turnagain Arm where they watch beluga whales swimming the channel. For those wanting an even higher vantage point, the rugged trail ascends to the top of Indian House Mountain, elevation 4,400 feet.
Arrival into Anchorage
Most guests fly into the Ted Stevens Anchorage International Airport and arrive tired and hungry! Your hosts have some great dining suggestions if you want to drop your bags early and head off to dinner. Late check in at the lodge is never a problem either, even a red-eye check-in! Text or call to keep them abreast of your arrival time.
Driving to the Lodge
The drive is an easy 30-minute drive from the airport. The lodge is located at Mile 104 Seward Highway, and if you like mountains and water this drive will be one of your most memorable, especially if you happen to see Dahl Sheep along the mountain side or belugas surfacing in the arm. The Seward Highway is a National Scenic Byway, National Forest Scenic Byway, and an All-American Road as well, and for good reason! The archeological, cultural, historic, natural recreational and scenic views are awaiting you just up the road!
Make The Lodge Your Base Camp
Stays at the Turnagain View Lodge come with a two-day minimum—but it's pretty easy to imagine how those two days could play out:
Day 1: Indian, Girdwood and Portage
Indian Valley Mine is at the bottom of the driveway. Stop in for a tour and your complementary bucket of pay dirt. Next is the resort town of Girdwood just 25 minutes from Indian. While Girdwood is ski central during the winter, summer means hiking through the temperate rainforest, riding the tram, or even taking a glacier dogsledding tour. In Portage, see the impressive Begich, Boggs Visitor Center and the Portage Glacier. Nearby is the Alaska Wildlife Conservation Center where you can safely watch grizzly bears, muskox, moose and elk.
Day 2: Whittier or Seward
Whittier is just under an hours drive from the lodge, where you'll find day cruises into Prince William Sound to view glaciers and wildlife. A bit further is the town of Seward, the gateway to Kenai Fjords National Park. In Seward there are also day cruise options into the fjords, as well as kayaking excursions and hiking trails.
Great for Weddings and Special Events
Since the lodge works so well for multi-generational families and friends, it also makes a great spot for parties, special events, or weddings. You can choose from hourly rates, a 24-hour rate, or multi-day packages. For larger events over 30 (up to 200), Turnagain View Lodge can arrange outdoor tents and restrooms. Arlene or Roger can even help connect you with caterers (the kitchen can support it), florists and wedding planners.