The Best Large Family & Group Vacations in Alaska
Whether you're planning a destination wedding, multigenerational family reunion, exclusive lodge stay, or retreat with your college buddies, you need options that can accommodate your group and provide variety for different interests. Large group travel options range from do-it-yourself to land or sea adventures that are all-inclusive with varying degrees of flexibility for scheduled activities.
How do I choose?
Group size – Smaller groups (10-20) have the most options for lodging, transportation and excursions.
Budget – All-inclusive trips are more expensive upfront, but include lodging, meals and basic activities, with the flexibility to add on additional excursions. Independently planned trips can be less expensive depending on the lodging, excursions, and transportation that you choose for your group, but require a lot more planning on your part.
Length of your trip – Some options allow for settling in to one location; others are go-go-go.
Planning and logistics – You can make all the arrangements yourself, get help from a local itinerary expert, or book an all-inclusive trip.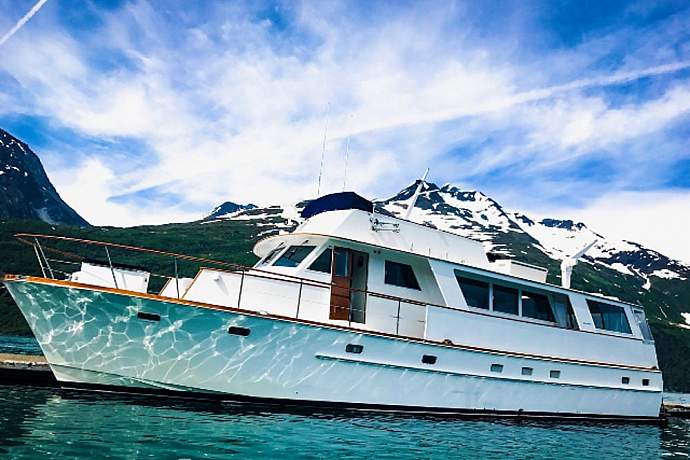 01
Charter a Small Ship Cruise or Yacht
Explore Alaska's marine life, rugged coastline, and dramatic glaciers on a small ship exclusive to your entire group. Settle into your room and enjoy meals prepared on board. Chartering a small ship cruise has many benefits over bringing your group on a large ship with hundreds of other people. It's private, you'll have more flexibility in your itinerary, and your ship can pull into smaller, secluded bays that larger ships can't fit into. Small ship/yacht options cater to your needs, offering hiking and kayaking mixed in with coastal exploration and watching for birds, whales, orca, seals and other marine mammals. Expect personalized attention and opportunities to learn about Alaska's ecology, wildlife and geography. Small ship cruising gives you the luxury of lots of time together.
Group size: 2-86
Where: Southeast (Glacier Bay) or Southcentral Alaska (Prince William Sound & Kenai Fjords National Park)
Typical Length: 3-15 days
Accommodations and meals: Homemade, high quality meals often featuring fresh seafood. All vessels have a common gathering area for eating and relaxing. Smaller vessels typically offer practical, comfortable two-berth cabins and shared bathrooms. Larger ships often include private baths with shower, with on board extras like hot tubs and fitness equipment.
Activities: Kayaking, paddle boarding, hiking, walking tours, beachcombing, tide pooling, learning about Alaska Native culture, looking for wildlife
Good choice for: Groups that want to settle in once and spend a lot of time together. Families with kids of all ages. (It's easy to keep track of the youngsters, and the changing landscape and outdoor activities appeals to their natural curiosity.)
What you usually won't see: Larger cities, Alaska's road system, inland geography such as tundra & rivers, fewer land mammals (bear, moose)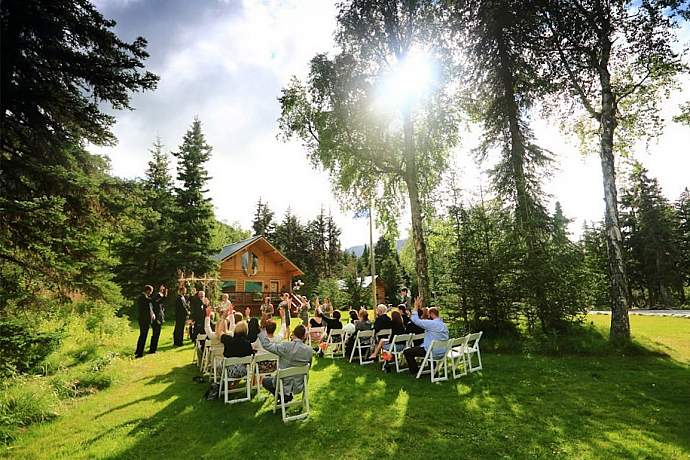 02
Wilderness Lodge
Fly or drive to a remote location and take over a lodge for an exclusive adventure, where you can soak up the feeling of being immersed in Alaska's wilderness. On-site hosts prepare your meals and arrange for a variety of activities. Most lodges are seaside, lakeside or riverside. All provide for an abundance of time together and a retreat from busy lifestyles. Wilderness lodge staff are experts on day trips, whether it's fishing, bear viewing, or hiking in a nearby national park. Staying in a common location gives your group time together with the flexibility of small-group forays to different areas. Some may prefer a day relaxing at the lodge, while others go exploring, for example.
Group size: 20-40
Where: Kenai Peninsula, Alaska Peninsula (Bristol Bay)
Typical Length: 5-14 days
Accommodations and meals: Homemade, high quality meals served in a main dining room. Many feature fresh seafood and vegetables grown on-site. Rooms typically include queen beds and private baths. Extras can include a sauna and wrap-around deck.
Activities: Varies based on the lodge. Sample activities include flightseeing, fishing, beach combing, guided walks/hiking, kayaking, bear viewing, wildlife viewing, boating tours.
What you usually won't experience: Urban areas, local festivals/nightlife, variety of restaurants.
Good choice for: Groups who want to settle into one location for a land-based stay in a remote setting, with lots of flexibility to split up into smaller groups for activities and come back together in the evening.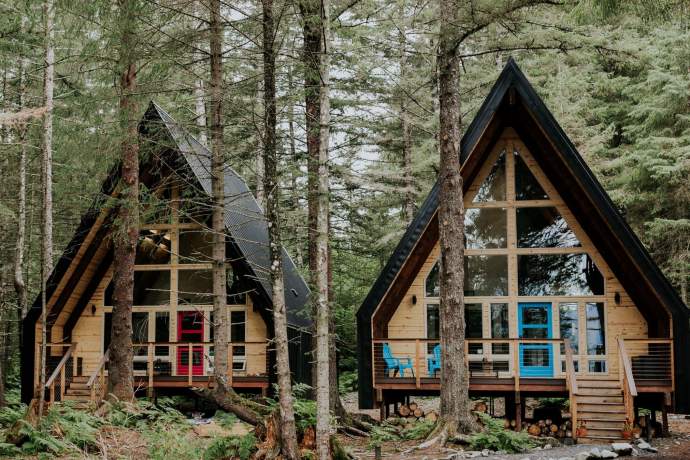 03
Rent a Large House (Vacation Rental) or Cabin Rentals
A large house rental (or a property with multiple cabins) provides one location for your group, putting you in charge of transportation, meals and planning activities. Accommodations are on the road system, in or near towns. This option gives you a taste of what it's like to live in Alaska, as you shop at the local grocery and interact with residents. You'll want at least one rental vehicle, and likely more depending on the size of your group. If budget is a main influencer, this can be a good solution – but you do need people committed to cooking and handling logistics and reservations for activities. Our best advice: start planning early! Flight seeing, fishing charters and other excursions often book up well in advance. Explore our site to find fantastic adventures all over the state. We can also recommend a local itinerary specialist that can assist with booking excursions, given enough advance notice.
Group size: Typically between 8-12, but there are options for up to 30
Where: Various throughout Alaska, mostly in cities or towns
Typical Length: Minimum stay of 2-3 days is typical
Accommodations and meals: Search and book your own lodging. Shop for and cook your own meals.
Activities: Vary depending on your location. You arrange all activities. Get in touch if you'd like a recommendation for a helpful itinerary planner.
Great for: Groups that want to stay in one location near urban amenities, who want responsibility for their own cooking and activities, and who want more time to talk with locals.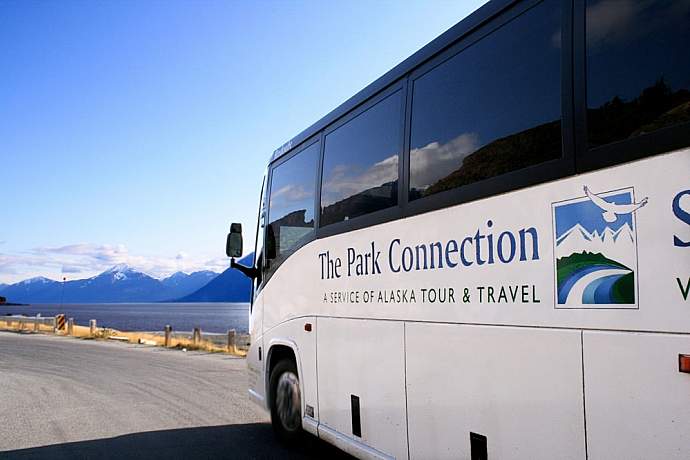 04
Escorted Land-Based Tours
Travel by bus or train to places like Anchorage, Valdez, Fairbanks, Denali National Park, Seward, Kenai Fjords, and Talkeetna, over a week to 10 days on an escorted tour where arrangements are made for you. Some meals are included and most of your time is pre-planned. This is the downside of an escorted tour, as the group needs to stick to the itinerary and there's no customization based on your individual preferences. But, they're generally well-planned so you shouldn't feel like you're missing out on any of Alaska's highlights. Visiting several towns requires a considerable amount of time spent traveling between spots (Alaska is big), which requires settling into a new hotel every 1-2 nights. For this reason, it's not ideal for travelers who want to spend a lot of time with active pursuits such as hiking or kayaking. It may not the best choice for kids, since there's less time for running around outdoors and little flexibility (like sleeping in if they get tired from travel). If your group is smaller than 50 or so, expect to join with other groups on the same bus or train ride.
Group size: up to 50
Where: Typically Southcentral, Interior
Typical Length: 7-10 days
Accommodations and meals: Overnight in hotels or lodges, typically no more than 2 nights in same location. Some meals included; other meals on your own.
Activities: Explore communities on your own; set activities may include flightseeing, whitewater rafting, day cruises, scenic bus rides.
Great choice for: Groups that want to fit in a variety of Alaskan destinations within 7-10 days, and who want all lodging and activities arranged for them.
05
Independent Touring
Groups that want to tour around Alaska and handle their own accommodations, transportation and meals can set up custom itineraries with advance planning and a good eye for detail. This option is labor-intensive, as you research where you want to go, how you're going to get there and what activities your group wants to take in. Depending on your group size, this can get tricky, especially if you have wildly varying interests. However, you get to see the parts of the state that interest you most, spend as long as you like in each location, have time to talk with local residents, and enjoy spur-of-the-moment highlights like community festivals or pulling off the road for a scenic photo. Alaska.org has many resources for trip-planning, and detailed information about the most popular spots, as well as lesser-known highlights around the state. We work with a local itinerary specialist in Anchorage who can help you build a core itinerary with hotels and transportation, especially if you reach out well in advance.
Group size: Varies. Groups larger than 12-15 can get cumbersome.
Where: Your choice, popular destinations include Anchorage, Denali National Park, and Kenai Fjords National Park (Seward).
Typical Length: Your choice, average length is 7-10 days.
Transportation: Options for large groups include 15-passenger van rentals, motorcoach, and the Alaska Railroad.
Accommodations and meals: Search and book your own lodging. Shop for and cook your own meals (if staying at a rental house) or eat at local restaurants. Or let us recommend a local itinerary specialist who can help with your core itinerary.
Activities: Vary depending on your location. You arrange all activities, which makes it possible to accommodate varying individual preferences.
Great for: Groups that want to see multiple locations in Alaska, with control over every aspect of their trip. Seasoned independent travelers who are used to large-group logistics and changing itineraries on the go.