Set sail with the crew of the M/V Sea Star for small ship adventure cruising in Prince William Sound, Kenai Peninsula or along the Inside Passage. The well-appointed yacht accommodates just 12 guests, allowing for a personalized experience where you are the explorer! Unplug from day-to-day life and soak up the wonders of Alaska's amazing coastline. Discover small coves that larger ships can't access, take time to kayak among otters and ice, and walk along remote beaches.
Southcentral Alaska journeys are 5 days and 4 nights, and include all meals prepared by an on-board chef and featuring fresh local ingredients. For the Prince William Sound and Kenai Peninsula adventures, enjoy the convenience of rail transportation arranged to and from Anchorage to the M/V Sea Star port of call (Seward or Whittier). As a bonus, you can arrange to spend a few extra days at either of these locations either before or after your cruise adventure.
Expeditions
Prince William Sound - Rail and Sail Adventure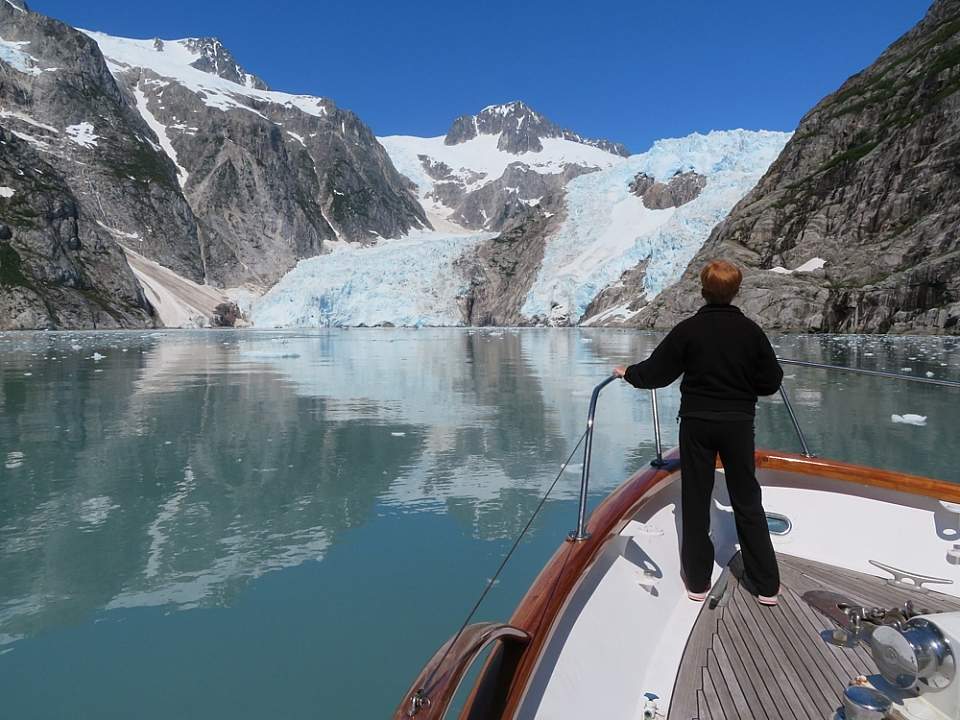 This enchanting journey explores the elegant and beautiful Prince William Sound, which is peppered with hidden coves, perfect kayaking spots and an incredible assortment of wildlife that invites you to stretch your naturalist muscles. The Sound is known for amazing tidewater glaciers that spill from on high down to the water's edge and M/V Sea Star brings you up close and personal with many of them. A vantage point on deck is an ideal spot to watch for massive chunks of ice calving into the water, creating a powerful and compelling display. If conditions allow, you might even be lucky enough to take a hike right up to Harriman glacier, exploring a landscape carved out over the years by the movement of the massive ice. Otters, seals, porpoises and shorebirds are frequent, with occasional black bear sightings as well. Sailing options include Whittier to Seward, Seward to Whittier, or a round-trip choice beginning and ending in Whittier (each including train transportation to/from Anchorage). Enjoy this Prince William Sound journey May thru August.
Kenai Fjords National Park – Grand Explorer's Adventure
The sheer rock cliffs of the rugged Kenai Peninsula tower hundreds of feet into the air, inviting you to explore the primeval landscape of Kenai Fjords National Park. Heed this call and visit grand beauties such as Northwestern, Aialik and McCarty glaciers. Anchored nearby, with the engine quieted, you'll hear the continuous crackle of 10,000-year-old ice. Often there are no other boats nearby on this journey, creating a private show of calving ice, aerial shorebird tricks, cavorting sea lions, and even feeding whales. As you make your way through this gorgeous National Park, the steep shoreline draws you in, insisting that you keep watch for more wonders waiting around each corner. Travel roundtrip out of Seward with train transportation to/from Anchorage included in your fare. The Kenai Fjords National Park Grand Explorer's Adventure is available from June into July.
Historic Inside Passage – Alaska Marine Highway
If you want to explore Alaska's famed Inside Passage, this cruise is the best way to see the sights quickly and, on a budget, with options for a 3-day, 4-day or 8-day journey. Join the crew as they take M/V Sea Star from Seattle to Alaska in May, or from Alaska back to Seattle in early September. The Seattle to/from Ketchikan leg follows a 24/7 steaming schedule and so there won't be stops for excursions like kayaking or beachcombing, but you will be able to witness the dramatic coastline and keep an eye out for exciting marine life along the way. But then as you transit from Ketchikan to Petersburg and on to Sitka, there might be some time for exploration, with short stops at small coves or inlets. And this journey is perfect for those who want to expand their maritime education as special focus is given to bringing you into the piloting experience. You can play a part in navigation planning, discuss insider knowledge of the area and even take a turn at the wheel. There is something for everyone, whatever your interest or experience level. When heading to Alaska, you can choose how far your journey takes you up the Alaska Marine Highway, ending either in Ketchikan (3-day cruise), Petersburg (4-day cruise) or Sitka (8-day cruise). With exclusive sailing dates, we recommend that you book this journey well in advance.
Activities
The real advantage to small ship cruising is the flexibility you have to explore anything exciting that comes up during your voyage. For the Kenai Peninsula and Prince William Sound journeys, you have the luxury of time to check out the many sights along the way. Go on a hike to a hidden waterfall, abandoned mining cabin, or to see spawning salmon. Stop and watch bears along the shore, or whales breeching at sea. Kayak in calm cove waters or beachcomb for rocks or driftwood. A Special Use U.S. Forest Service permit allows you to explore further in from the beach, stretching your legs to discover a higher vantage point and look out over the water. Your crew will bring you ashore to areas where you can see artifacts, or even locations rumored to be haunted. You'll learn the history and stories behind each of these unique spots. Onboard, you can play games, read a book, assemble a puzzle, paint/draw, journal, or share stories over a glass of wine. The bottom line? You get to decide what activities you'd like to enjoy. Each day comes with new views and experiences that surprise, delight and inspire.
Cuisine
On large cruise ships, guests often talk about the abundance and variety of food. On board the M/V Sea Star, tasty cuisine is abundant but not excessive – it's the fuel for your adventures and you'll never go hungry! Snacks, coffee, tea, water and a selection of beverages are available throughout the day and lunch is usually lighter fare on the go. It could be a packed meal you can enjoy on a day hike or hot soup and freshly baked bread while watching a glacier! A hearty breakfast and plated gourmet dinner with appetizer, entrée and dessert are offered while at anchor. Fine wines and beer are served with dinner, and you can bring additional alcoholic options on board if desired. Before your journey begins, you can provide information on your dietary needs or allergies, which are all taken into account for meal planning. An emphasis on local options means you can expect fresh seafood, along with quality meats, vegetables, herbs, gourmet coffee and delicious pastries.
About M/V Sea Star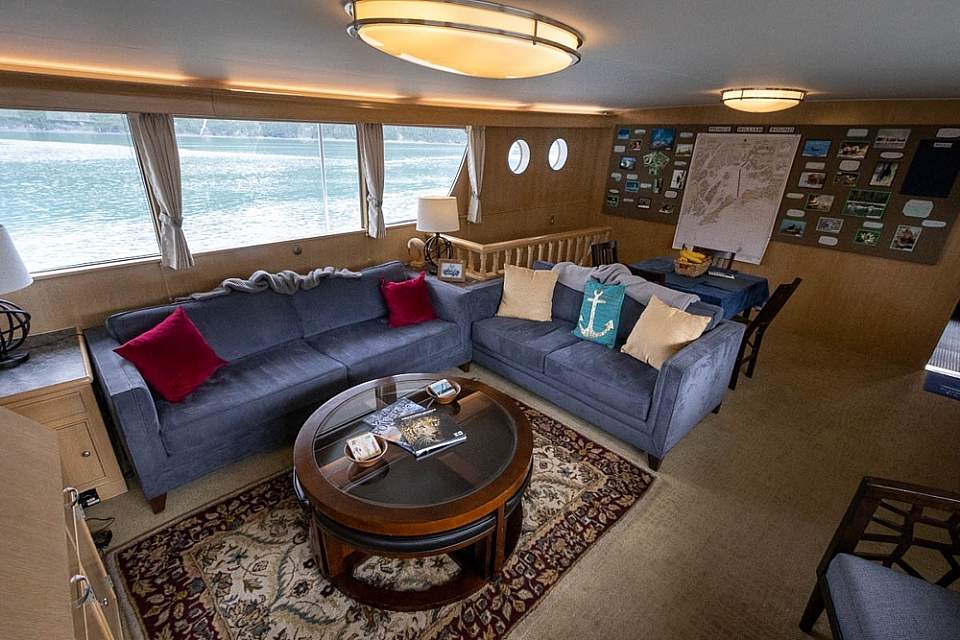 With two salons, an open wheelhouse, the inviting foredeck and 4 guest cabins, the 85-foot M/V Sea Star is the perfect size for small groups to share an incredible personalized Alaska voyage, while large enough to find your own space when you need it! Once settled into your cabin, you'll enjoy a private ensuite bathroom with toilet, vanity/sink and shower, soundproofing for a restful sleep, and screened porthole windows you can open for fresh air. Cabin options include twin or queen-sized bunks and sleep between 2 and 4, with a single occupancy option in one of the smaller cabins upon availability.
Relax on the foredeck and enjoy a 240-degree view. A large cushioned settee seats up to 10, although if there's a whale in sight, you'll be at the rail watching for incredible displays. Inside, the dining salon and main salon are inviting spaces for hanging out over a meal or drink, enjoying a playlist seemingly matched to the environment, sharing photos, and making plans for the next days' adventure while enjoying views out the large bay windows.
Throughout the journey, the crew will shut off engines and generator when possible and always at night, so you can enjoy the quiet of your incredible surroundings, along with increased opportunities for wildlife sightings.
There is no wi-fi, so relish the luxury of time away from the "real world" to enjoy the magical world offered by wild coastal Alaska.
The crew places a priority on safety, and M/V Sea Star is fully equipped with all appropriate equipment and redundant systems: two skiffs, a 30-person emergency raft, two emergency position-indicating radio beacons, two radars, four GPS units, two chart plotters, a medical first responder with AED on board and satellite communications for Coast Guard consults as needed.
More about North Pacific Expeditions
As a young boy, Captain/Owner Erik Teevin dreamed of making a living on the water. He started sailing by age 10, eventually volunteering on the 1920s-era Steamship Virginia V in Washington state. After exploring Prince William Sound as skipper for Ocean Beauty Seafoods, Erik, with urging from his wife Aspin, decided to spend summers guiding others through Alaska's amazing landscape. Finding M/V Sea Star provided the perfect opportunity to launch a small yacht adventuring business, creating reality from the initial dream. Erik and co-engineer Tracy Meyer both work as officers of the deck. Tracy also serves as the naturalist/guide to tell you about the geography and wildlife of the area. A chef and deckhand round out the crew, ensuring that guests are well fed, and that the vessel stays shipshape throughout the voyage. Erik holds a 200-ton Master Near Coastal license, and Tracy is a licensed 100-ton Master and 200-ton Mate Near Coastal who learned her navigational and sailing skills as an officer in the U.S. Navy.