How to Spend 3 Summer Days In Soldotna
Season
Mid-May through mid-September
Visit
Transportation
Why This Trip?
The truly authentic Alaskan town of Soldotna makes for an unforgettable addition to your Alaska trip. Just 3 scenic hours from Anchorage, it's a great excursion on its own or as a stopover on your way to other destinations on the peninsula. The town is known for its fishing, thanks to the world-famous Kenai River that runs right through town, but there's much more. Surrounded by the Kenai Mountains and Kenai National Wildlife Refuge, the town is a mecca for outdoor lovers of all types. And the community itself has great food and gorgeous public art. Also, if your summer visit includes a Wednesday, don't miss the town's Wednesday Market, which features food vendors, shopping, and live music as well as a beer garden in the evening.
Here are some of our favorite spots in Soldotna to make for 3 perfect days.
Depart Anchorage for Soldotna, a drive of 2.5 to 3 hours without stops. Start along the incredibly scenic Turnagain Arm, then head through Turnagain Pass and stretch your legs in the Tern Lake area. You'll pass through Cooper Landing and get glimpses of the Kenai River as you make your way to Soldotna. Make the Soldotna Visitor Information Center your first stop. Walk across the bridge to get a view of the Kenai River from above, then explore the trail behind the center, which leads to a boardwalk with access to the Kenai River. If you've got time, hike the whole 3-mile Centennial Campground Loop; the trail winds by the Homestead Museum, where you can see original Soldotna homestead buildings and learn about the area's history. Or visit Soldotna Creek Park and walk the boardwalks along the river. Overnight at a local lodge or cabin.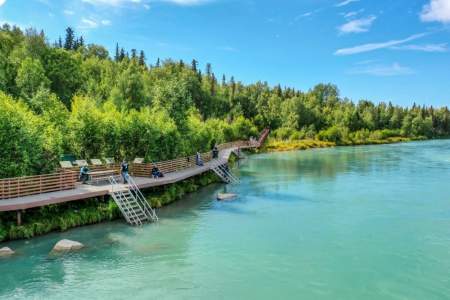 Today you'll spend a full day in Soldotna, and you'll have lots of fun options to choose from! If you're an angler, today's the day to fish the Kenai River. If you're comfortable doing it alone, Soldotna boasts an impressive 53 sets of access stairs down to the Kenai River from various locations around town. Don those hip boots or chest waders and get in the river to reel in your catch like the locals do! Or go with a local expert. Guides offer charters to get you to the best spots, and will provide all the gear and know-how.
Not into fishing? Take advantage of Soldotna's location and enjoy fly-out bear viewing adventures across Cook Inlet. You'll land in remote locations to see bears in their natural environment. Or opt for a flightseeing adventure of nearby mountains, glaciers, and sprawling icefields.
In the evening, grab a bite to eat at one of the great local restaurants. See our list of the foods you must try in Soldotna. Then take a walk through town to check out the various murals and public art spaces around town.