For year-round expertise on navigating the charming town of Soldotna, look no farther than the knowledgeable staffers at the Soldotna Visitor Center.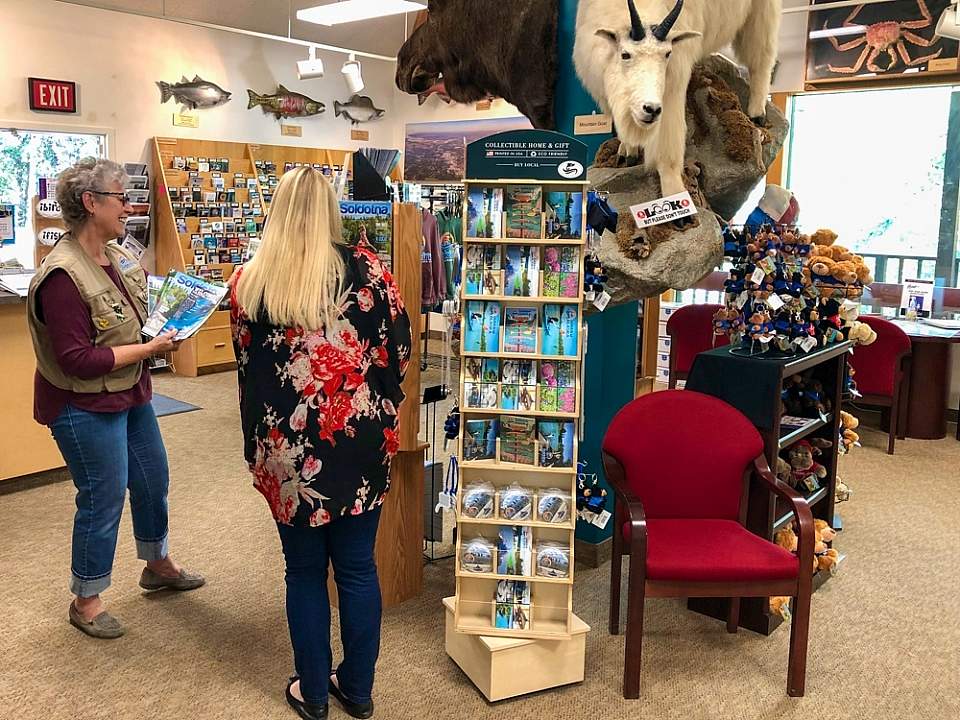 Why to Visit
This is the place to begin for information about Soldotna and the surrounding area—everything from where to stay and eat to the perfect activities for your interests. Many of the knowledgeable staffers have lived in town for more than a decade and spent many seasons assisting travelers. They know where to look for answers and will always try their best to find exactly what you need.
You can also pick up statewide visitor guides and other publications here (about the Kenai National Wildlife Refuge, for example), and purchase annual parking and boat launch passes to Alaska's state parks. (They don't, however, sell fishing licenses.)
Then learn about the amazing public art around town, starting with the carved wooden statues and photographic mural right at the center. Also ask about the tree stump that was carved into an Alaska-themed gnome cabin!
What to See & Do
The center is a hub of activity! Here's some of what you can experience when you visit:
Park for free and walk to the Homestead Museum, about 5 minutes away.
Go angling on the fishing platform.
Look for wildlife. You may see moose, river otters, eagles, and even perhaps a seal!
Bring a picnic and sit out at one of the picnic tables.
Take your photo on the popular fish bench that has salmon carved into it.
Inside you'll find displays about wildlife, including the world-record king salmon Les Anderson caught in 1985 (97¼ pounds!). The fish's actual skin is on the mount.
Go for a hike! The center has its own walking path, the Centennial Trail—a gorgeous 2.5-mile loop that mostly follows the river. You can detour off the trail and access the nearby Homestead Museum.
Geocache! There's a geocache hidden on property—can you find it?