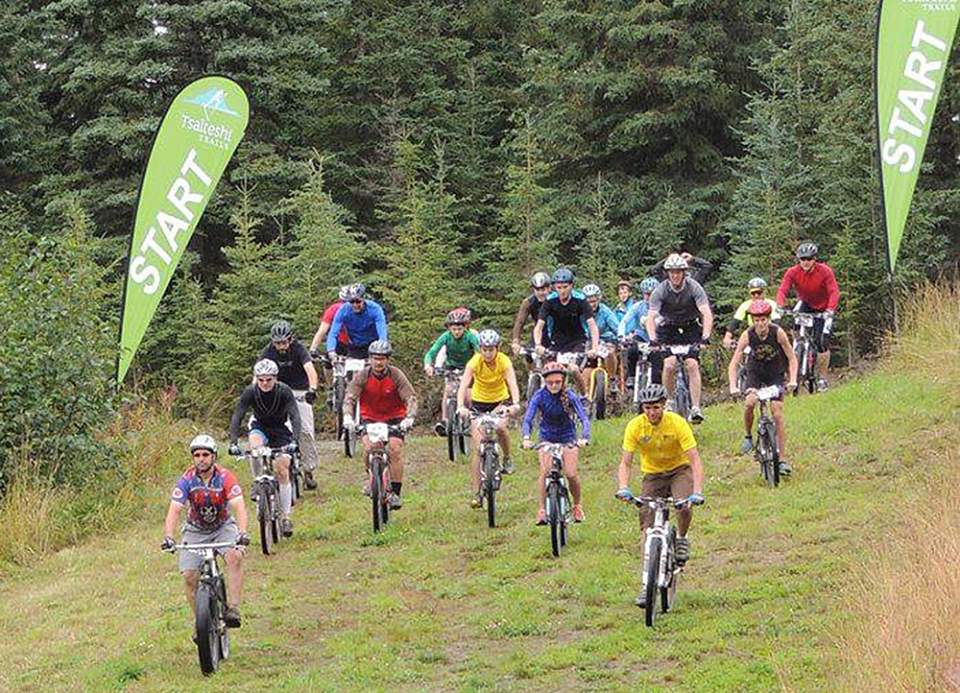 Why do Soldotna residents love living in this town? One big reason is the world-class, multi-use Tsalteshi Trails system. Locals take full advantage of these endlessly fun trails several days a week, year-round!
Managed by the nonprofit Tsalteshi Trails Association, the trails are maintained by donations, grants and a volunteer workforce that has as its mission to "actively provide and support a multi-use trail network that encourages healthy outdoor recreation."
In summer, the trails are open to all kinds of foot-powered recreation — walking, running, hiking, biking, photoshoots, wildlife watching and berry-picking. There's even an 18-hole disc golf course. K-9 feet are welcome, too, but make sure your doggo is on a leash or under strict voice control, as humans and dogs aren't the only creatures that frequent the trails. If you're a mountain biker, Tsalteshi has 10 kilometers of singletrack trails of varying difficulty levels to get your heart and legs pumping. Be sure to follow all safety guidelines. If you're a Soldotna local, you'll likely run into friends at Tsalteshi, but they don't want it to be literally!
In winter, locals hit the trails for cross-country skiing and fat-tire biking. There are more than 25 kilometers of groomed ski trails, perfect for classic and skate cross-country skiing. The singletrack trail system is open to fat-tire bikes and snowshoes, only, once the snow flies. The nearby Slikok Multi-Use Trails are open to those uses plus walking, running and dogs (sorry, no pooches allowed on the main trail system during the winter).
If you feel a connection to this area, you wouldn't be the first: "Tsalteshi" is a Dena'ina Alaskan word meaning "Black Stone Axe Ridge" — an ancient link to the land. The dream for these trails began in 1987, and the original 7 miles of trails have been expanded to what they are today. And people use them! The trails have hosted triathlons, qualifying races for the Junior Olympics, the Arctic Winter Games, regional and statewide skiing and running events, and more!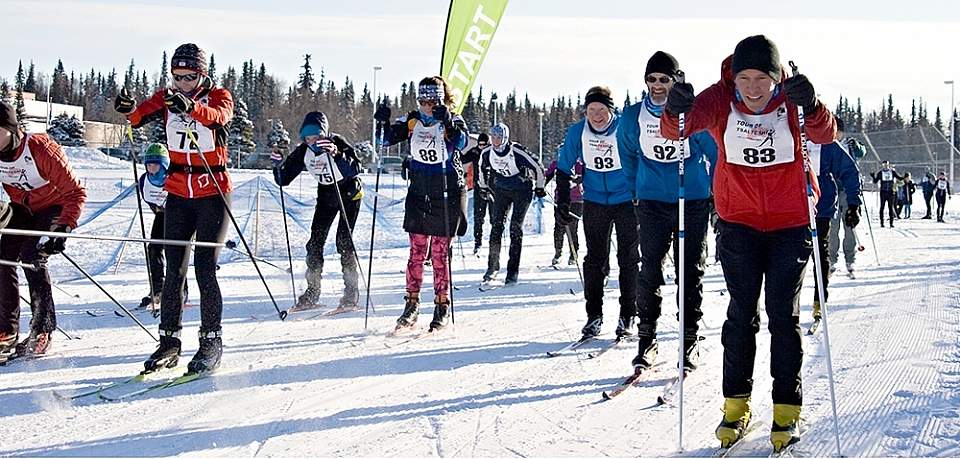 Get Out There
The trails have two managed areas. The main trail system has four access points. The main trailhead is behind Skyview Middle School, with an ample parking lot, a sledding hill and 8 miles of lighted trails so you can ski after dark. The Wolverine Trailhead, off Kalifornsky Beach Road, across from the Soldotna Regional Sports Center, has outhouse facilities and a gravel parking lot that's plowed in the winter. There's a small parking lot at the city of Soldotna's water tower on the Fox loop, and there's access to the Squirrel and Owl loops off the north side of Isaak Road, but only space for one or two vehicles in the summer and no parking in the winter.
South of Isaak Road is the Slikok Multi-Use Trails, with about 5 kilometers of trails open to foot traffic, biking, skiing and dogs (skijoring, too!) in the winter, and all foot-powered fun in the summer. There are another 5 kilometers of singletrack at Slikok, too, open to fat-tire bikes in the winter, as well as mountain bikes in the summer.
There's a parking lot off the Sterling Highway, across from the Central Peninsula Landfill. There's also trail access via the connection to the Squirrel and Owl loops of the main trails across Isaak Road, but no parking there in the winter.
How To Experience It
The trails are free to use, open 24/7, all year round. If you're looking for gear, head to Beemuns to rent fat bikes and mountain bikes, as well as skate skis and classic skis in the winter. You'll find maps at the trailheads or download a PDF from the website — www.tsalteshi.org. If you're unfamiliar with these trails, though, the maze can feel overwhelming. It's best to download the Trailforks app to use with your phone or tablet (which puts your position on an interactive map).
Tsalteshi holds races and events throughout the year. Check out the Events tab at www.tsalteshi.org and the Youth Programs link to learn about the Tsalteshi Trails Youth Ski Program for ages 4 to 12, and the Tsalteshi Sprockets youth mountain bike program.
If you, too, fall in love with the trails, consider donating or becoming a member. Local support makes this local gem shine.