Photo Credit: Caribou Lodge Alaska
Wilderness Lodges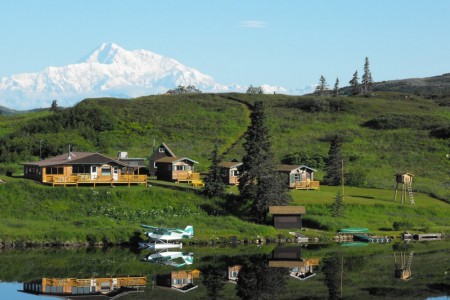 $370+ Fly-in Day Hike | $365+ Overnight
This fly-in wilder­ness lodge on a pri­vate lake in the Tal­keet­na Moun­tains is a great place to unplug. Choose from 3 pri­vate cab­ins and enjoy home-cooked meals served fam­i­ly style with oth­er guests. Take guid­ed walks to look for wildlife or wild berries, or just relax and enjoy the peace and bliss­ful views.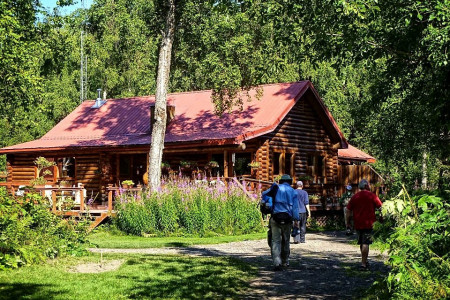 $550+ fly-in fishing day trip, $1,248+ overnight all-inclusive 1 - 6+ Nights
Explor­ing Alaska's back­coun­try lakes, forests and rivers is a phe­nom­e­nal expe­ri­ence. Wilder­ness Place Lodge — tucked away on a remote riv­er north­west of Anchor­age — offers excel­lent access to near­ly any fresh­wa­ter fish you came to Alas­ka for, along with a unique eco-trav­el expe­ri­ence that comes with a high lev­el of ser­vice, a vari­ety of non-fish­ing activ­i­ties and the mel­low free­dom to cre­ate an Alaskan expe­ri­ence that suits your own taste.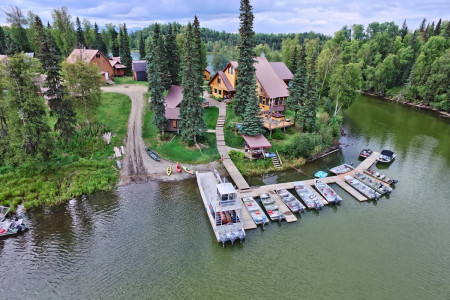 Season: Year Round $575 full day fishing, $1200+ all-inclusive multi-day packages 8 hrs - Multi-Days
The North­woods Lodge is a remote lodge where vis­i­tors can find them­selves in a 45 minute flight from Anchor­age. The lodge spe­cial­izes in guid­ed fish­ing, and guests can enjoy 8 to 10 hours of fish­ing a day if they choose. Guides help you spin or fly fish for tro­phy king salmon, sil­ver and sock­eye salmon, or res­i­dent rain­bow trout, arc­tic grayling and north­ern pike
Wilderness Lodge Itineraries