Brooks Falls: Katmai National Park Bear Viewing Tours
Most visitors venturing into Katmai National Park for the day come for the bears! Brooks Falls is famous for the site of brown bears bulking up for winter by feeding on salmon trying to make their way upstream.
You can visit Katmai in a day from Anchorage, Homer, or King Salmon to see the bears. If you're looking to stay longer, book into Brooks Lodge for a multi-day bear viewing experience. You can also opt for a lodge package that includes the Valley of 10,000 smokes.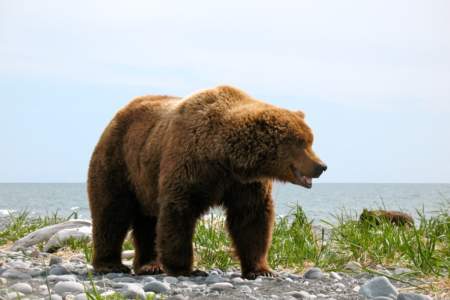 Season: Year Round $825 Bear Viewing, $585+ Flightseeing 45 min - 5 hrs
Watch bears dig­ging for clams, wan­der­ing the sedge grass, or nurs­ing their young – all in a short flight from Homer to Kat­mai or Lake Clark Nation­al Park. Smokey Bay's bear tours last about five hours total — includ­ing flights and about three hours on the ground. On any giv­en day there will always be a morn­ing out­ing (leav­ing at 8 a.m. at the lat­est) and pos­si­bly one that leaves around 2 p.m.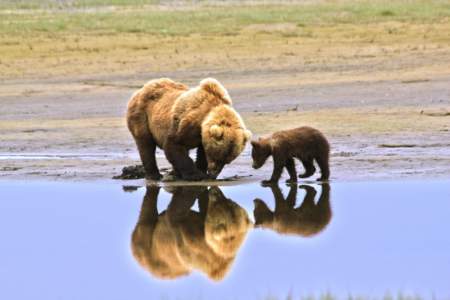 Season: May 15 - Sept 15 $685+ 3 hrs -11 hrs
Spend sev­er­al hours or a full day watch­ing bears in the wild on a quin­tes­sen­tial Alaskan adven­ture with a fam­i­ly-run com­pa­ny. Start with a scenic flight out of Homer over Kachemak Bay and into Kat­mai or Lake Clark Nation­al Park. Once you land, your pilot/​guide will take you to an opti­mal spot to watch and pho­to­graph these mag­nif­i­cent crea­tures in their nat­ur­al envi­ron­ment, hunt­ing, play­ing, and relax­ing. Spend any­where from 1.5 to 9 hours on the ...more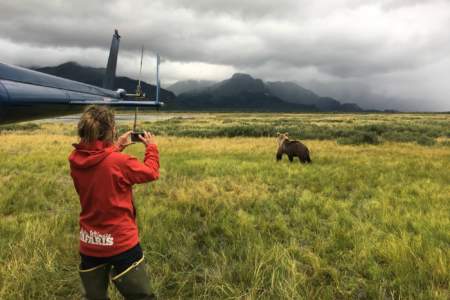 Season: June 1 - Sept 15 $1699 per person 4 - 8 hrs
For many Alaskan trav­el­ers, bears are the ulti­mate high­light. Pair a mag­nif­i­cent sight­ing with a gor­geous heli­copter flight­see­ing ride and you'll have an unfor­get­table expe­ri­ence. On this unique tour from Homer, you'll take a heli­copter ride out into one of Alaska's gor­geous nation­al parks to wit­ness these spec­tac­u­lar crea­tures in the wild.