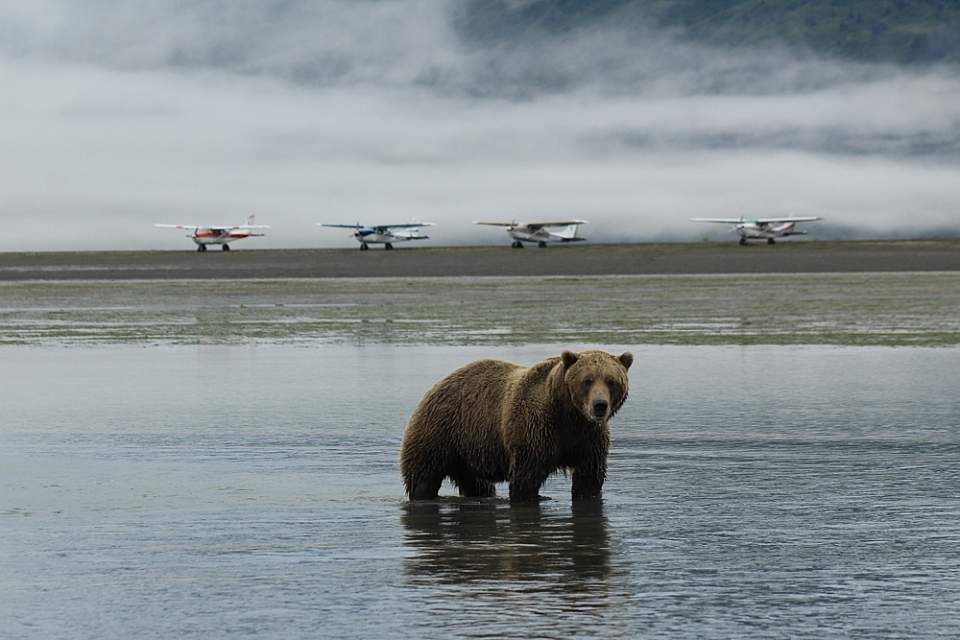 When you want to experience Alaska's wildlife, there's nothing more amazing than spending time among Alaska's famed coastal brown bears in their own habitat. Family-owned Alaska Bear Adventures flies you from Homer to undeveloped areas, for an unforgettable connection with wild Alaska.
With over 15 years of safely flying visitors to view brown bears, you can trust they offer incredible bear viewing experiences in Alaska.
Day Tour Options
Classic Fly-In Trips
Choose from a 4-, 7-, or 11-hour day trip. You'll start out with a gorgeous flight over Kachemak Bay and will land at either Katmai National Park or Lake Clark National Park. As pilots fly over the area, they mark where the bears are located so that you can find them easily once you land.
The shortest trip gives you 1.5 hours in the air and 1+ hours with the bears. The "Classic" trip includes 1.5–3 hours of scenic flightseeing and 3+ hours with the bears. And the all-day trip features 2.5-4 hours on the plane and an unforgettable 6–9 hours with the bears.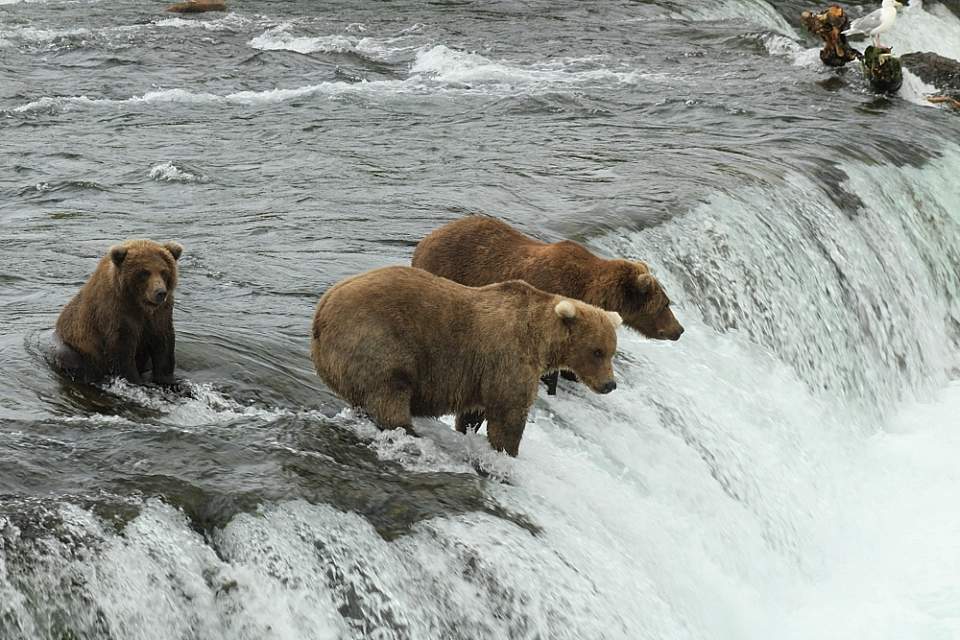 Brooks Falls Trip
After a scenic flight on a float plane you will land at Brooks Falls in Katmai National Park. Once on the ground you will have four hours of self guided bear viewing where you can view the bears at the iconic Brooks Falls. Take advantage of the strategically placed viewing platforms to capture your once in a lifetime photographs of bears catching salmon as they jump up the falls.
About Alaska Bear Adventures
For Alaska Bear Adventures, bear viewing is not a sideline activity, but the main event. All pilots are fully trained bear guides who have an avid interest in bear behavior. During your excursion, you'll do some hiking, some kneeling, and a lot of picture taking. Learn the ins and outs of bear behavior in the wild—beyond the limits of zoo bars or enclosures.
After years of bringing visitors to bear country, Alaska Bear Adventure guides know the clans well and can point out some of the recurring cast of characters. Maybe you'll see "Lefty" (whose left ear is missing), "Righty" (yes, whose right ear is missing) or "Meanie" (who's missing both ears). Depending on the season, you'll discover cubs nursing, males fighting for dominance, or sows grazing on sedge grass. Watch bears dig for clams at low tide, or see them fattening up during one of many red salmon runs. Find out which mamas tend carefully to their cubs, or which might leave a cub with your group to babysit!
Factors include how long you want to spend with the bears, your physical abilities, and what time of summer you want to go. Every trip includes some hiking (except the Fly & Float) around remote areas, so Alaska Bear Adventures strives to match up guests who have similar preferences. If you like to meander more slowly, or have any mobility issues let them know, so you don't find yourself with a group of power walkers!
Weather and Safety
Guides put safety—both for the bears and for you—first. Sometimes the weather is great in Homer, but bad over at Katmai. Pilots monitor conditions, and may cancel or delay flights due to poor weather. While that doesn't happen too often, it's good to understand the policy in advance, especially if you can keep your travel schedule flexible. If your flight is cancelled, Alaska Bear Adventures will try to rebook you or will give you a 100% refund.