Experience the majesty of seeing Alaskan Coastal Brown Bears in the wild! Emerald Air Service makes the experience of flying from Homer to watch bears easy to do; you'll also learn a lot about these gorgeous creatures and get an incredibly scenic flight over the Alaskan wilderness.
Katmai National Park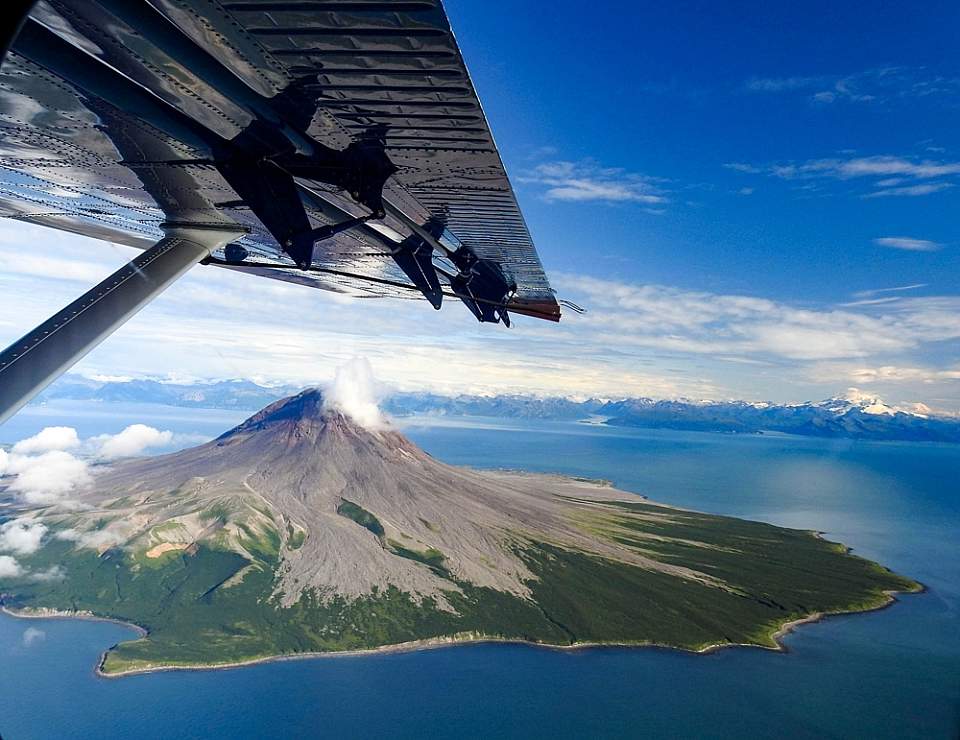 After checking in at Emerald Air Service's cozy log cabin and having an educational safety briefing, you'll board a roomy, 10-passenger floatplane where you'll have your own window and headset. Then get ready for an 75-minute scenic flight that passes numerous volcanoes and glaciers as you gaze down on Cook Inlet and Kachemak Bay on your way to bear-viewing central: Katmai National Park.
Katmai National Park sits where the Aleutian Range meets the Alaska Range. The geological curiosities of this volcanic and recently glaciated land are fascinating, even to an untrained eye. Katmai is unique in hosting the headwaters of the Bristol Bay fishery—the largest wild sockeye salmon population (approximately 46% of the world's). This thriving population of salmon is the foundation of Katmai's thriving ecosystem and directly sustains coastal brown bears in legendary numbers. A day in Katmai is a glimpse of an ancient and still thriving world. Your destination in Katmai offers other benefits over Alaska's other bear-viewing mecca of Lake Clark National Park. First, you're not flying as far as you would from Anchorage, so there's a difference in price. Also, Katmai offers a lot of terrain with less traffic, so you'll have a more personal, authentic experience with the bears. You'll spend 5 hours on the ground on either of the day trips that Emerald Air Service offers.
After marveling at the bears, you'll debrief over coffee and cookies back in Homer at the lodge on Beluga Lake.
Day Tour Options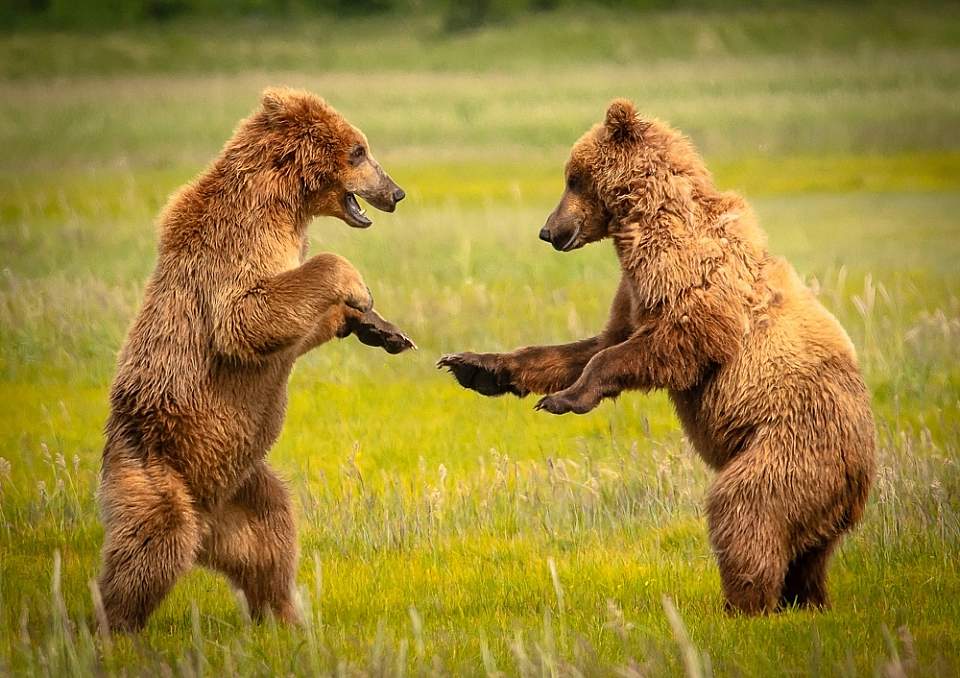 Guided Expedition into Katmai Bush
With your small group (9 guests maximum) led by a naturalist guide, you'll walk 3 to 5 miles wearing hip boots provided by Emerald Air Service as you cross creeks or walk along the ocean's edge. Uniquely, your guide does not double as your pilot, but is wholly concerned with safely leading the group and conveying an understanding of the bears, knowledge of how to move through their world, and a love for wild places. It's the perfect way to immerse yourself in bear country. Bears do mini-migrations all summer, and you'll check out various spots in the park depending on where they are—your guide will know where they like to go! If it's spring, for example, they'll be grazing in beautiful sedge meadows on coastal flats with glacier-fed creeks that flow into the ocean. You'll have a chance to see one or more groups of bears fishing, playing, or just hanging out—they're amazing creatures no matter what they're doing!
Brooks Falls Self-Guided Trip
If you don't want to do all of the walking on the guided expedition—and you want to see the classic view of bears fishing for brilliant red salmon leaping up rushing falls, this is the tour for you. While you are not accompanied by a naturalist guide, you will be met by one at Emerald Air Service's dock and given a passionate, educational briefing about the amazing things you are about to see and what to expect. Walk at your own pace and enjoy an unforgettable time at the viewing platforms (there may be a time limit to your turn, depending on how many visitors are there). A crackling fire and a hot meal or beverage is an easy 1 mile walk on maintained trails and boardwalks from the viewing platforms. You have 5 hours to explore the area. Keep an eye out for females and cubs by the river and beach as well. Be sure you have plenty of space on your camera for all the photos you'll take!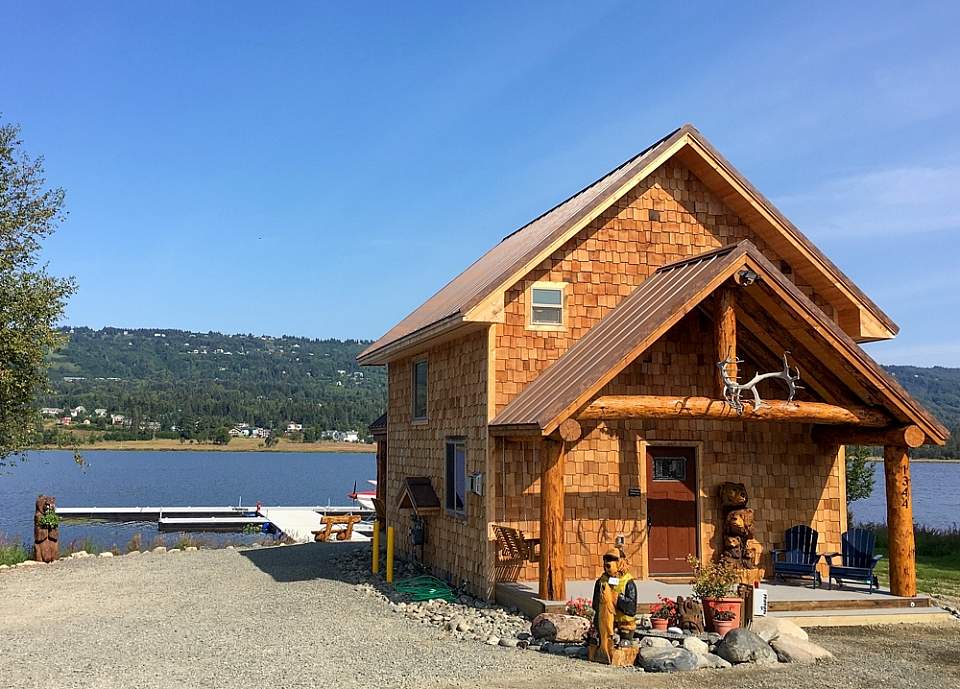 About Emerald Air Service
When Emerald Air Service began in 1991, the two bear-loving founders had a radical idea: Instead of flying people to a lodge where they would spend weeks at a time, why not take travelers on day trips from Homer? This quick, iconic journey, of course, became a very popular trend. It's also helped them get out the message about how special bears are, helping to round out the public image of these majestic animals and to increase the understanding and appreciation of the unique ecosystem that supports bears.
Even after almost 20 years, Emerald has remained small, personal, and authentic. The current owner is Chris Freeman, who's passionate not only about the company he runs, but also about inspiring guests to love Alaska and its bears!