Photo Credit: Horseshoe Lake Trail
Hiking Near the Park Entrance
You don't have to board a bus or carry a hefty backpack to enjoy hiking through the wilderness surrounding Denali National Park. Near the entrance area, there are plenty of developed trails that offer views, a bit of solitude, and chance encounters with wildlife. Here's a map of the Park Entrance Area trails.
Hiking in Denali National Park
The National Park Service's green shuttle buses make exploring the park easy and liberating: You hop off when you want, and then hop back on when another bus comes back through.
There aren't many maintained trails in Denali, so hiking here is pretty free-form. The Denali backcountry is managed by not having formalized trails, which helps to preserve a sense of exploration and route finding in the park. One popular way to hike in Denali is along the river bars, which tend to be wide, fairly dry, and easy walking. Setting off across the tundra, particularly at lower elevations, is a little more difficult. In places, you may need to whack through brush, get your feet wet in creeks, or bobble on the tundra (which some people compare to walking on carpeted basketballs). Here are more tips for hiking in Denali's backcountry.
Not ready to venture out on your own? Hire a local guide with Traverse Alaska to prepare for your independent hiking adventures. Or, sign up for on of the parks Discovery Hikes where you'll explore Denali's trail-less wilderness with a Denali Park Ranger.
2023 Partial Road Closure Update: In the summer of 2023, construction will continue on a bridge to bypass a landslide at MP 45.4 of the Denali Park Road. Transit buses will travel as far as MP 43.
How to Prepare & What to Wear
Whether you're doing a day hike, or heading into the backcountry for several days, you'll want to make sure you have the proper gear. Here's our advice for what to wear hiking in Alaska. Don't have that kind of gear in your closet? Rent it from Alaska Outdoor Gear Outfitter & Rentals. They have everything from hiking clothes and day packs, to ultralight backpacking gear so you don't feel weighed down on your expedition.
Also be mindful of wildlife. See our tips for staying safe around bears and moose, and respecting other species.
And, if you're traveling with your furry friend, please abide by the park's rules. They're allowed on the park road, in parking lots, or on campground roads, but not on park trails or in the off-trail wilderness. The only exceptions are the Roadside Trail and Bike Path near the park entrance.
Hiking Trails Near the Park Entrance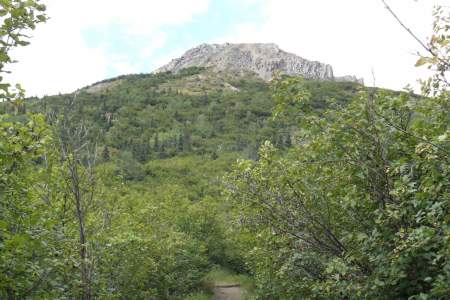 Difficulty: Difficult Distance: 6 miles
The first mile of this trail, which begins near the new Murie Sci­ence and Learn­ing Cen­ter, is mod­er­ate­ly steep, hik­ing through the for­est. The for­est even­tu­al­ly gives way to tun­dra. Trees turn to shrubs, and the land­scape opens wide. The last 1.5 miles are even steep­er. Your reward, how­ev­er, is sweep­ing views of the Denali Nation­al Park entrance area, the Nenana Riv­er Val­ley, Healy Ridge, and near­by alpine ridges. Those who want to climb to the ...more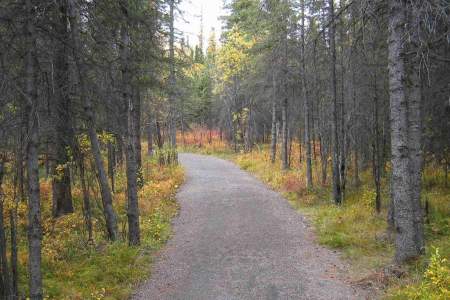 Difficulty: Easy Distance: 1 mile
If you're head­ed to the dog demon­stra­tion at the ken­nels, or if you just want to stretch your legs, try walk­ing this wide, com­fort­able trail through the for­est, up to head­quar­ters from the Vis­i­tor Access Cen­ter. It basi­cal­ly fol­lows the road, occa­sion­al­ly wan­der­ing out of sight of the traf­fic. Length: 1.8 miles Ele­va­tion: 300 ft. Time: 45 – 1 hr. one way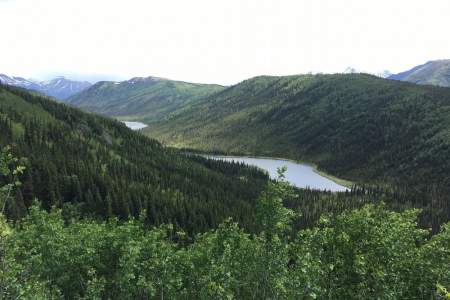 Difficulty: Easy
You can begin hik­ing at Mile 231 Parks High­way, on the west side of the road, where there is a small pull­out for park­ing. The trail climbs steeply, and cross­es the Alas­ka Rail­road tracks. Then, the trail mod­er­ates and emerges from the for­est to a grand view of the Nenana Riv­er and the Alas­ka Range look­ing south toward Windy Pass. From there the trail loops around the ridge and fol­lows a series of three scenic lakes. Even­tu­al­ly, the park plans ...more
Off-Trail Hiking Areas in Denali National Park
Not formalized trails. Unmaintained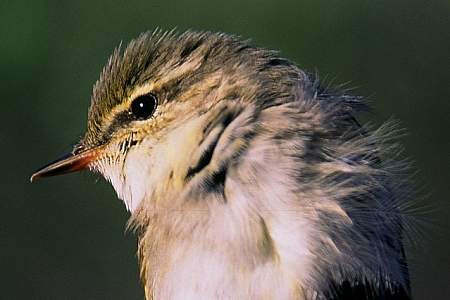 You'll like­ly see plen­ty of oth­er hik­ers here, since this is a pop­u­lar main­tained trail, but you'll get plen­ty of scenery, too. You start by fol­low­ing a creek, walk­ing beneath alders then hik­ing up out of it onto tun­dra. Dinosaur fos­sil foot­prints were found here, and today you can hear plen­ty of song­birds, too. Ter­rain goes from peb­bles to squishy tundra.
Maintained Hiking Trails in Denali National Park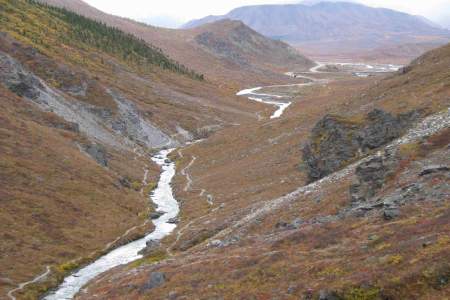 Difficulty: Easy Distance: 2 miles
Either dri­ve your own car or take the free shut­tle 15 miles out the park road to the Sav­age Riv­er check sta­tion. This is a pop­u­lar hik­ing trail, and you won't be alone, but at least you're away from the entrance area and enter­ing the true wilder­ness of Denali Nation­al Park. This is a tun­dra walk on a devel­oped trail that fol­lows the riv­er. Good hike for kids, with pos­si­bil­i­ty of see­ing Dall sheep, mar­mots, and cari­bou. You can do a loop walk, ...more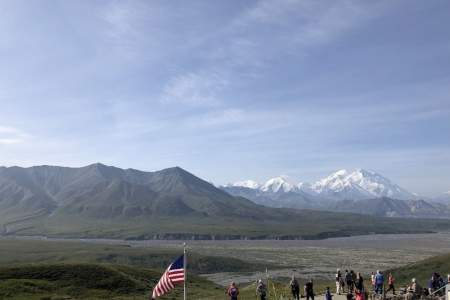 Difficulty: Moderate Distance: 1 mile Elevation Gain: 1000 feet
From the trail­head at the Eiel­son Vis­i­tor Cen­ter, hike well-marked switch­backs to the top of Tho­ro­fare Ridge. At the top, you'll enjoy views of Denali and wide-open tundra.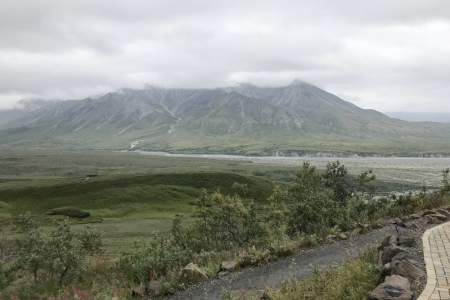 Difficulty: Easy
A 0.3 mile loop depart­ing from the Eiel­son Vis­i­tor Cen­ter in Denali Nation­al Park allows vis­i­tors to explore the alpine tundra.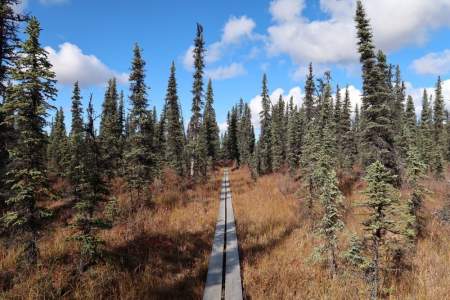 Difficulty: Easy Distance: 2 miles
Take an easy hike on a well-main­tained trail from the Won­der Lake Camp­ground to the McKin­ley Riv­er. This is part of the his­toric route that climbers used to access Denali (Mt. McKin­ley). Look for wildlife along the way, espe­cial­ly when you get close to the river.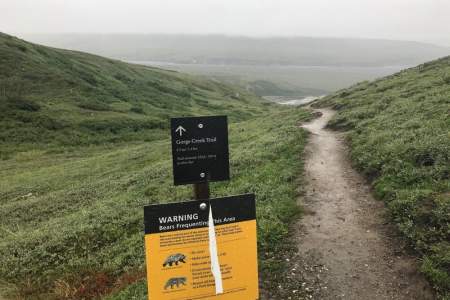 Difficulty: Easy Distance: 2 miles
Hike 2 miles roundtrip from the Eiel­son Vis­i­tor Cen­ter to the Gorge Creek and Tho­ro­fare Riv­er Bars. Beyond the end of the trail, you can con­tin­ue off-trail and reach back­coun­try camp­ing units with­in the park.