The Guide to Alaska's Music Festivals
Alaska enjoys a vibrant music scene, with an emphasis on acoustic, bluegrass and American roots. Just about every month sees a festival or an event featuring live performances by both local artists and national acts, sometimes on multiple stages in the same venue. During the summer season, these bashes go into overdrive and often morph into full-fledged outdoor carnivals where people dance until midnight and camp in the Alaskan outdoors. It's possible to spend almost every summer weekend at a different festival in a new community, most with local venders selling food, crafts and artwork.
January
Anchorage Folk Festival - Anchorage - third week in January (dates vary)
For lovers of indigenous music. Scores of local musicians and a few national acts converge on the University of Alaska Anchorage campus for this very popular 10-day festival during the heart of winter with performances, workshops, films and talks. Most events are free and held in the Wendy Williamson Auditorium on the UAA campus. Put on by volunteers, the event is casual and spontaneous, with impromptu jam sessions often spilling into hallways.
February
Winter Folk Fest—Fairbanks— 1st or 2nd Saturday in February
For a full day of performances by local musicians showcasing homegrown acoustic talent, you can't go wrong with this long-running winter festival at the Civic Center at the Pioneer Park (Alaskaland) in Fairbanks. A recent event featured 30 performances between noon and 10 pm, with a new artist every 20 minutes. With a separate stage for dancers, plus food and vendors. A sister event takes place in June.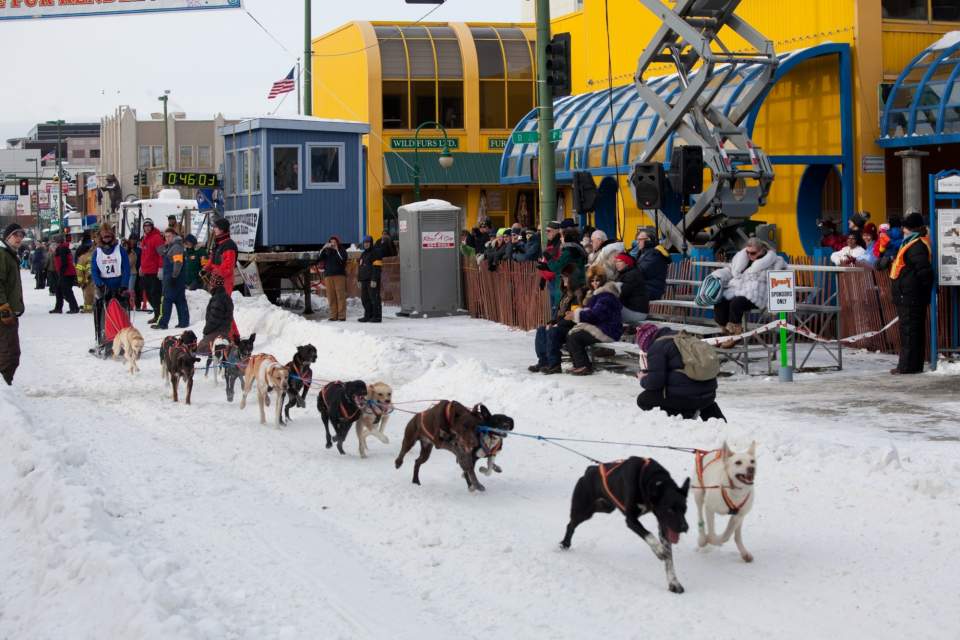 March
While March has no major festival aimed solely at music, the state simply booms with other celebrations that usually include many live performances at multiple venues, including (or especially!) the 10-day Anchorage Fur Rendezvous. In general, March is the month when the growing light, moderating temperatures and packed trail systems sweep Alaskans into the climax of winter sports season. The state's signature dog mushing, snowmobile and ski marathons dominate, often in conjunction with carnival-like shindigs back in town. Check out our winter advice page for details, and get out your dancing mukluks.
April
Alaska Folk Festival—Juneau—second week of April
The oldest music festival of its kind in Alaska, this seven-day series of concerts with free admission showcases acoustical and folk musicians from across Alaska and throughout the country. The 45th annual event in 2019 featured 130 different acts at the Centennial Hall, plus dance performances, workshops and jam sessions in other locations around town. See the Juneau Arts and Humanities Council for more details about the festival and other related musical events during the year.
International Folk Festival—Skagway—mid April
In its fourth decade, this locally popular evening of folk music is sponsored by the Skagway Arts Council, usually the Friday after the Alaska Folk Festival in Juneau. A sister event—a second evening of folk music known as the AK-YK Coffee House—is held the following day 110 miles further north in Whitehorse, Yukon Territory, sponsored by the Folk Society of Whitehorse.
May
Juneau Jazz & Classics—Juneau—first two weeks of May
Right on the cusp of real summer weather, Juneau annually hosts a two-week festival featuring jazz, blues and classical performances in venues throughout the city. The events—many free—also emphasize education and outreach, with workshops and jam sessions. The lineup typically includes many top national and international musicians and covers a wide range of styles and genres. It's an event that specifically caters to serious music lovers seeking performances as masterful and stimulating as any found in a major urban center.
Spenard Jazz Fest—Anchorage—mid-May to first week of June
An urban scene series. With both Alaskan and national artists, the annual Spenard Jazz Fest celebrates jazz and blues with live performances, workshops, parties and other events in Anchorage city venues. The main festival focuses on the first full week of June, with performances at 49th State Brewing, The Church of Love and Beartooth Theatrepub among other venues. Visiting musicians also perform exclusive house parties, for exhilarating concerts in intimate settings.
Trapper Creek Bluegrass Festival—Trapper Creek—Memorial Day weekend
A five-day camping-and-music extravaganza with bluegrass, folk, country and acoustic styles at the Boots Bison Ranch (between Mile 114 and 115 of the parks Highway.) It bills itself as "part music fest and part installation art show—an atmosphere that's like a house party in a gypsy caravan." Most people camp out. Often sells out in advance, so book ahead of time.
June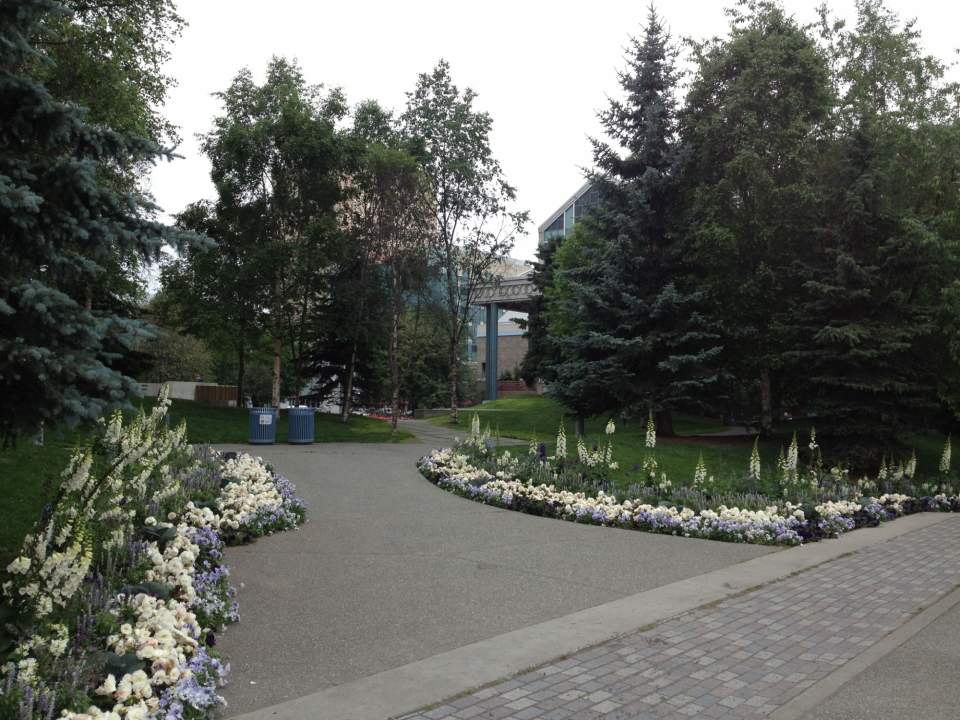 Town Square Park—Anchorage—June through August
You don't need a no-holds-barred festival event out in the country to savor live music. You can find free performances in the heart of downtown Anchorage twice each week in the Town Square Park between the Performing Arts Center and the whale mural. Music in the Park ramps up every Wednesday between noon and 1 pm. Like the scene and want another dose? Then return to the park on Thursday evening for another weekly concert. Live after 5 runs from 5:30 pm to 7:30 pm, with a beer garden and wine sampling.
Summer Folk Fest—Fairbanks— 1st Saturday in June
With just about endless daylight and summer green-up in full-explosion mode, the Fairbanks Summer Folk Fest features a full day of performances at Ester Community Park on the Parks Highway just outside of Fairbanks. Dominated by local musicians, a recent event showcased more than 15 different performers, with venders selling food and crafts. A sister festival takes place in February.
Fiddlehead Fern Music Festival—Girdwood—first weekend in June
This two-day family-oriented event at Alyeska Resort and the Sitzmark showcases live music along with booths featuring local arts, crafts and food. There will be cooking demos aimed at fiddleheads, too, with Alyeska chefs demonstrating the fine art of prepping and cooking these forest floor harbingers of summer. A series of musicians play the outdoor stages for eight hours during each festival day, with a 10 pm to 2 am Saturday night show at the Sitzmark. Plus a 5K Fun Run and kid's activities.
The Pickers Retreat—Palmer—Early June
This annual family-friendly music weekend often features more than 30 acoustic artists and groups playing old-time bluegrass, country, folk and Cajun styles at the Spring Creek Farm in the lush Matanuska Valley. With workshops, yoga, square and contra dances, and a fiddling contest. Lots of people camp on site (no dogs allowed since it's a working farm) and bring their own instruments so they can join in the jamming. Formerly the Granite Creek festival.
Sitka Summer Music Festival—Sitka—June
This well-regarded festival has been bringing some of the world's most accomplished classical musicians to Sitka every summer for the past 40 seasons for a series of performances and workshops spread over the month of June. The concerts encompass many styles and instruments, including chamber and solo performances. More than 150 artists have participated during the past four decades, many returning year after year. For serious music lovers, visiting Sitka during this period might become the highlight of an Alaska trip. With workshops, lunch and house performances, formal weekend shows, a crab feed and a dinner cruise.
Chickenstock—Chicken Gold Camp—third weekend in June
For a unique, only-in-Alaska music celebration that's off-grid and very remote, pack up your camping gear and journey into the rugged Interior mountains to the site of the former gold rush settlement of Chicken. For the past dozen seasons, the two-day Chickenstock at the Chicken Gold Camp usually features about 15 acts, with an emphasis on acoustic and roots music. Attending this family-oriented festival does require a bit of preparation and some level of self-sufficiency, like going on a serious car camping trip. Located 65 miles up the Taylor Highway from the Alaska Highway at Tetlin Junction 12 miles east of Tok. (About 400 miles from Anchorage and 280 miles from Fairbanks.)
Seldovia Summer Solstice Music Festival—Seldovia—Solstice weekend
Musicians from all over the country converge on this seaside village for a four-day festival of performances and workshops centered on the weekend closest to the summer solstice. Sponsored by the Seldovia Arts Council, the event features shows at the Susan B. English School along with open mic moments and outdoor sets around town. Seldovia—located across Kachemak Bay a short ferry ride from Homer—is a favorite weekend destination.
Back to Bluegrass Festival—McGrath—end of June
This free, foot-stomping festival brings live acoustic and bluegrass music to Anderson Park in the Kuskokwim River town of McGrath, all in support of KSKO, the community's beloved public radio station. It's a great excuse for a summer visit to this small, friendly town better known as a major checkpoint during the Iditarod Trail Sled Dog Race. With local venders selling food and crafts, and camping.
July
Forest Fair—Girdwood—first weekend of July
Featuring four stages with almost non-stop live music, the Forest Fair most recently featured performances by more than 60 different artists and groups, appearing for a combined total of more than 70 hours over the course of a long weekend. (Including a Sandlot Debut Stage aimed at budding musicians under 18) This very popular annual festival—founded 45 years ago—is just as famous for its many artisans and venders selling artwork, crafts and food from scores of booths and kiosks. Artists and entertainers come from all over the state.
Soundwaves Music Festival—Harding Lake—Saturday after Fourth
This unique, on-the-water music festival brings a flotilla of boaters (including swimmers using floats) to Bingle Camp on Harding Lake about 45 miles southeast of Fairbanks on the Richardson Highway. With the bands performing from a stage on a big dock, the audience takes to the water to bask in the hot Interior Alaska sunshine and enjoy an eclectic mix of rock, funk, bluegrass, mambo and ukulele! The concert runs 2 pm to 9 pm, with venders offering food and memorabilia.
Jammin' at the Rapids—Delta Junction area—early July (weekend after Fourth)
This two day outdoor music fest brings live acoustic music and spontaneous old-time picking to the eastern quadrant of the Alaska Range near Black Rapids Glacier. Held by the Lodge at Black Rapids, the event features great homemade food and dancing beneath Alaska's endless midsummer daylight. Many people camp nearby but the new lodge—built in the 2000s—has limited lodging. At Mile 227.4 Richardson Highway between Paxson and Delta Junction.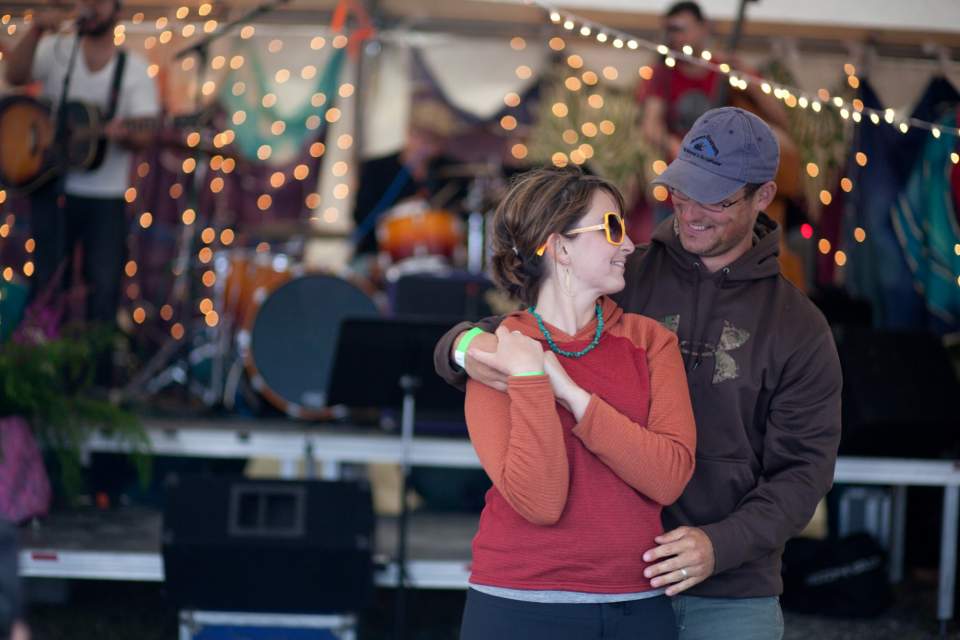 Copper River Salmon Jam—Cordova—second weekend of July
This two-day festival features two long evenings of music in "the surprisingly artsy coastal town of Cordova that lives and breathes fishing." The event—scheduled during in the peak of the fabulous Prince William Sound and Copper River salmon season—also highlights a wild-food cook-off, a couple of fun runs and a full menu of educational activities (like fish printing!) oriented toward kids. It's like a carnival, with a beer tent and venders selling food and crafts. All proceeds go to benefit the Cordova Arts Council and support year-round cultural activities in town. The town, known for its Southeast Alaska ambience and independent spirit, is off the road system and can only be reached by ferry or by air.
Cantwell Bluegrass Festival—Cantwell—mid-to-late July
A music festival featuring live acoustic bluegrass and roots music has been held in Cantwell for years. Most recently, the event has been sponsored by the Cantwell Lodging and Longhorn Saloon on the Denali Highway in the village across from the Alaska Railroad.
Fairbanks Summer Arts Festival—Fairbanks—mid July
A ten-day series of performances, recitals and workshops aimed at bringing out the inner artist in participants, the festival has been delivering mid-summer music and other artistic endeavors to the Fairbanks community for near 40 years. A recent festival hosted 173 workshops with 126 guest artists, including 54 live performances of music, dance, theater, culinary and literary arts. The 2019 edition will feature 10 stages showcasing local, national in international musicians playing the gamut of musical styles and genres.
EsterFest - mid July
This grassroots, community-oriented music and art festival is held at the Ester Community Park on the Parks Highway just outside of Fairbanks, often in mid- to late-July.
Anderson Family Music Festival—Anderson—end of July
Formerly known as the Anderson Bluegrass Festival, the event aims to showcase acoustic, bluegrass, country, soft rock, blues and original music in a family-friendly scene. With plenty of camping space, in a friendly community near Clear Air Force Station off Mile 283 of the Parks Highway.
Gakona Music Festival—Gakona—last weekend in July
A day (and sometimes two) of live music with venders selling arts, crafts and locally grown produce has been held for the past four seasons at the historic Gakona Lodge, 16 miles north of Glennallen at Mile 2 Tok Cutoff—the longest continuously operated roadhouse in Alaska. The event, with folk and bluegrass acoustic music, is oriented toward families, 12 and under free, with games, lots of camping sites, and a barbecue.
Fair season—multiple locations—July (mostly August) into Labor Day
Live performances—often on multiple stages and venues—form a big attraction at Alaska's several state and regional fairs. While not purely music festivals, these major fairs often concentrate as many national and local acts in a few days as any event put on solely to showcase music. So definitely check out the Deltana Fair and Music Festival, Southeast Alaska State Fair, Kenai Peninsula Fair, Tanana Valley State Fair and the Alaska State Fair for music possibilities.
August
Salmonfest—Ninilchik—first weekend in August
From its roots as a conservation-oriented fundraising concert to its ongoing unofficial reign as the Woodstock of Alaska, Salmonfest aims to deliver "three days of fish, love and music" by top national and local musical acts during the wet, green climax of Alaska's long summer season. Each year, more than 8,000 people converge on Kenai Peninsula Fairgrounds for the celebration, which includes venders selling food, arts and crafts. More than 20 nationally known performers are expected in 2019, with scores of additional acts playing on the event's four stages. Patrons typically spend a night or two in the vicinity, often camping at Deep Creek State Recreation Area. Proceeds go toward salmon conservation and other Alaskan environmental and cultural causes.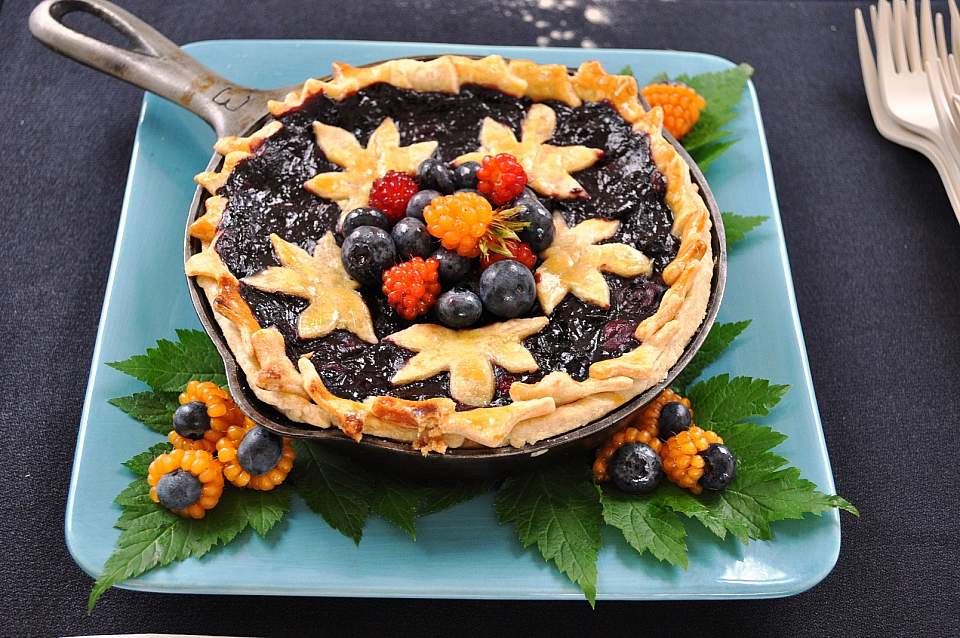 Alyeska Blueberry Festival—Girdwood—third weekend August
This annual festival celebrating Alaska's wild, super-food (with free chairlift rides to prime berry-picking zones up the slopes of the Alyeska Ski Area) also features two full days of live musical performances. Recent festivals have featured nine or ten artists collectively playing about 20 hours on Saturday and Sunday on the Alyeska Resort grounds and in the Sitzmark. Includes a couple of fun runs, blueberry creations and pie-eating contests.
Kantishna Music Festival—Kantishna—third weekend in August
This unique music festival deep inside Denali National Park has brought national acts and local talent to perform bluegrass and roots music in a remote setting with Denali looming on the horizon. Sponsored by Kantishna Air Taxi, the festival is more than 90 road miles up the Denali Park Road at Skyline Lodge. Since private vehicles cannot be driven to Kantishna, visitors will need to make plans for travel and accommodations.
September
Seward Music and Arts Festival—Seward—last weekend September
This annual three-day "musical soiree" on the shore of Resurrection Bay is the final send off for Seward's busy summer season, typically featuring two dozen musical and dance performances spread over about 24 hours of performance time Friday through Sunday. Held indoors at the Dale R. Lindsey Alaska Railroad Intermodal Facility, the event also offers a tasty food court, a community art show and activities for kids.