Photo Credit: Guests land for a photo op on a flightseeing tour with Alaska Air Service
How to See the Knik Glacier
The 25-mile-long Knik Glacier snakes out of the Chugach Mountains before tumbling dramatically into an iceberg-studded lake that feeds the Knik River. With a five-mile-wide face and daily calving, the glacier's an impressive sight: Its 400-foot-tall walls of ice rise up from a lake where those icebergs are floating, turning, and breaking apart.
This glacier used to wreak havoc on the Mat-Su Valley; each winter, its advance dammed up a lake, which would flood each summer. (It's been recognized as a National Natural Landmark because of the phenomenon.) But glacial recession has stemmed the flooding and created a six-square-mile lake at the glacier face.
Today, the Knik Glacier is an easy trip from Anchorage (flights are as short as 90 minutes round-trip), as well as the Mat-Su Valley, and there are some great tours to get you up close to the spectacle.
How to See the Knik Glacier
By Land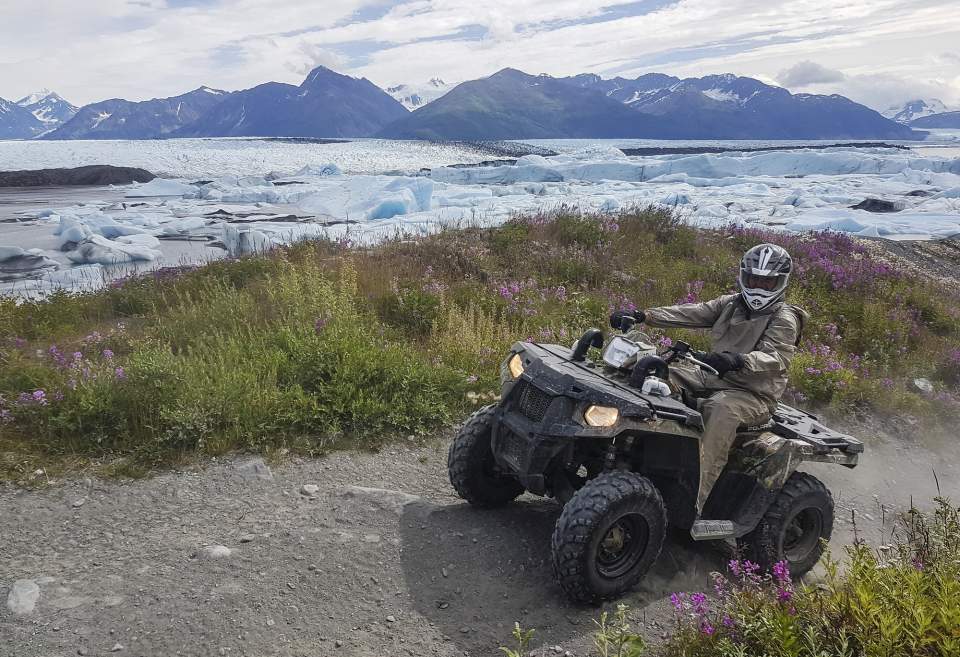 There are no roads here, but you can travel a 25-mile trail by ATV up the Knik River. You'll stop in front of the glacier and marvel at the bobbing icebergs, with the glacier's face forming a picturesque backdrop. The 50-mile round-trip tour, which takes 6­–8 hours, is an incredible way to experience Alaska's backcountry.
If you don't have time for a full-day ATV adventure and would rather stretch your legs, there's a great short hike that serves up a distant but beautiful view of the Knik Glacier. The West Butte Trail, on Bodenburg Butte near Palmer (just 45 minutes north of Anchorage), makes for a short (1.5-mile) but steep hike. At the top, you'll see the distinct blue of this stunning glacier.
By Air
You'll find one of the most spectacular views of this glacier from above. Flightseeing trips pass over the glacier, with opportunities to land on or near it. You can also helicopter in for some hiking or paddleboarding; there's even a dog-mushing camp on the ice! Many tours of Knik Glacier also include nearby Colony Glacier and Lake George.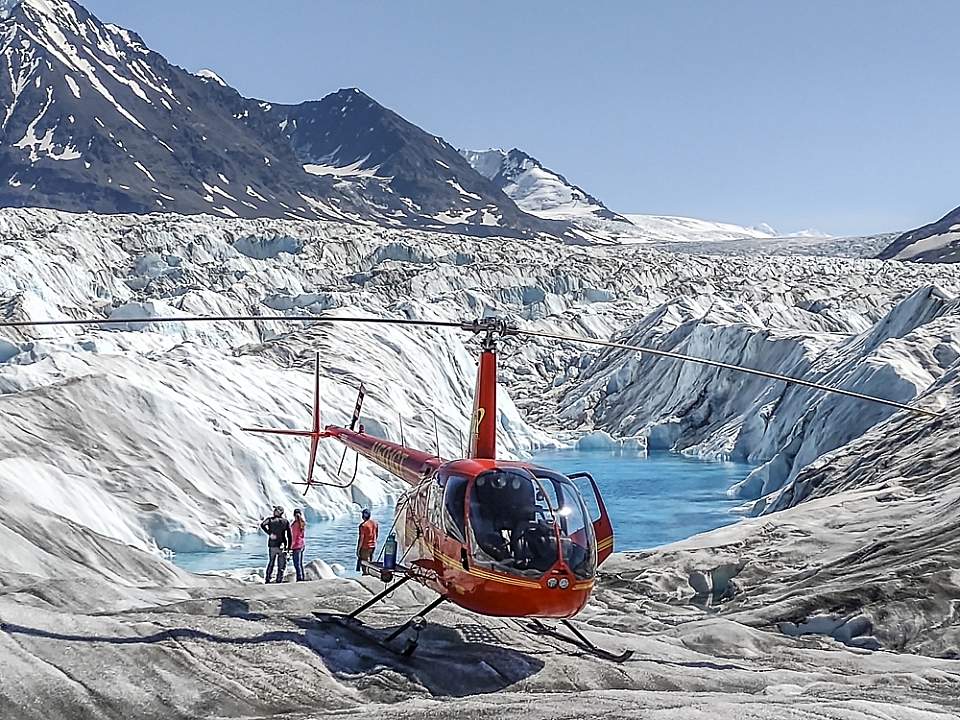 On the Big Screen
If you can't visit Knik Glacier in person, try the next best thing: Seeing it on the silver screen. The spectacular blue ice has been in several Hollywood movies, like "Star Trek V" and "Avalanche."