Photo Credit: Manitoba Cabin
The Kenai Peninsula offers an impressive number of public use cabins, allowing visitors and locals alike to experience some of Alaska's most pristine wilderness, often for between $50 - $75 / night. These cabins are cozy but primitive. Your own sleeping pads, bags, gear, food, and fuel are required (each cabin will note its fuel source, whether wood-burning stove or other). But what they lack in "comfort amenities", they more than makeup for in "Alaska amenities"; solitude, glistening alpine lakes, fishing, miles of hiking trails, and more.
Need a ride? While some cabins are trail accessible, others require a float-plane to reach. Contact Scenic Mountain Air to arrange your transportation.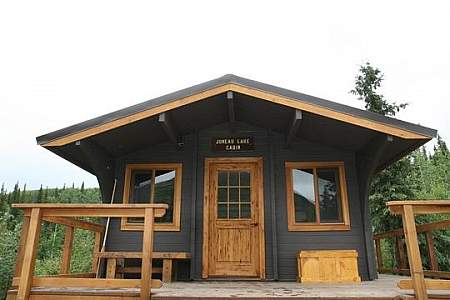 This cab­in is sit­u­at­ed along east shore of Juneau Lake. A rus­tic cab­in with counter space, a table, bench­es and a wood stove for heat. Sleeps eight with bunks for six. Oth­er fea­tures include a split­ting maul and saw, an out­house — and a canoe with pad­dles for explor­ing the lake. Hal­ibut Cove is a lit­tle jew­el tucked away in Alaska's first state park, Kachemak Bay State Park. The park area is a total of 400,000 acres of moun­tains, glac­i­ers, forests, coast­line and ocean. Vis­i­tors fre­quent­ly observe sea otters, har­bor seals, por­poise, and a vari­ety of whale species.