Photo Credit: Brent Reynolds
Getting There
| | |
| --- | --- |
| Anchorage | 0.5 |
How Long to Spend
1 night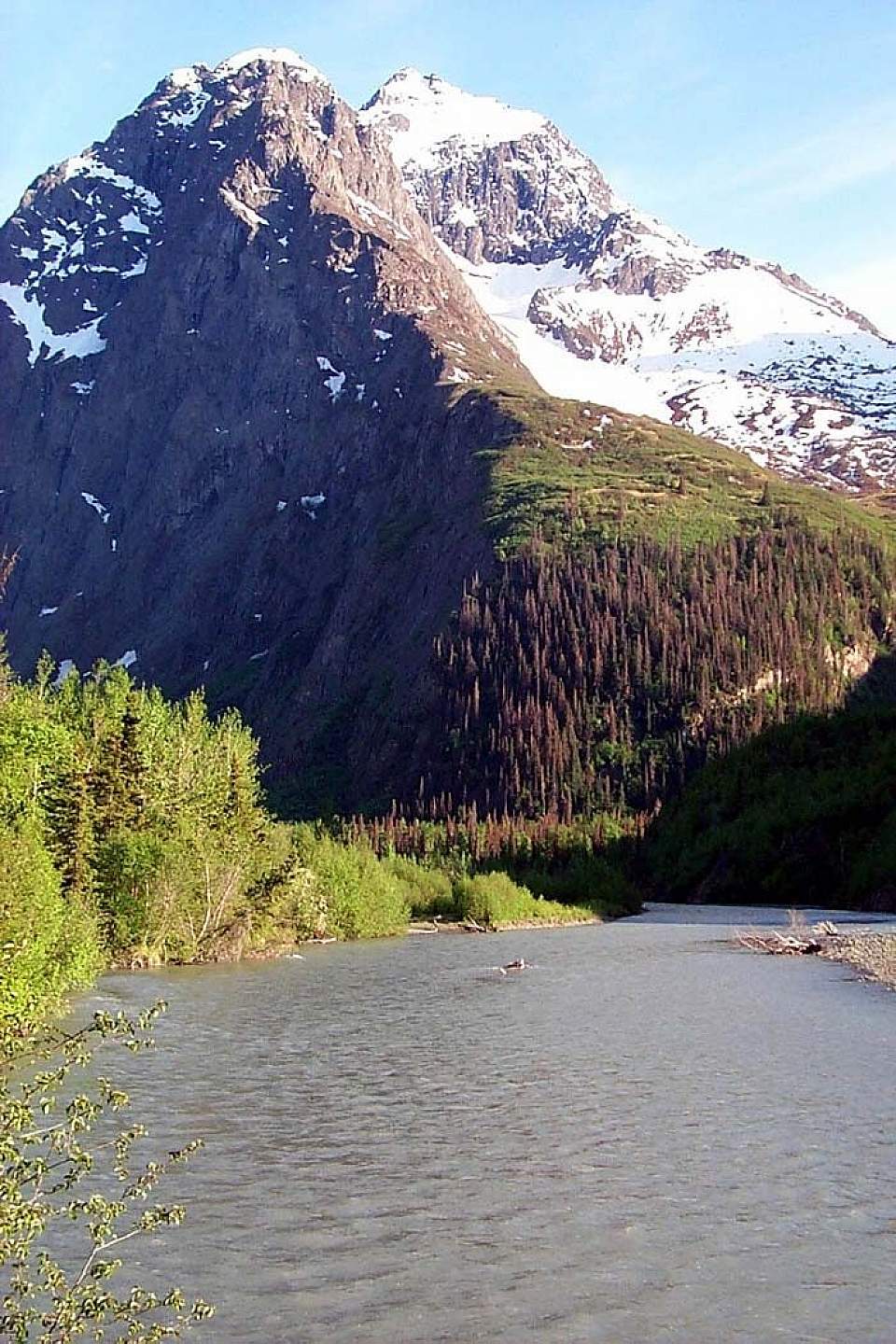 Want to explore a wild river bottom with bears, moose, wolves, salmon and eagles? Launch an alpine hike only minutes from shopping? Enjoy a small-town festival in the shadow of big mountains? Eagle River is an independent-minded bedroom community about 12 miles up the freeway from Anchorage in the mouth of Eagle River Valley. It's connected to rural Chugiak, Birchwood, Peters Creek, Thunderbird Heights and Eklutna—all sharing a strong sense that their place is separate and more down-to-earth than the big city to the south. Its geography is definitely stunning—slopes looming over a broad valley that reaches deep into the Chugach Mountains. And yet you'll find gobs of human-scale activities.
At first, Eagle River might seem like a suburb for commuters, with subdivisions and a downtown district dominated by strip malls. But don't let a drive-by first impression put you off. This community of 28,000 has that only-in-Alaska dynamic, where L48-style residential neighborhoods have mega-fauna for company, where everyone knows six different 15-minute drives leading to wilderness. The area features full services, groceries, shops, restaurants and lodging—plus an extensive trail system along the river, a state parks campground, and direct access to the high country.
In fact, you could as easily base your entire Alaska vacation in Eagle River as in Anchorage, with almost identical access to all the fishing, adventures, wildlife viewing, flightseeing, day cruises and other classic attractions of the Last Frontier. Right outside Eagle River in Peter's Creek, you will find the modern luxury loft vacation rental, Loft in the Clouds, which offers a rooftop deck with 360-degree views of Cook inlet!
Eagle River is 15 to 20 minutes closer to Denali National Park and the salmon streams along the Parks Highway, and less than an hour to the Mat-Su Valley destinations. (A half hour to Palmer / Wasilla and the Alaska State Fair!) Looking south, the ski resort town of Girdwood is an hour's drive and day cruises to see tidewater glaciers in Whittier is about two hours.
And there's a hidden gem: Eagle River Road reaches 12.6 miles into the mountains, ending at the Eagle River Nature Center where you'll find naturalists, programs and recreation advice. It is a remarkable gateway into the heart of Chugach State Park.
Favorite Attractions
Getting There
Eagle River is inside the Municipality of Anchorage about 12 miles north of downtown, on the Glenn Highway just beyond a swath of mostly undeveloped military land. Take one of three freeway exits—Eagle River Loop at Mile 11.6 (best access to Eagle River and Hiland roads,) Old Glenn Highway & Eagle River Road at Mile 13.5 (direct access to the business district,) and North Eagle River at Mile 15.5.
Things to Do in Eagle River