Eagle River Parks & Trails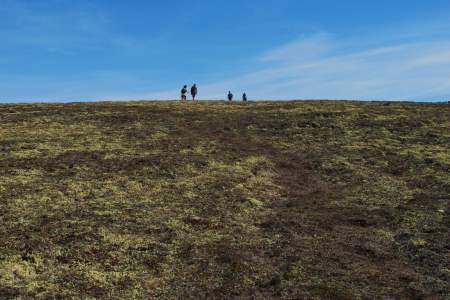 Difficulty: Difficult Distance: 2 miles Elevation Gain: 2100 feet
It's not as dif­fi­cult as you might think to hike to stand atop the pre­cip­i­tous, gul­ly-scarred face of Bear Point. But it's not easy, either. The 2‑mile hike ascends 2,100 feet and can be tricky. But your reward is an amaz­ing view in all direc­tions, from the Kenai Penin­su­la to Denali and the Chugach Moun­tains to Matanus­ka Peak.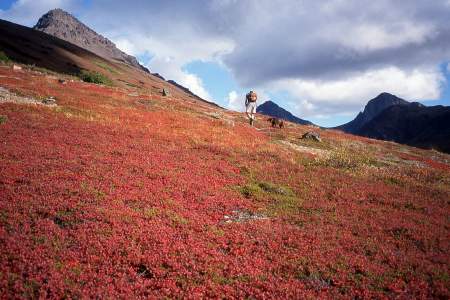 Difficulty: Moderate Distance: 3 miles
If peo­ple sug­gest climb­ing Flat­top, tell them you'd rather climb Ren­dezvous Peak. Flat­top is arguably Alaska's most pop­u­lar (and there­fore, most crowd­ed) moun­tain; Ren­dezvous is far less crowd­ed and offers bet­ter views from the sum­mit. See them by hik­ing up 1,500 feet to the 4,050-foot summit. Difficulty: Easy
Short, flat hike to access main braid of Eagle Riv­er. Walk is approx­i­mate­ly one mile through woods. To the right of the park­ing lot is a small­er braid of the riv­er that blends into main chan­nel in about 1 mile as well. The riv­er at this point can be float­ed very eas­i­ly, but unless you have expe­ri­ence with rapids, rec­om­mend you get out at the bridge. Although the bridge is only 5.5 miles from where you put in as the crow flies, the riv­er is… ...more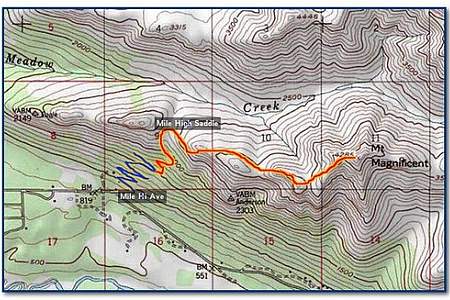 Difficulty: Moderate
The trail goes up for a short dis­tance and then joins with the orig­i­nal trail which is more direct but it cross­es pri­vate prop­er­ty. Con­tin­ue up, and when you get to the sad­dle, you can turn right onto the Mt. Mag­nif­i­cant Trail to fol­low the ridge that ends at the moun­tain, or left con­tin­u­ing along the orig­i­nal trail. The trail offers nice views of Cook Inlet and even Denali on a clear day.
Difficulty: Easy Distance: 1 mile
If you don't mind the 45-minute dri­ve from Anchor­age up to the Eagle Riv­er Nature Cen­ter, where this trail begins, this trail is one of the most scenic easy hikes any­where near Anchor­age. You'll walk a well-main­tained loop that pass­es through beau­ti­ful for­est, over a cou­ple nice wood­en bridges, past beaver deams, and along the swift­ly flow­ing glacial waters of Eagle River. This is a flat and easy trail. There is no bridge at South Fork Eagle Riv­er like you would expect. This is a nice ski trail as well. The trails con­tin­ue on to the oppo­site side of river.