For a trip that's varied, exciting and all-encompassing, go Ultimate! Start your day taking the Alaska Railroad to Spencer Lake. From there, you'll kayak through icebergs and across the lake to Spencer Glacier. After a short helicopter ride up glacier to the ice-basecamp, you will enjoy hours exploring the blue ice before you settle in for the night, after enjoying an Alaskan seafood dinner of course! The next morning, after a hot breakfast, experience more glacier exploration before you are whisked backed to Girdwood in style by helicopter.
A whirlwind of experiences
The Ultimate Glacier Overnight is a continuous journey of amazing experiences in two adventure-filled days. The Ultimate Overnight gives you flexibility to go at your group's pace offering the most time spent on the ice. The entire journey is guided by experienced and accommodating glacier guides who will help you understand Alaska's natural history and will provide the instruction and tools you need to explore in style.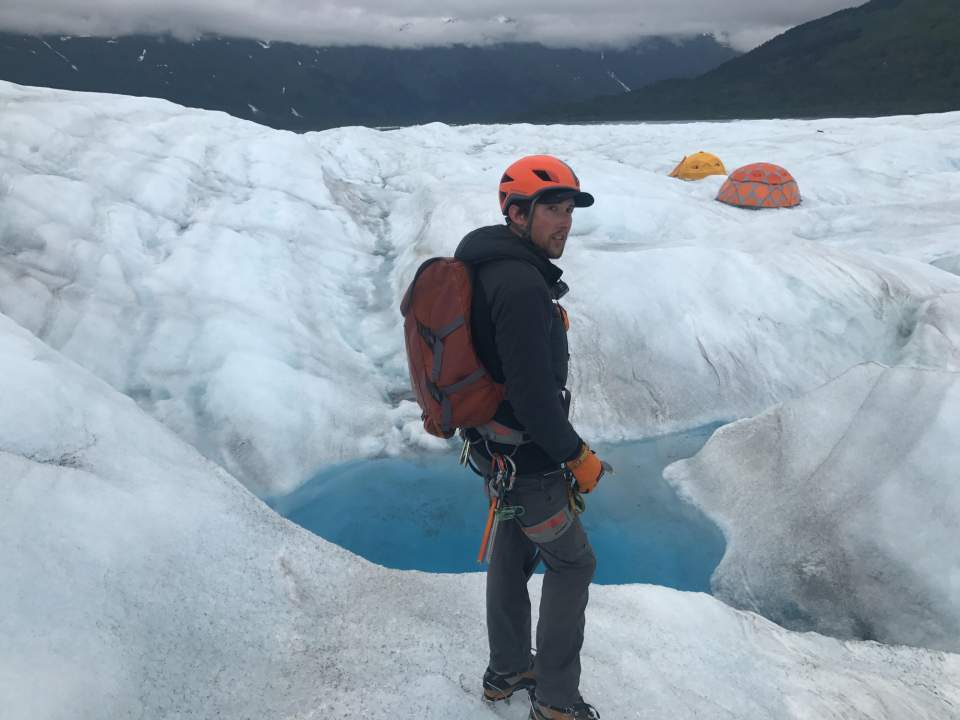 Train
The Ascending Path Shuttle will meet you at noon in Girdwood and drive you to the Portage Rail Depot, where you'll hop on board the Alaska Railroad Glacier Discovery Train. Sit back and enjoy the scenery as the train passes through the Placer River Valley on its way to the Spencer Glacier Whistle Stop. You'll be served a catered deli lunch (turkey or vegetarian with gluten free options on request) that you can eat on board.
Kayak
Once off the train, you'll head to the edge of Lake Spencer to gear up for a surreal kayak journey through dark glacial meltwaters, gliding through an iceberg forest. The paddling isn't strenuous, but you'll be on the water about two hours checking out icebergs, taking photos and enjoying the immensity of Spencer Glacier on the approach.
Glacier hike
Once you land your kayaks near the glacier, a half-mile hike takes you to the helicopter for a short ride up glacier to the ice-basecamp. After hors d'oeuvres and settling in at camp, you'll get geared-up with helmets and crampons. Together with your expert glacier-guide, you'll explore incredible glacier features such as: blue ice, crevasses, ice caves and moulins. You'll learn about Alaska's natural history, glaciology and will have plenty of time for photos along the way! Try ice climbing as an add-on - you may be surprised by your affinity for vertical adventure once you're harnessed up with ice axe in hand!
Glacier camp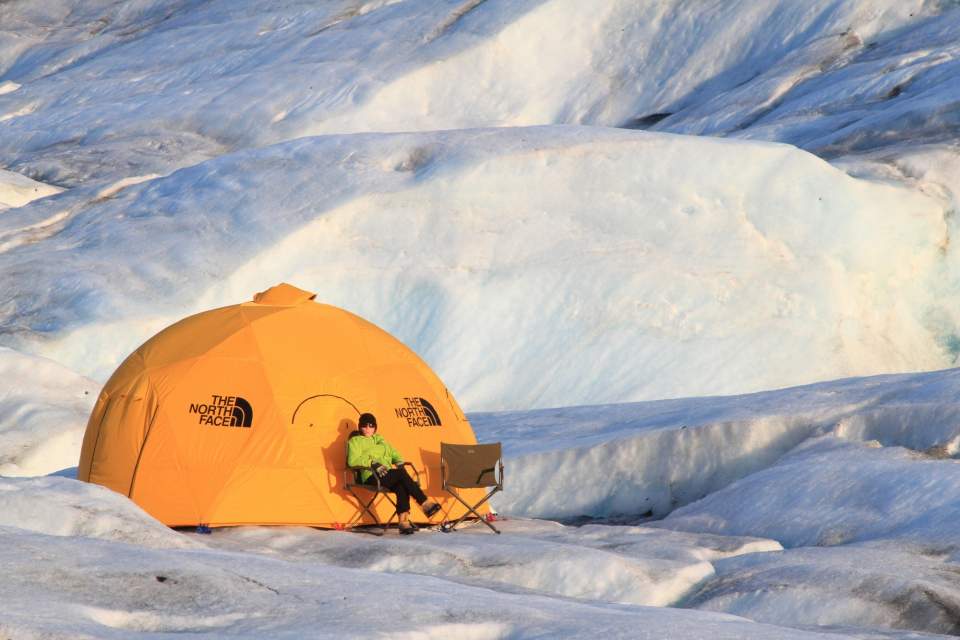 After ice exploration, your Camp Manager will be waiting for you with snacks, hot drinks and a tour of camp facilities. The Everest Base Camp style tents are comfortable for your entire party, offering spacious areas for gathering, a table for eating or playing cards and window portals that let in natural light.
For dinner, you'll enjoy a scrumptious dining experience with incredible panoramic views of the glacier, lake and mountains. You'll be served locally sourced meals, like Alaskan crab legs or salmon with pasta, salad, dessert and hot drinks.
Although it's evening, you'll enjoy the midnight sun casting unique shadows and patterns throughout the Placer Valley and surrounding mountains. Finally, settle into your cot and cozy sleeping bag with pillow for this once-in-a-lifetime experience: spending the night on a glacier! Awaken the next morning to hot coffee, cocoa or tea and hot oatmeal. You'll have plenty of time for more glacier exploration and lunch before the helicopter pick-up for your flight back.
Scenic helicopter ride
There's nothing cooler than a grand exit and the last part of your adventure delivers! Your helicopter will land right on the glacier and pick you up for a 20-minute scenic flight back to Portage or Girdwood. At lift-off, you'll get a totally different perspective of the area with an aerial view of the glacier, lake, mountains and river valley.
About Ascending Path
The owners of Ascending Path, Matt and Heather Szundy, live the business. (In fact, they met on an ascent of Denali!) Matt and Heather have spent their adult lives exploring, from Nepal and New Zealand to Antarctica and Alaska. Matt has guided for Hollywood film crews, acted as a stunt double for ice climbing films – and was even called on by the White House to guide President Obama on a 2015 trip to Exit Glacier.

Here are some of the reasons Ascending Path is the go-to guiding company for so many:
Exclusive access
Ascending Path is one of three permitted operators at Spencer Whistle Stop in the Chugach National Forest. Ride the train to the Spencer Whistle Stop and then travel by van for closer access to the Spencer Glacier. Ascending Path nurtures relationships with clients and local partners – such as the Alyeska Resort, Alaska Railroad and Alpine Air – so that visitors can have convenient access to Alaska's wilderness areas.
Accomplished and enthusiastic mountaineer guides
Ascending Path is the rare guiding company that employs expedition guides for day trips. Your adventure may be led by a guide who has summited Denali, kayaked on month-long ocean expeditions and/or climbed in the Himalaya mountains. Enthusiasm and love of the outdoors is something the Szundys look for in every guide they hire. So, when you opt for an Ascending Path guided trip, you're guaranteed a fascinating adventure filled with tons of interesting facts (and maybe a corny joke or two).
Small ratios
Each hike offers a small group to guide ratio. Small groups have less impact on the environment and allow for maximum interaction between guests and guides. Having a fun, friendly and attentive guide can make a regular outing a spectacular day. Learn about glacier formation while kayaking or walking beside an iceberg-strewn lake. Discuss the uplift of coastal mountains and then identify wildflowers. Strap into a harness and crampons to learn about glacier hiking firsthand while viewing crevasses as you explore an ancient ice field. The pros here not only guide, but they teach and inspire - and with very small ratios, you won't be lost in a crowd. Each trip is customized to your skills and interests. No previous experience is necessary!