Photo Credit: Skagway Scooters
1-2 hours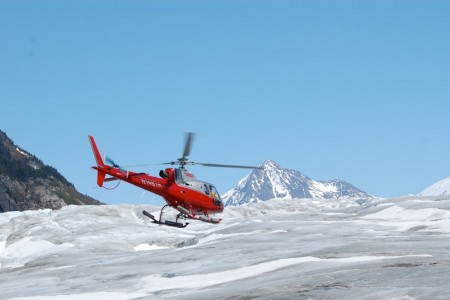 Season: Apr 23 to Oct 07 $339+ 80 minutes
Tak­ing a TEM­SCO heli­copter tour shows off the Gold Rush lands around Skag­way in a new light, reveal­ing gor­geous, glac­i­er-filled val­leys, tum­bling water­falls and peak after icy peak at the north end of the Juneau Ice­field. Then land on a remote glac­i­er for an excit­ing guid­ed jour­ney on ice that was formed thou­sands of years ago!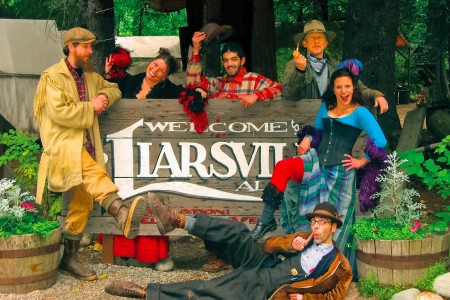 Season: May 01 to Sep 30 $61 2 hrs
Walk the fine line between folk­lore and gold fever. The Liarsville Camp, near Skag­way, was orig­i­nal­ly named after jour­nal­ists who came here dur­ing the Klondike Gold Rush and cooked up all man­ner of tall tales. The event begins with an all-you-can-eat feast in the for­est. Then explore the old trail camp and fin­ish off your day with a vis­it the Fan­cy Goods store. You can also have your pic­ture tak­en with one of the dance hall girls or the camp's ...more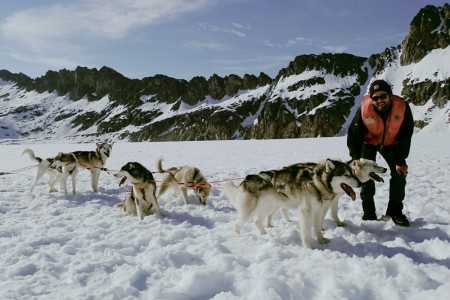 Season: May 12 to Aug 15 $549+ 2 hrs
Dog sled­ding on a glac­i­er is the ulti­mate blend of Alaskan adven­ture, as you also get there by heli­copter! Board a TEM­SCO flight that whisks you thou­sands of feet above sea lev­el to the Den­ver glac­i­er and a dog mush­ing camp hid­den away on a snow field, where Alaskan sled dogs will greet you ener­get­i­cal­ly, ready to take you on the ride of your life.
Other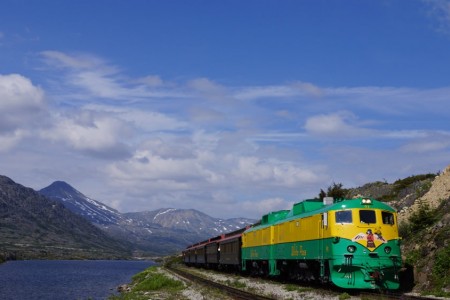 Season: May 01 to Sep 28 $39+ 4 hrs
Take the train out of Skag­way to some of Alaska's best hik­ing. Not just any train, though, but a Gold Rush-era, nar­row-gauge train that winds through gor­geous scenery and drops you off at the trail­head. The White Pass & Yukon Route Rail­road winds through stun­ning scenery on its way to drop you off on hik­ing trails that offer water­fall, moun­tain, and glac­i­er views. It's a fun way to gear up for a day or two of great hik­ing. The train is an ...more
2+ hours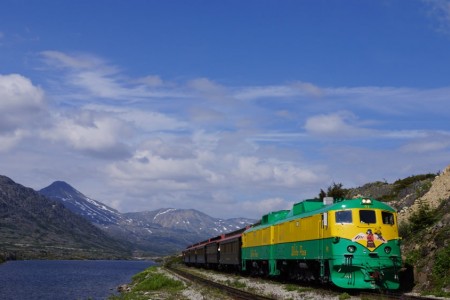 Season: Jul 27 to Oct 07 $130 2.5 – 2.75 hrs
Ride the rails on a real gold-rush era, nar­row-gauge rail­road from Skag­way into the heart of the Yukon. On the White Pass & Yukon Route Rail­road, you'll have sev­er­al trip options, tak­ing you past glacial rivers, water­falls, and gorges for a real taste of wild Alas­ka. You'll feel like you've gone back in time on this authen­tic train, as you climb 3,000 feet to scenic vis­tas and past apt­ly-named spots named Inspi­ra­tion Point and Dead Horse ...more
Season: May 01 to Oct 01 $89+ 3 - 8 hrs
Some peo­ple love the view of Alas­ka from the side of a ship, or from above in a bush plane. But this cycle shop and tour oper­a­tor based in Haines and Skag­way proves that there's noth­ing quite like the view of Alas­ka from atop two wheels, as you glide through the gor­geous­ly unique scenery. Its day trips are a fab­u­lous way for inde­pen­dent trav­el­ers and cruise pas­sen­gers to take a detour on their voy­age, enjoy­ing a dif­fer­ent pace and per­spec­tive on ...more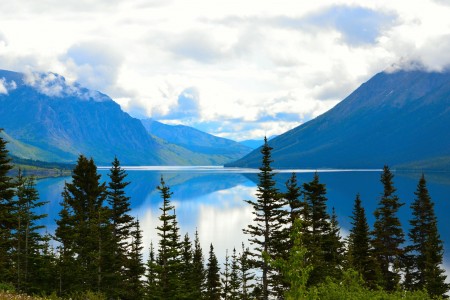 Season: May 15 to Sep 23 Private excursions, group rates for up to 14 passengers 5 - 7 hrs
Skag­way may be a quaint small town, but it offers a big lens into the Alas­ka fron­tier. This tour oper­a­tor — run by a cer­ti­fied Nat­u­ral­ist for the state of Alas­ka — offers a friend­ly and fas­ci­nat­ing way to explore some sur­pris­ing depths of the Alas­ka wilder­ness. Options include pri­vate tours rang­ing from 2 to 7 hours that explores the sights of British Colum­bia and the Yukon