Walk the fine line between folklore and gold fever. The Liarsville Camp, near Skagway, was originally named after journalists who came here during the Klondike Gold Rush and cooked up all manner of tall tales. Today, you can enjoy a fun history lesson, a feast and the chance to find some gold—which, for the record, was here all along.
First, a Feast
The event begins with an all-you-can-eat feast in the forest: wild, Alaskan-caught salmon freshly grilled over an alder wood fire, chicken, pasta, rice medley, beans, salads and cornbread—washed down with coffee, lemonade, or, for additional purchase, beer and wine. Dessert is a fabulous blueberry cake.
Step Back Into Time—and a Bordello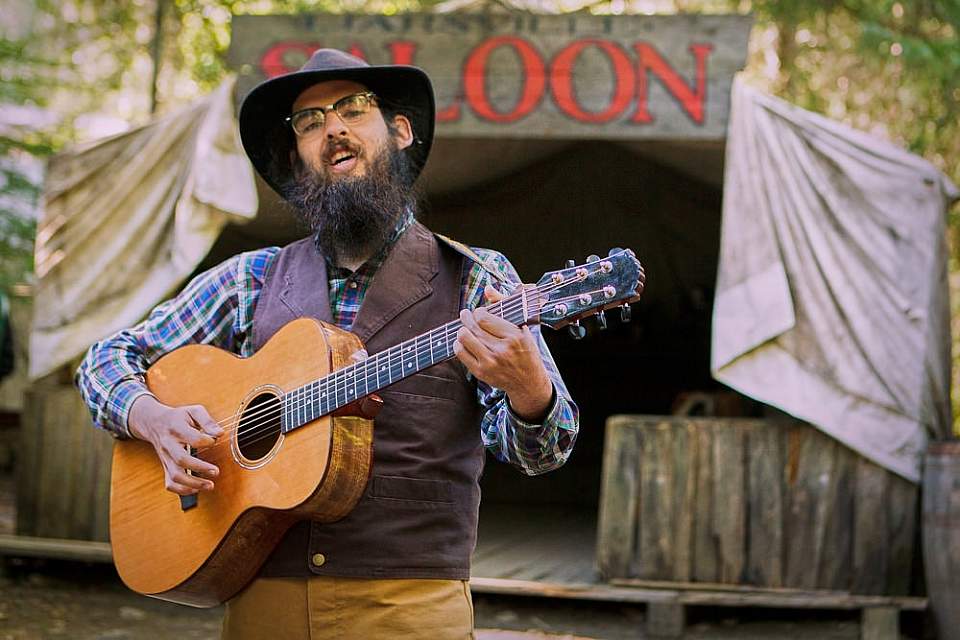 After your meal, you can explore the old trail camp—complete with bordello and laundry tents—where you can see antiques and even vintage clothing left behind by the miners and local ladies of the evening. Then, explore the neighboring waterfall and the gold fields, where you can learn, and then practice, the art of gold panning—and keep whatever you find. Next, sit down in the Hippodrome, where you can watch a melodrama with a cast of sourdoughs and dance hall girls, as well as a poem by the "Bard of the North," Robert Service.
Photo Op with a Malemute
Finish off your day with a visit the Fancy Goods store, where you can browse for souvenirs, help yourself to cookies and cider, or have your picture taken with one of the dance hall girls or the camp's lovable mascot, an Alaskan malemute named Denali.