Lake Clark National Park & Preserve Bear Viewing Tours
Bear-viewing day tours of Lake Clark's coast are available out of Port Alsworth, Anchorage, Kenai, and Homer. Lodges in Chinitna Bay and at Silver Salmon Creek offer guests an opportunity to view bears for multiple days. Less-crowded and with a less-developed infrastructure than Katmai's Brooks Camp, coastal Lake Clark is quickly becoming one of the most popular bear-viewing destinations in Alaska.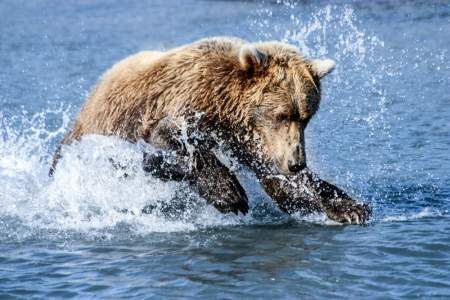 Season: Jun 15 to Sep 15 $8950+ 8 days
It's thrilling to see coastal brown bears in their nat­ur­al habi­tat, espe­cial­ly when you're not rushed. Fly out of Homer to the Kat­mai coast for five days of amaz­ing bear view­ing with Alas­ka Bear Adven­tures. Stay overnight on the Alas­ka Dawn, a 65-foot expe­di­tion trawler, so you can eas­i­ly get back to the bears each morning.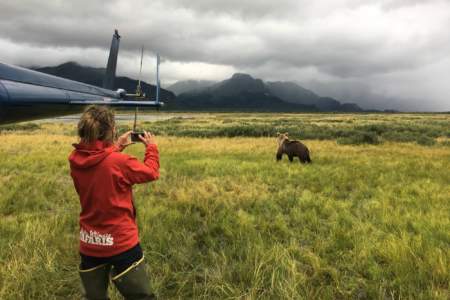 Season: May 20 to Oct 31 $799 per person 4 - 8 hrs
For many Alaskan trav­el­ers, bears are the ulti­mate high­light. Pair a mag­nif­i­cent sight­ing with a gor­geous heli­copter flight­see­ing ride and you'll have an unfor­get­table expe­ri­ence. On this unique tour from Homer, you'll take a heli­copter ride out into one of Alaska's gor­geous nation­al parks to wit­ness these spec­tac­u­lar crea­tures in the wild.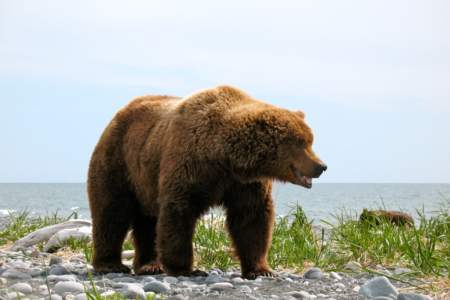 Season: Year Round $690 Bear Viewing, $185+ Flightseeing 45 min - 5 hrs
Watch bears dig­ging for clams, wan­der­ing the sedge grass, or nurs­ing their young – all in a short flight from Homer to Kat­mai or Lake Clark Nation­al Park. Smokey Bay's bear tours last about five hours total — includ­ing flights and about three hours on the ground. On any giv­en day there will always be a morn­ing out­ing (leav­ing at 8 a.m. at the lat­est) and pos­si­bly one that leaves around 2 p.m.
From Kenai / Soldotna / Sterling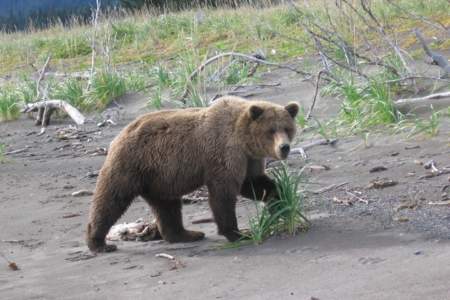 Season: May 25 to Sep 15 $410+ 2 to 3 hrs
Fly out of Sol­dot­na with Natron's own­er and pilot, Tim. You'll soar over the Cook Inlet towards Mt. Iliamna Vol­cano and land on a beach, right where the bears are. You'll watch them play­ing and clam­ming and be close enough to take amaz­ing photos.
Season: Jun 01 to Aug 31 $2195+ All-inclusive, multi-day Adventures
Alas­ka bear camp is mag­i­cal­ly hid­den in a rare Crit­i­cal Bear Habi­tat in the wilder­ness of Lake Clark Nation­al Park. Instead of hun­dreds, only 16 priv­i­leged guests observe the won­der of up to 50 brown Bears liv­ing out their dai­ly dra­ma. Due to the beau­ty of the loca­tion and the excep­tion­al bear pop­u­la­tion, the deluxe camp, with en suite biffies, beds with mat­tress­es and food flown in dai­ly, was used as a base camp for the Dis­ney movie Bears. ...more