Denali National Park Bear Viewing Tours
Where?
Your best chance to see bears lies between mile 20 and 60 of the Park Road, with the Sable Pass area at mile 39 being the sweet spot. Since the Park Road is closed to private vehicles after mile 14, your options are to ride the Park Shuttle or take a private bus tour offered by several concessionaires.
The Bears
We hesitate to include Denali in our list of bear viewing locations, because unlike fly-in bear viewing hot spots, 1) you're less likely to see them, 2) you may see only one or two, and 3) they may be far away. Yet both the Interior grizzly bear and black bear can be spotted from the road. Grizzlies or black bears may be spotted digging up roots and eating sedges, chasing down small critters or ambling across wide-open tundra. You are in a huge, protected wilderness, and seeing a massive, blonde grizzly grazing the tundra or sauntering across the road in front of your bus is truly a stirring moment.
Viewing
You'll be looking for bears, and other wildlife, from the windows of your bus. If you spot a bear, let the driver know, and they'll stop. At this point, it's great to have binoculars. Unless you choose to get dropped off by the Denali Park Shuttle Bus for a hiking or camping trip, you'll be confined to the bus and won't be wandering around on the ground too much. You can opt for bus rides ranging four hours to more than twelve hours.
Season
Since the bears in Denali are not timed to certain salmon streams, you have a chance of spotting them anytime the Park Road is open, which generally runs from the first week of June to the second week of September. Peak season is June 11-Sept 8.
These are the busses you'll ride into the park for bear and other wildlife viewing.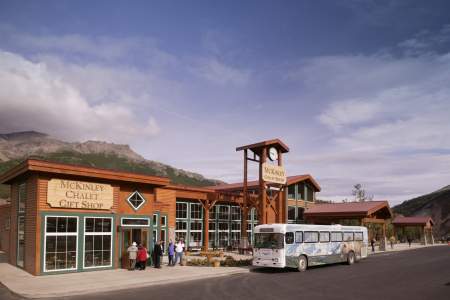 This flex­i­ble alter­na­tive to the stan­dard bus tour is an excel­lent option for inde­pen­dent trav­el­ers. Get off any­where, spend a few hours hik­ing, then catch anoth­er bus back to the park entrance (as long as a seat is avail­able). You can take a short ride before start­ing your adven­ture, or trav­el out to Kan­tish­na, at the end of the park road. See adjust­ed ser­vices for 2023.
Most Notable Bear Viewing Spots
These are the most common areas to spot bears along the Denali Park Road