Top Things to Do In Soldotna with Kids
If you're visiting Soldotna with kids, there's a lot to see, experience, and learn—it's a fantastic family destination! Here are 10 fun suggestions.
1. Soldotna Visitor Center: Free Fishing Pole & Binocular Rentals
Have a child who wants to give fishing a try? The Visitor Center will check out fishing poles to kids 14 and under. Then walk down to the river just behind the center and cast your line. Kids don't need fishing licenses, but adults have to have one to help out. (Purchase them online or at the local Fred Meyer.) The center also has binoculars available to check out for families that want to hike the local trails and boardwalks looking for birds, river otters, and more.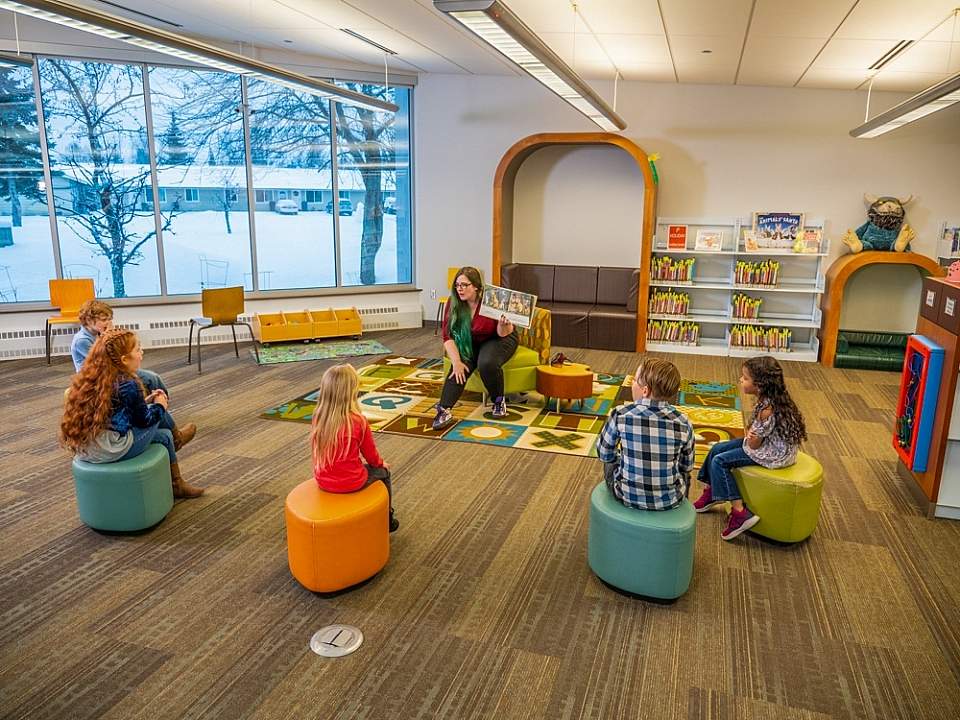 2. Soldotna Public Library
The library here is much more than just a place to check out a book! Storytime happens three times a week: once each for babies (up to 18 months), toddlers, and preschoolers. If you're going to be in town for a bit, sign up for the summer reading program. There are also some fun STEM-specific events held throughout the year, as well as movie nights with free popcorn!
3. Story Walks
During the summer months, the Soldotna Public Library sponsors a fun, imaginative story walk in Soldotna Creek Park. A book is deconstructed page by page, and each page is placed on a kiosk along the trail. Families can walk and read. The story is changed every Friday throughout the summer. There's another story walk on the Keen-Eye Trail, departing from the Kenai National Wildlife Refuge Visitor Center, that's changed monthly.
4. Kenai Watershed Forum Camps
Kenai Watershed Forum offers camps for kids ages 6–12. Some last a week, while others are single-day pop-up camps. You'll also find workshops and walks to experience and learn about the wilderness in Soldotna's backyard; they're great for families in the area for only a short time.
5. Kenai National Wildlife Refuge Visitor Center
The center features exhibits about the refuge, including a VR exhibit coming in 2021 that guides you through 3 distinct areas in the refuge. Then enjoy walks and talks on nearby trails, guided by a ranger; they last from 1.5 to 2 hours and are ideal for older kids and families. Walks on the Keen-Eye Trail are available for families with very small children in strollers. And in winter, you'll often find self-guided "discovery rooms" set up to teach kids about things like "scary" animals that are actually amazing, like bats and wolves.
6. Fun Runs, Learn to Ski, & More
The Salmon Run Series, hosted by the Kenai Watershed Forum, is a weekly series of 5K races and fun runs that takes place from July through the first week of August. Adults need to pre-register for the 5ks, but registration isn't required for the kids' fun runs (they just ask for a $5 donation). Also, the Tsalteshi Trails Association hosts programs to get kids comfortable with this world-class trail system. In winter, kids can learn to cross-country ski; in summer, mountain bike programs take place on the single-track trails.
7. Festivals & Fun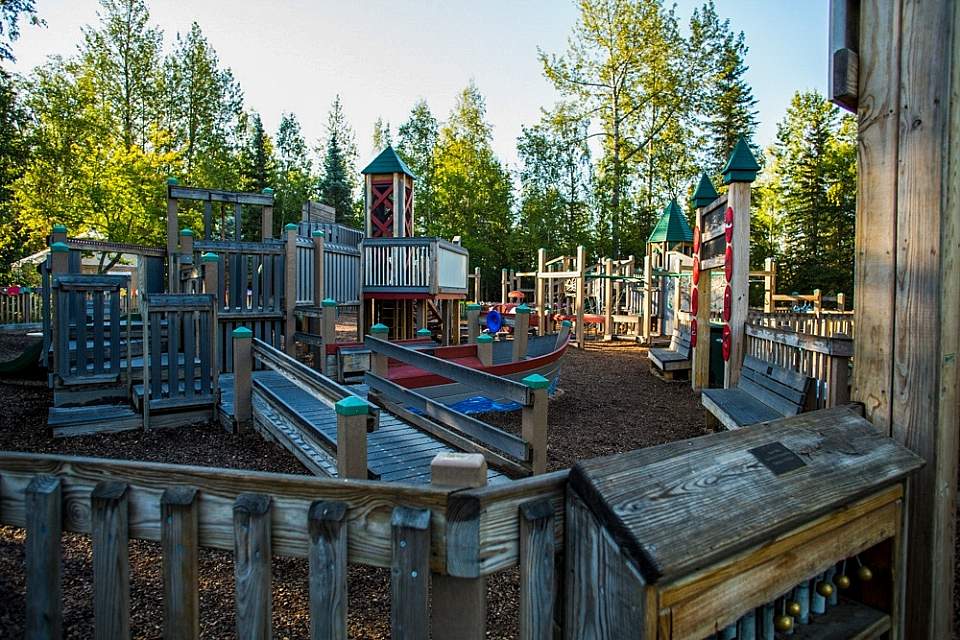 If you're here for the annual Kenai River Festival, an annual event held each early June, check out the Kids Zone for face painting, a petting farm, and an obstacle course that represents how salmon migrate upstream! The Wednesday Market takes place in Soldotna Creek Park from the first Wednesday in June to the last Wednesday in August, with food trucks, craft vendors, farmers selling fresh produce, live music, and a kids' jump house! And on the last weekend in July, you can attend Soldotna Progress Days, a 3-day event that includes a parade, live music, a rodeo, and tons of family fun.
8. Parks & Playgrounds
Karen Street Park Skateboard Park (245 Karen St.) is open to skateboarders, bikes, and scooters during daylight hours May to September; there's even a BMX track! Soldotna's biggest playground is the Community Playground (251 States Ave.) in Soldotna Creek Park, with big wooden structures, picnic areas, and restrooms. Farnsworth Park (148 S Birch St.) is a smaller playground with a small domed rock wall (perfect for tiny climbers), covered pavilion, and picnic tables. Riverview Park (337 W Riverview Ave.), located along a quiet residential street, has a small playground with picnic tables. And Aspen Park (335 N Aspen Dr.) is another residential playground with a small walking path and picnic tables.
9. Go For a Bike Ride!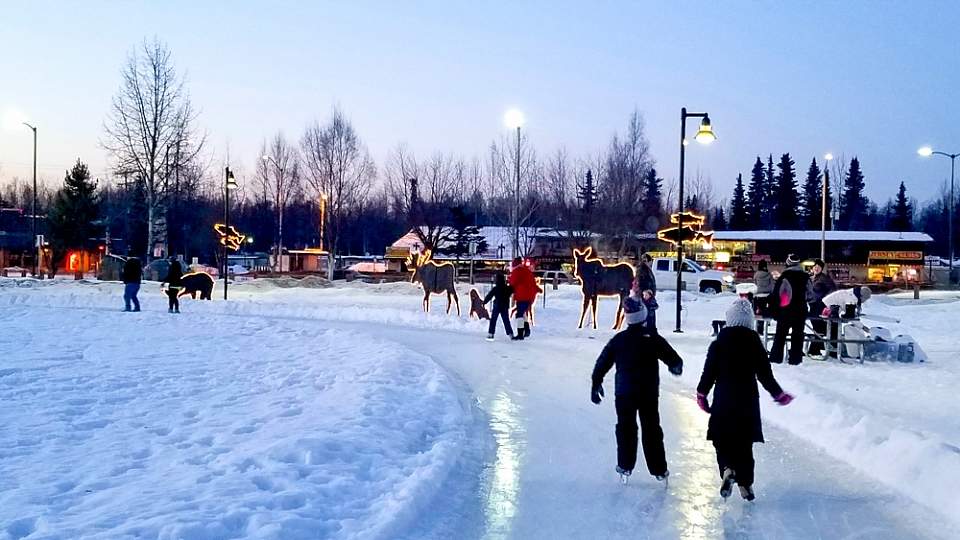 Bring a bike (or rent one) and pedal the paved Unity Trail. The trail follows Kalifornsky Beach Road (or K-Beach, as the locals call it) out to the coast, where you'll get fantastic views of Mt. Redoubt Volcano and the Alaska wilderness. Park at the Soldotna Visitor Center or the Soldotna Regional Sports Complex.
10. Winter Ice Skating Rinks
During the winter months, ice rinks maintained by the Soldotna Parks & Recreation Department pop up around town! There's an oval and several small rinks at A.R.C. Lake, along with warming barrels; sometimes they host a movie on ice! And right in town, you'll find a skating oval at Soldotna Creek Park. Several public skates are hosted throughout the winter, where the department will bring a supply of ice skates so anyone can join in the fun!