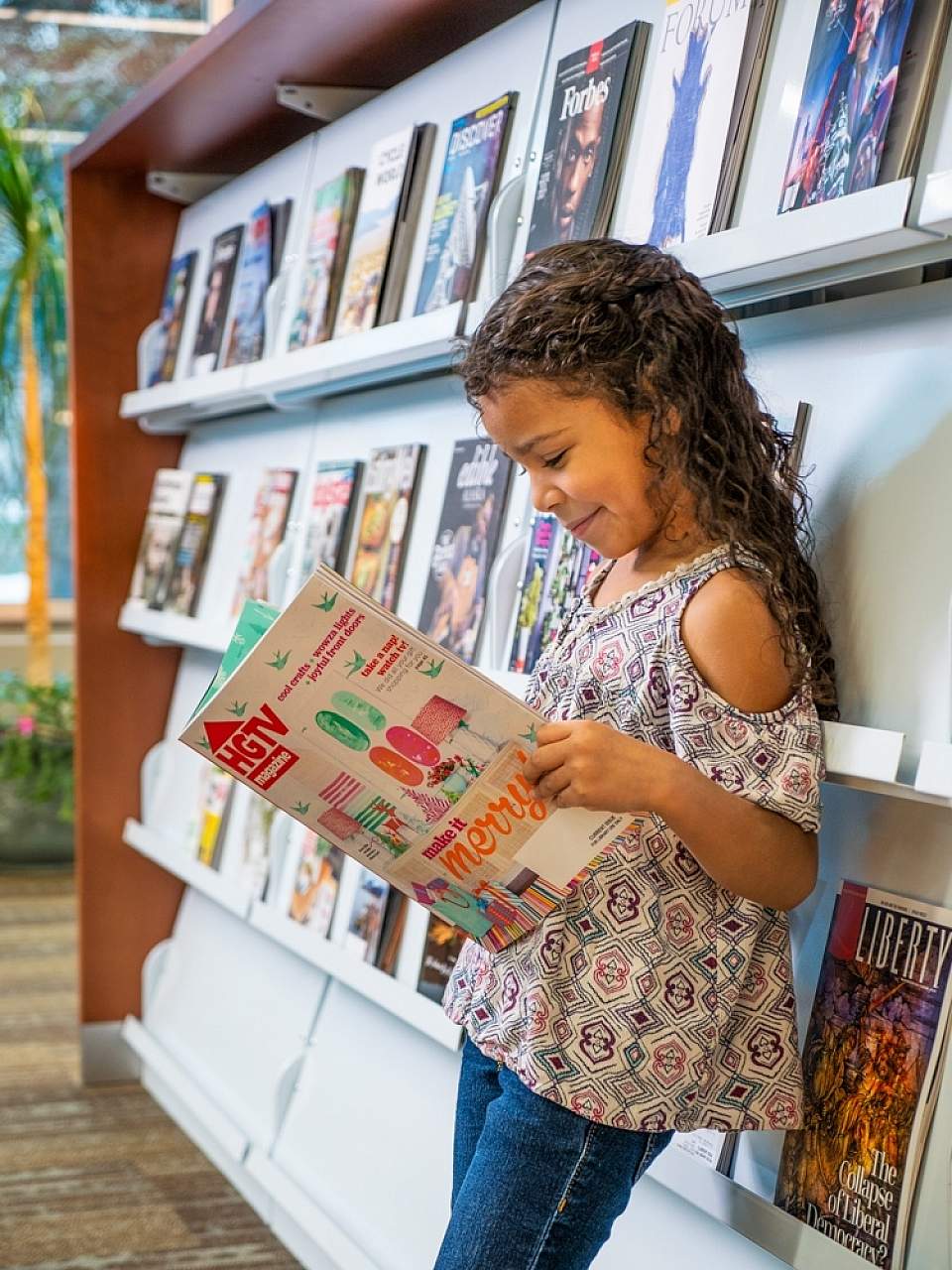 First of all, the Soldotna Public Library is so Alaskan that in winter there's a big fireplace to cozy up by! And there's much more: This large, modern library—opened in 1972 and redesigned in 2013—has tons of books on wide-ranging topics, along with interesting programs, free Wi-Fi, and meeting spaces.
Open every day but Sunday, the library is staffed by friendly locals who can help you find great books and recommend wonderful things to do in this quaint town. You can even bike here; in keeping with Soldotna's bike-friendliness, there are plenty of bike racks!
What will I find at the library?
There's a large section on all things Alaska, of course, so make the library a must-stop if you're looking for information on great campgrounds, local fishing hot spots, or hiking guides to the Kenai—or wherever you're headed next! Then read up on Alaskan wildflowers, mushrooms, trees, birds, and even herbal remedies.
You can also brush up on local history here, and explore Alaskana books and biographies. And be sure to peruse a copy of The MILEPOST, the best-selling Alaskan travel guide that breaks down 15,000 miles of state roads mile by mile. If you'd like something scanned, the library has a mini-scanner that can help capture, say, part of a map.
Curious about Alaskan cooking? Head to the robust cookbook section. If you're staying at a homeshare or a hotel with a kitchen, local cookbooks will help you whip up something with local flavors, or serve up suggestions for preparing the fresh fish you catch. And if you're heading into the wilderness, the backcountry and camping cookbooks will help you eat well.
What else? Newspapers to start your day and magazines to leaf through? Yep. Large-type books? You bet. And if you're looking for something that you can't find on the shelves—a work of fiction, perhaps, or a specific academic work—just ask, and staffers can usually get it for you; the Alaska Library Catalog connects 89 libraries around the state.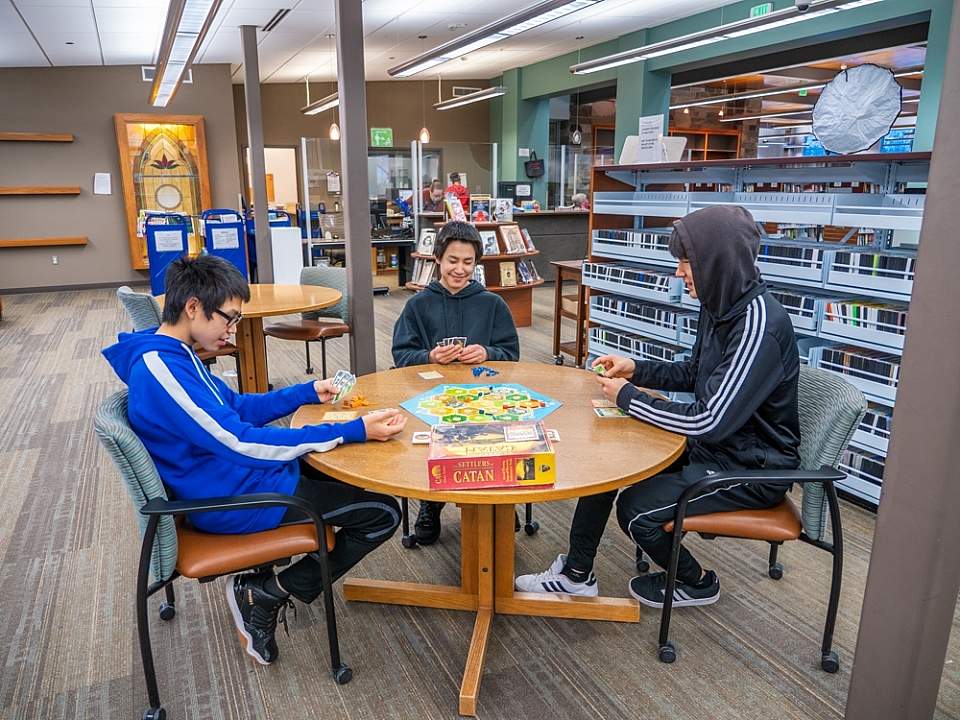 How can travelers use the library?
If you won't be in town long, borrow a paperback on the honor system; no card necessary! You can donate a book, too, if perhaps you bought a book in Alaska and don't want to pack it back.
If you're staying here a bit longer, get a visitor card and you can check out up to 5 items at a time from the Soldotna or the nearby Kenai libraries. For non-Alaska residents, these cards last 6 months and cost $25—about the same as a new hardcover book and a great value!
The card also gives you access to the Alaska Digital Library, including e-book and electronic audio books. Download them to your phone and listen while you drive—the perfect activity in a state where it takes an hour or two (or more!) to motor between most towns. There's also an extensive CD collection, as well as audio books on CD, DVDs, and some BluRays.
And be sure to support the nonprofit organization that supports the library—the Soldotna Library Friends—by buying a book near the front door for just 50 cents. Also, look for the fantastic book sale that usually happens the fourth Thursday of each month (except in July, when it's held during Progress Days, a fun local festival).
Are there programs I can attend?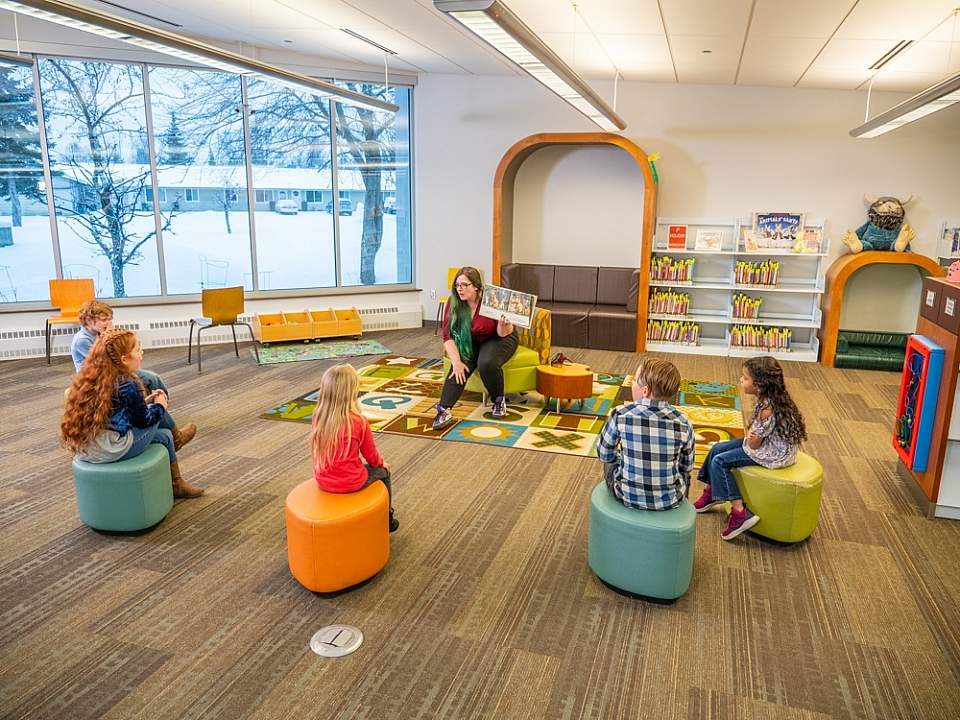 Yes! Here are just a few:
Story times: 3 per week, held outside if possible: 1 for babies (up to 18 months), 1 for toddlers, and 1 for preschoolers.
Movies are occasionally shown...with free popcorn!
Summer reading program for school-aged kids, with talks and presentations on a particular theme.
A STEM-specific event happens regularly.
Teens can enjoy weekly activities, plus special activities throughout the year. After-hours zombie tag, anyone?!
Adults can enjoy fun, fascinating weekly programs (like a composting workshop or rock painting), as well as "DIY to Go," which could be a bracelet-making kit or seeds to plant.
Adult book bingo! Each bingo space has a different theme, like reading a book with a red cover, one recommended by a friend, or something not read since a child.
What else is there?
In town for work? You'll find two meeting spaces that can seat 8–10 people; a business center with some basic office supplies; and computers to do basic work, complete with printers.