Photo Credit: Kent Miller
Alaska Waterfalls Directory
We all love the primal spectacle of a waterfall. It's the exciting roar and whoosh of the cascade. It's the mesmerizing sparkle and shimmer of the curtain over rock. It's the invigorating rush of that cool, fresh air against your face—saturated with zesty negative ions and smelling of mountain spirit. (Plus, kids love them!)
Alaska has gobs of great waterfalls both big and small—some close to parking or scenic viewpoints, some at the end of backcountry treks. The interaction of mountain topography with high coastal rainfall and snowmelt generates more cataracts than you can visit in a lifetime.
JUMP TO: MAP | Anchorage Waterfalls | Drive-By Waterfalls | Waterfalls by Boat | Hikeable Waterfalls | View All
The Easiest Waterfalls To See
Anchorage Waterfalls
You don't have to take an epic road trip to view worthy waterfalls in Alaska. Go here for directions to eight easy-to-visit mountain cascades inside or within easy drives from urban Anchorage, plus one human-engineered waterfall at a dam next to a public salmon hatchery.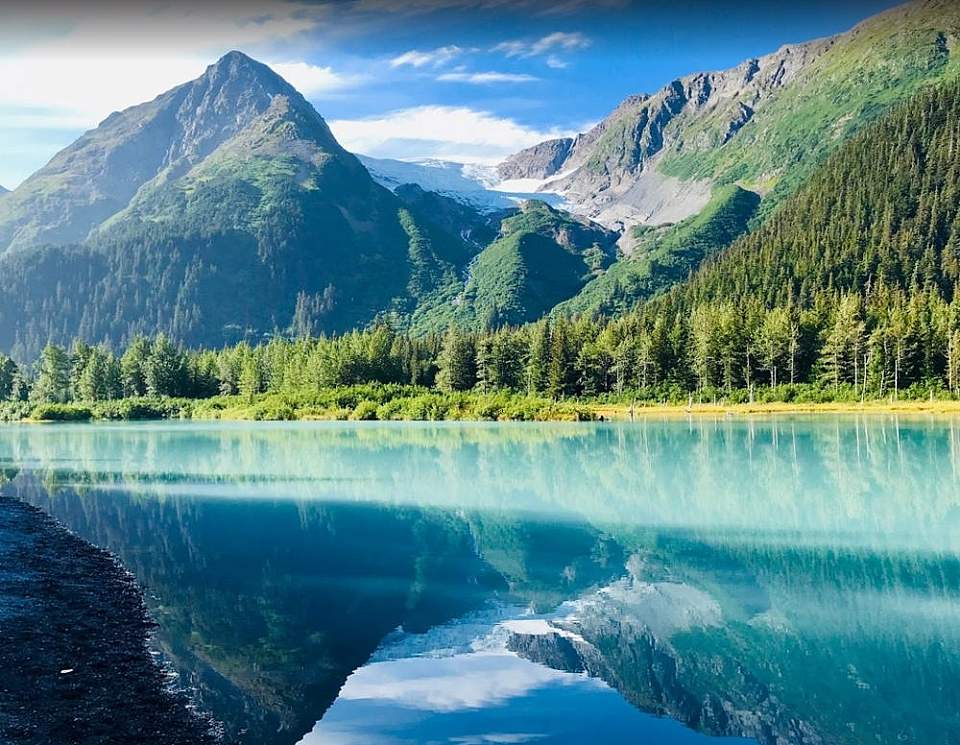 Drive-by Waterfalls
You will find waterfalls wherever Alaska highways traverse the mountains. Here are a few exhilarating gems.
McHugh Creek Falls
Seward Highway, 15 mins south of Anchorage
McHugh Creek thunders through a slot into a pool right next to parking, picnic areas and a viewing platforms. One of the most popular and accessible trailheads and waysides in Anchorage, McHugh Creek is at Mile 111 inside Chugach State Park. See Anchorage's Best Waterfalls for details.

Virgin Creek Falls
Girdwood, 45 minutes south of Anchorage
A dramatic gem of a waterfall surrounded by lush undergrowth, Virgin Creek Falls is only a few hundred feet from the end of Timberland Drive near the Alyeska Ski Resort. People say it's almost primeval. See Anchorage's Best Waterfalls for details.
Explorer Glacier Waterfall
Portage Glacier Highway, 1 hr south of Anchorage
A sparkling skein descends hundreds of feet from Explorer Glacier's hanging buttress in a postcard worthy setting—one of several nice waterfalls visible from the road in Portage Valley.
Liberty Falls
Edgerton Highway near Chitina, 4 hrs from Anchorage
This powerful, surging and very loud cataract anchors its own intimate roadside campground in the forest near the western entrance to Wrangell St. Elias National Park.
Horsetail & Bridal Veil Falls
Richardson Highway, 20 mins from Valdez
The Keystone Canyon on the final highway approach to Valdez is world famous for its spectacular waterfalls, including several that become ice-climbing destinations in winter.
Lowell Creek Waterfall
Lowell Point Road in Seward
This dramatic ocean-side waterfall erupts from a historic tunnel built to divert Lowell Creek and prevent snow-melt or rain-storm flooding in downtown Seward, and it's a doozy.
Ketchikan Creek Falls
Right in downtown Ketchikan
Just upstream from the famous Creek Street boardwalk, the falls on Ketchikan Creek and the fish ladder nearby concentrate both the richness of salmon and the vagaries of human history in one leisurely stroll. Tlingit Natives were drawn to the falls for the fishing since ancient times, as were the later pioneers who founded this popular Southeast Alaska town.
South Tongass Waterfall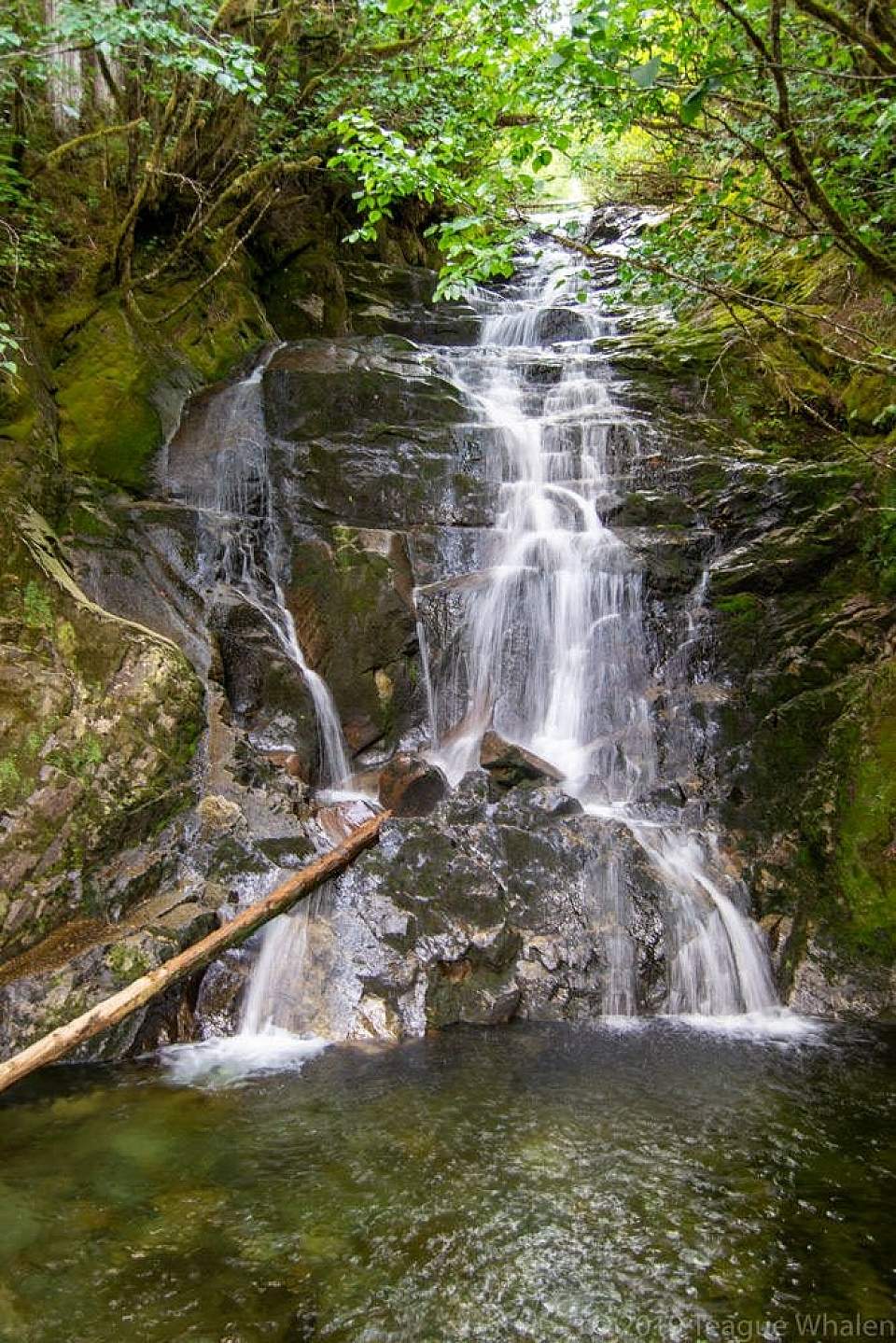 Tongass Highway, 20 mins from Downtown
Depending upon rainfall and snowmelt, this high volume waterfall fills the senses near the south end of this Southeast Alaskan town's road system.
Take a Boat to Tidewater Plunges
Boat tours out of Whittier, Seward and Valdez may market themselves as the gateway to viewing marine mammals or calving tidewater glaciers. But these popular trips swing past scores if not hundreds of spectacular and interesting waterfalls. Here are the best.
Kittiwake Rookery Falls
Whittier, Prince William Sound
This powerful, photogenic waterfall plunges into the ocean right through the middle of one of the biggest bird rookeries in Prince William Sound.
Northland Glacier Falls
Whittier, Prince William Sound
Dropping at least 500 feet into a cove inside the inner fiord for the terminus of Blackstone Glacier, this often-photographed waterfall is only one of several at the head of Blackstone Bay.
Cascade Falls
Whittier, Eaglik Bay, Prince William Sound
The biggest waterfall in Prince William Sound descends more than 170 feet off a sheer mountain face in two steps, with its final, foaming plunge filling Cascade Bay with a roar.
Hikable Waterfalls
Here are some short trips to several great waterfalls. They are family friendly, close to parking and don't require special preparation.
Gulch Creek Trail
Mile 57-58 Seward Highway, 1.5 hrs from Anchorage
While technically not a waterfall, this Class V rapid inside the Canyon Creek gorge just about explodes through a slot right beneath a narrow bridge at the start of a mining trail up Gulch Creek. It has the feel of a harrowing natural wonder.
Russian River Falls
Russian River Campground, Cooper Landing
With a viewing platform and the very real chance to see brown bears fishing for a meal once salmon migrate during summer, this waterfall is an easy round-trip hike on a good trail often accessible to wheelchairs.
Thunderbird Falls
Mile 25 of the Glenn Highway, 30 mins north of Anchorage
Perhaps the most visited waterfall in Alaska, the 200-foot cataract plunges into a gorge along an easy one-mile trail from parking and restrooms. One of Anchorage's best hiking adventures for families with kids. See Anchorage's Best Waterfalls for details.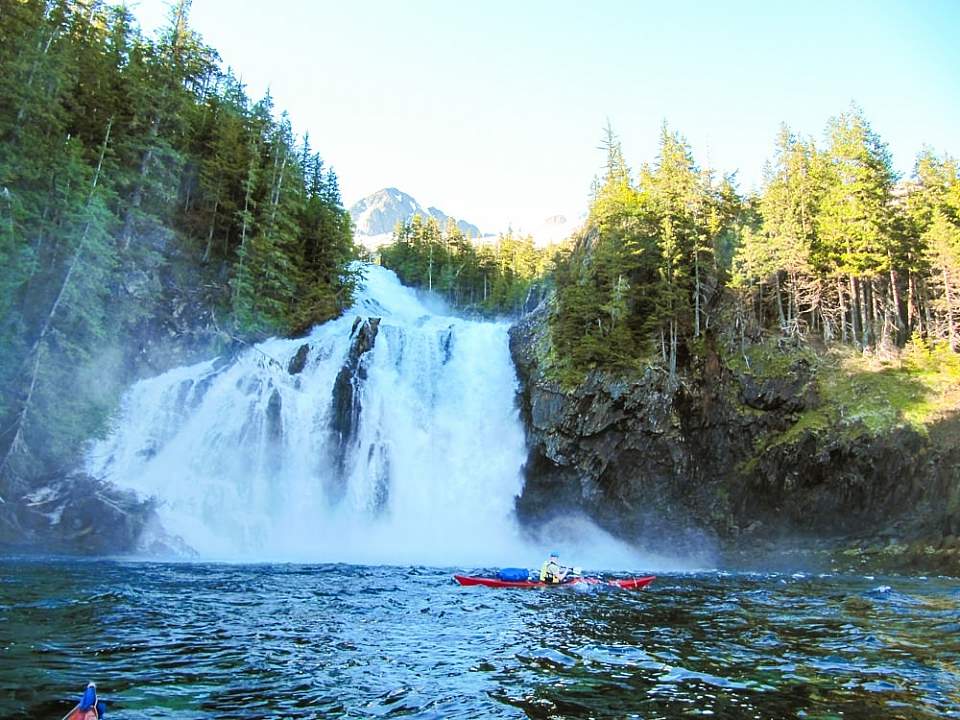 South Fork Falls (Barbara Falls)
Eagle River Valley off Hiland Road, 30 mins north of Anchorage
Almost a secret, South Fork Falls plunges about 25 feet in its own small gorge down the hill from a suburban neighborhood on the mountain slope overlooking the valley. See Anchorage's Best Waterfalls for details.
Serenity Falls
Eklutna Lake Trail, 50 mins from Anchorage
A classic mountain waterfall, Serenity threads a white line at least 700 feet down a big mountain face in a narrow valley beyond the head of Eklutna Lake. A 26-mile round-trip bike ride or hike over a mostly flat multi-use trail that's doable by fit and adventurous families. See Anchorage's Best Waterfalls for details.
Nugget Falls
Mendenhall Lake, 13 miles from downtown Juneau
This large, spectacular waterfall plunges in two steps some 377 feet into iceberg-strewn Mendenhall Lake, and is one of Juneau's most popular summer attractions. A new, low-grade trail leads about .8 miles from the Mendenhall Visitor Center to the falls.
Lunch Falls
North Tongass Highway, 18 miles from Ketchikan
A pleasant hike through a coastal rainforest leads to an overlook of this waterfall about 18 miles outside of Ketchikan on the North Tongass Highway.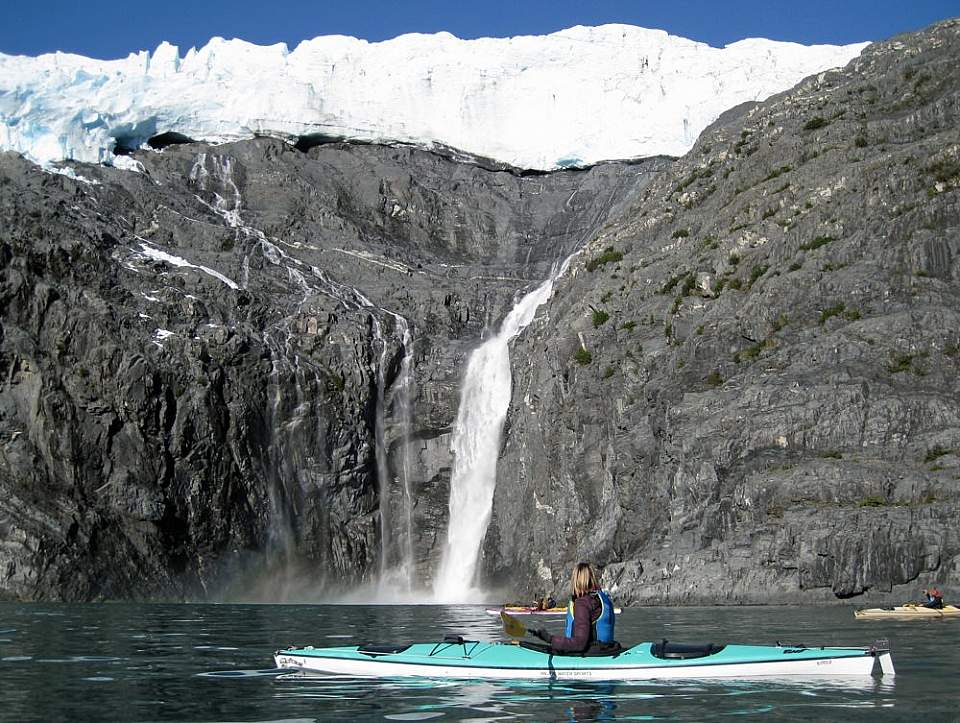 Chitistone Falls
3 – 5 day backpacking trip, Wrangell-St. Elias National Park
Want to try something epic to satisfy your waterfall fix? The Chitistone River plunges in two steps about 300 feet deep inside a gorge viewable in some places along the the gnarly Goat Trail backpacking route. This three-to-five day trip is one of Alaska's classic wilderness treks—basically legendary as a destination, with glimpsing the falls one of the journey's treasures.
General Advice:
Waterfalls thrive or shrivel based on available water. A period of hot, sunny weather will turbocharge the volume of glacier-fed waterfalls. Likewise, cataracts that drain hanging valleys will increase following big rains, while cold snaps and mountain frosts tend dry them up. Inspecting waterfalls is a great day trip when it's been pouring.
When driving through the Kenai, Chugach or Talkeetna mountains, don't hesitate to check out unofficial hiking trails along streams descending adjacent steep country. Chances are you'll find a little-known but-spectacular waterfall at the end of reasonable hike. Example: A short walk up a placer mining trail along the relatively mild Spokane Creek (Mile 64.8 of the Seward Highway, a mile north of Johnson Pass Trailhead) leads to a loud, churning downpour that has the intimate feel of a secret grotto.
Waterfalls by definition descend cliffs, scarps and steep slopes. Don't let the excitement of photographing a mass of roaring whitewater blind you to hazards. Don't lean over edges or stand on overhangs. Enjoy your waterfall from stable, solid ground with zero chance of falling. Be sure of your footing and exposure, and keep children under control.
Waterfalls
Kenai Peninsula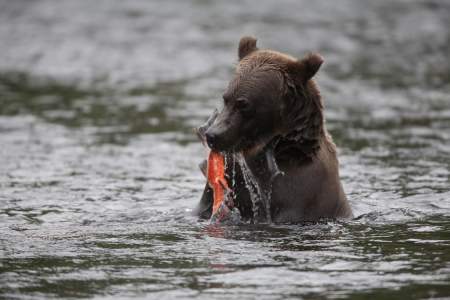 This wildlife sweet spot is worth a vis­it. The Russ­ian Lakes Trail begins off the access road to the Russ­ian Riv­er Camp­ground in Coop­er Land­ing, at mile­post 52 of the Ster­ling High­way. Get off-the-beat­en path, hike two miles to the falls and enjoy the imme­di­ate reward of spec­tac­u­lar salmon viewing. Locat­ed towards the head of Tut­ka Bay on the north side is Tut­ka Bay Falls. The beach in front of the falls is a good spot for clam dig­ging, pink salmon fish­ing and just loung­ing around. Explore along the trail that par­al­lels the water­fall and take a back­coun­try show­er in one of the pools. Be cour­te­ous of pri­vate prop­er­ty in this area.
Valdez / Richardson Highway & McCarthy / Kennicott
Juneau Area Ebn­er Falls is locat­ed on Per­se­v­er­ence Trail. There is an over­look from the trail and it's also pos­si­ble to hike down to the bot­tom of the falls for pho­tos. The falls cas­cade down rock steps for between 100 and 200 feet.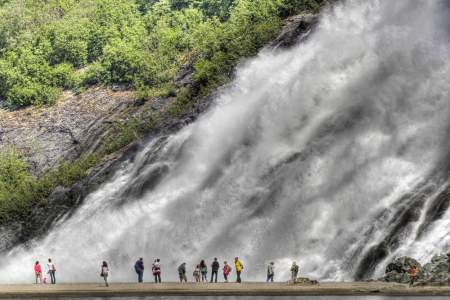 One of the most inter­est­ing nat­ur­al fea­tures near Juneau, this spec­tac­u­lar water­fall plunges about 377 feet down the rugged moun­tain­side into Menden­hall Lake about three-quar­ter miles south of the active face of Menden­hall Glacier.
Nome As you con­tin­ue north, Dorothy Creek flows out of moun­tains to the left past the red cab­in on the far bank of the Nome Riv­er. About one mile up the creek is a scenic water­fall. While there is no trail, some peo­ple vis­it the water­fall by cross­ing the open tun­dra on the south side of Dorothy Creek and clam­ber­ing down the steep incline either just above or below the waterfall.
Whittier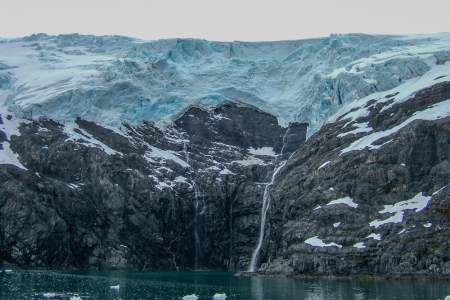 This 500-foot cas­cade plunges into a cove sur­round­ed by immense cliffs along the north­west wall of the inner fiord for Black­stone Glac­i­er in Prince William Sound. One of the most pho­tographed in the region, this water­fall is eas­i­ly viewed dur­ing a day cruise from Whittier.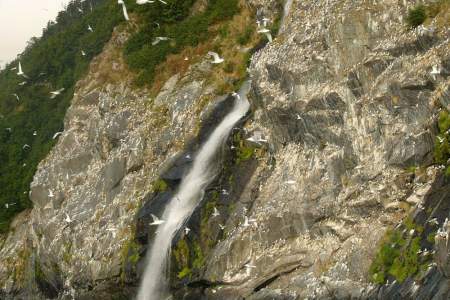 A stun­ning 200-foot water­fall cas­cades from moun­tain cliffs into the waters of Pas­sage Canal just across from Whit­ti­er. The falls — a stop on most marine tours and a pop­u­lar des­ti­na­tion for kayak­ers — pours right through one of the largest bird rook­eries in Prince William Sound.