Photo Credit: Kerry Howard
One of the most interesting natural features near Juneau, this spectacular waterfall plunges about 377 feet down the rugged mountainside into Mendenhall Lake about three-quarter miles south of the active face of Mendenhall Glacier. Powered by meltwater runoff from hanging Nugget Glacier, the cataract makes its descent in two tiers—99 feet and 278 feet—before gushing into the chilly, aquamarine water. Before the glacier receded over recent decades, the falls was said to actually splattered onto the ice itself. Some accounts say accumulating water would spread out across the glacier surface.
The falls are just one aspect of the Mendenhall recreation area, with stunning views of retreating Mendenhall Glacier and a lake that can jostle with royal blue icebergs. The visitor center features a multitude of museum quality exhibits, while the outdoors offers beach access and many hiking trails, including the mossy rain forest stroll to the base of Nugget Falls.
Best Viewing Spot
Hike to a sand-and-gravel flat that fans out along the lakeshore near the base of the falls, and let the immense foaming dazzle and roar fill your senses. A new, low-grade trail leads about one mile from the visitor center to the falls, a relatively easy walk suitable for families with children. You'll hear the falls before you see them!
Getting There
View on Map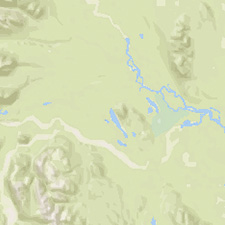 Coordinates
Latitude: 58.426297
Longitude: -134.534006
Mendenhall Visitor Center is only 13 miles from downtown Juneau. Take Egan Drive out of town past the turnoff to the Juneau International Airport and turn right on Mendenhall Loop Road. After about 2 miles, the Loop road makes a sharp left turn while Glacier Spur Road continues straight toward the mountains. Take the spur road another 1.5 miles to the visitor center.
Driving Directions