Photo Credit: Kelly Leavitt
Whittier • Best Glaciers • 1.5 hrs from Anchorage by car, 2 hrs by train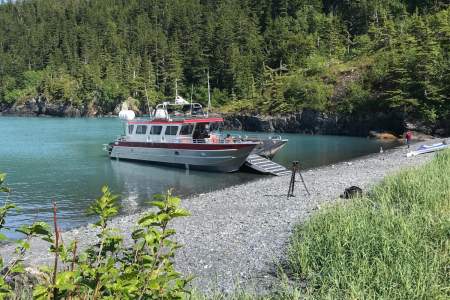 Season: Year Round $175+ 3.5 to 9 hrs
Lazy Otter offers clas­sic tours, but this is a water taxi, so they'll also take you any­where you want to go with­in Price William Sound — or just cus­tomize a tour to what­ev­er you want to see. Maybe that's glac­i­ers, or whales, — or maybe it's qui­et time on a seclud­ed beach. Lazy Otter can also help facil­i­tate tak­ing you and your fam­i­ly on a camp­ing trip. You're not held to any strict sched­ule, either: if, on a day tour, you can spend more time in one ...more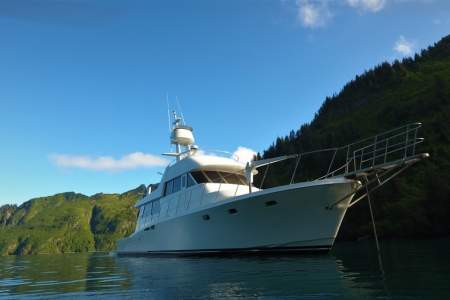 Season: Year Round
$435+ Day-trip | $470+ Multi-day
Cruise Ship Type: Small Ship Cruises
Ship Name: M/V Caroline
Spend the after­noon, or a few days explor­ing the waters of Res­ur­rec­tion Bay and Prince William Sound aboard the M/V Car­o­line, a beau­ti­ful cus­tom-built yacht set for adven­ture! It's the per­fect set­ting for a fam­i­ly or small group vaca­tion. Fill your days loung­ing on the fly­bridge, fish­ing, kayak­ing, strolling beach­es and cruis­ing to your next fan­tas­tic destination.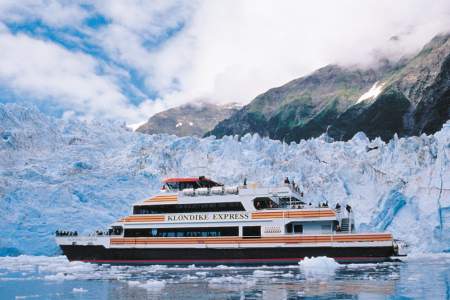 Season: May 01 to Oct 02 $159+ 5.5 Hrs
Phillips 26 Glac­i­er Cruise, out of Whit­ti­er, will take you to 26 dif­fer­ent glac­i­ers in just 5.5 hours. Enjoy cozy com­forts on the high-speed cata­ma­ran and wan­der its out­door decks as you come with­in 300 feet of mas­sive tide­wa­ter glac­i­ers. In addi­tion to glac­i­ers, the cap­tain will be on the look­out for wildlife like otters, whales, har­bor seals, and marine birds. The trip takes place in the after­noon, and a hot lunch is includ­ed in your tour. ...more
Valdez • Best Glaciers • 5 hrs from Anchorage by car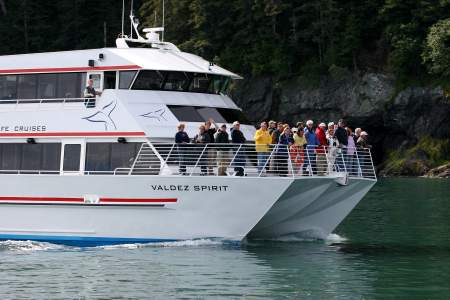 Season: May 15 to Sep 19 $140+ 6 or 8.5 hrs
This fam­i­ly-run com­pa­ny oper­at­ing out of Valdez will show you the best glac­i­ers, with great cus­tomer ser­vice along the way. On any giv­en day trip you'll like­ly see huge rafts of sea otters, horned and tuft­ed puffins, cor­morants, hump­back whales, or even bald eagles. Stan Stephens offers two dai­ly tours, one of which fea­tures Colum­bia Glac­i­er, the largest tide­wa­ter glac­i­er in South­cen­tral Alaska.