In theory, you take a glacier cruise just for the scenery. But with an operator like Stan Stephens Glacier & Wildlife Cruises, the level of personalized service can mean the difference between getting some pretty views and having a rich, illuminating experience.

For starters, Stan Stephens' tours are kept smaller than they need to be, so that everyone has room to spread out and relax. You might ride on either a 60-foot boat meant for 50 passengers, but where the tour has been kept at 40; or, you can ride an 80- to 82-foot boat, which was meant for 150 passengers, but the tours are kept to no more than 130.
Nature takes center stage. The eastern side of Prince William Sound tends to have more plentiful wildlife than the western area. On any given day trip you'll likely see huge rafts of sea otters, horned and tufted puffins, cormorants, humpback whales, or even bald eagles surveying it all from overhead.
During your cruise, you'll be served a snack, lunch or both, depending on which tour you take. Good news: Since Valdez's waters are famously calm, rough waters won't get in the way of your enjoying your food—or the rest of the day, for that matter.
Stan Stephens offers two daily tours, one of which features Columbia Glacier, the largest tidewater glacier in South Central Alaska, even though it is dropping an average 13 million tons of ice off of its face daily. Here are the two trips:
Columbia Glacier Cruise, 6 hours
This 80-mile trip keeps the face of the Columbia Glacier just safely in the distance, but you'll get an up-close look at the abundant and massive icebergs floating by. While your captain and guides fill you in on the history of the area, keep an eye out for whales, otters, marine bird, and possibly even mountain goats or bears on shore. You'll also visit to the Bull Head Sea Lion haulout, where you can see sea lions lounging on the beach or puffins fluttering around the cliffs.
Meares Glacier Excursion, 8.5 Hours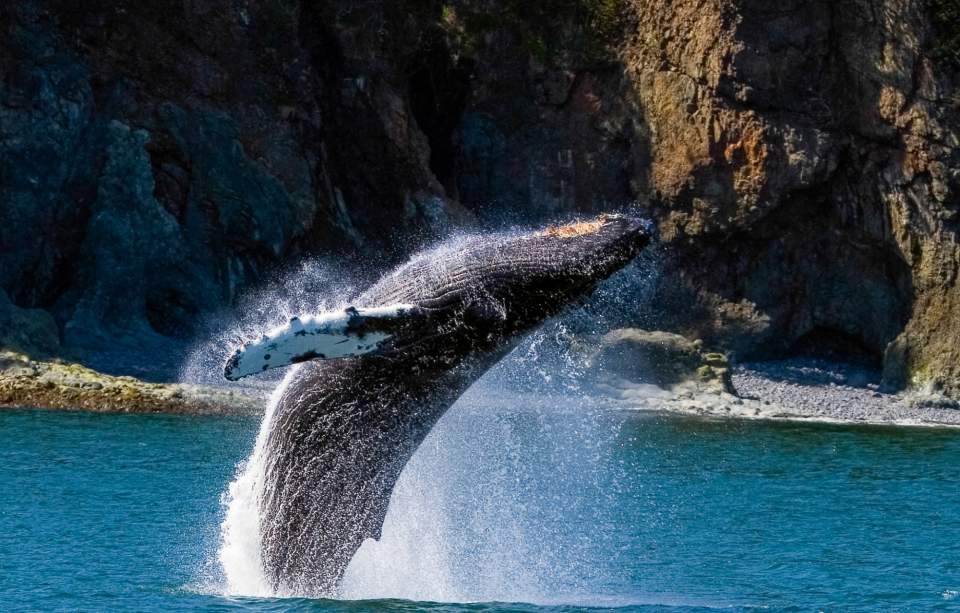 This 8.5-hour tour is perfect for the traveler who is looking to discover all of what Prince William Sound has to offer – amazing glaciers, exciting wildlife and a rich history. This tour has the time to travel the locations where we typically spot sea otters, harbor seals, sea lions, Humpback or Orca Whales, porpoise, eagles, puffins, cormorants and more.
Meares is an "advancing" glacier, meaning that it is actually adding mass as it moves—while also cutting off streams and knocking down trees in its path. As the boat approaches Meares, you'll get within a quarter mile of its face, making it easy to see it calving. The trip includes both lunch and an afternoon snack.
Stan Stephens can provide free transfer from Valdez RV parks upon request. All vessels are Coast Guard-inspected and come equipped with lifeboats and life jackets, including life jackets for children. Tours are wheelchair-accessible.
On the Columbia Glacier Cruise, the light meal consists of a bowl of clam chowder with a bagel, cream cheese and cookies. On the Meares Glacier Cruise, guests are served a lunch of chicken Alfredo with rice and steamed vegetables, as well as an afternoon snack of clam chowder and crackers. There are vegetarian options, too, but anyone with other special dietary needs should bring their own food. Complimentary coffee, hot tea, lemonade and water are served all day long.
Family-Owned & Operated
Launched in 1971 as an operator of fishing and hunting trips, Stan Stephens Glacier Cruises is still owned and operated by the Stephens family, and the company prides itself on staffing its vessels with all local Alaskans, rather than seasonal workers who may not know much more about Alaska than first-time visitors do. Most of the captains—who narrate the cruise from their open wheelhouses—either grew up in Valdez or have been here for an average of 30 years. Crewmembers, likewise, can tell you about what Valdez was like after the oil spill in 1989— Stan's boats actually carried the first response observers to the spill site. They can also share how the mining, oil and fishing industries work in Valdez today—you may even see a tanker or fishing boat in action.