Photo Credit: Wegewood Resort
For a relatively small town in a far northern location, the quality of Fairbanks lodging is impressive. Fairbanks hotels feature lots of amenities, attentive service, and unique touches to make your stay here memorable. Hotels are clustered in two main areas; Downtown, or near the Fairbanks Airport and Chena River. We've also noted which hotels are open year-round vs. summer only.
Fairbanks Airport & Chena River Hotels
This is the other main cluster of quality Fairbanks lodging, which lies near the airport along the banks of the Chena River. These Fairbanks hotels have more of a secluded feel. It's easy to believe you're away at a resort rather than staying in the city. Take the walking path along the river in the long summer nights or explore the gardens—they all have with flowers that grow big in the long Fairbanks sun. Here's where to stay:
Downtown
These offer easy access to shops, restaurants, and historic sites. Here are our suggestions:
Just Beyond Town
Fairbanks Airport & Chena River
Access to Fairbanks River Walk • Close to airport
Just Outside of Town
Still in Fairbanks, but tucked away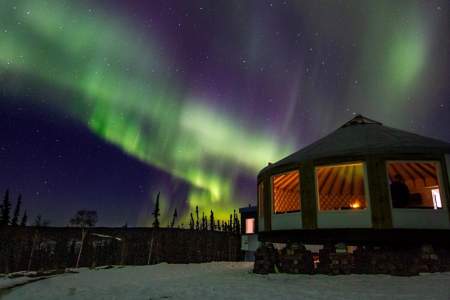 Season: August 21 – April 10, June 7 – August 18 $1746+ shoulder 2 nights 2 guests 2+ Nights
Locat­ed on a qui­et ridge­line out­side of Fair­banks, the Bore­alis Base­camp offers 20 ele­gant igloos and a new vil­lage with 5 auro­ra-view­ing cubes, includ­ing a fam­i­ly suite cus­tom-designed and specif­i­cal­ly posi­tioned to max­i­mize your view­ing of the North­ern Lights. You'll also have the chance to take advan­tage of the camps many win­ter activ­i­ties like dogsled­ding, snow­ma­chin­ing, snow­shoe­ing, and fat-tire biking.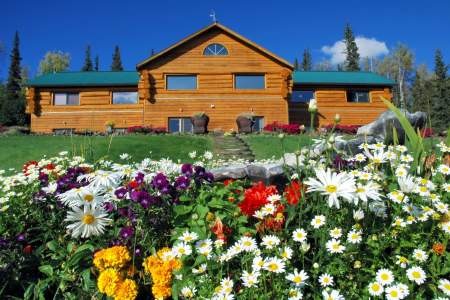 Season: Year Round $195+
At A Taste of Alas­ka lodge you'll find com­fort­able, mod­ern accom­mo­da­tions. This quaint lodge feels more like a B&B, but has all of the pri­va­cy of a hotel.
Downtown Fairbanks
Close to downtown shopping & restaurants