You're just a few minutes from downtown Fairbanks and all the major shopping sights, but at this 157-room resort hotel, located on the grounds of Wedgewood Resort, you'll feel like you've found a quiet place in the wilderness.
A Wooded Refuge
In one sense, the wilderness is exactly where you are. Set on 105 acres, the hotel is situated on the Wedgewood Resort property, which includes the 75-acre Wedgewood Wildlife Sanctuary, and neighbors the nearly 2,000-acre Creamer's Field Migratory Waterfowl Refuge. When staying here, you can walk the many paths on the beautifully landscaped grounds, do the nature trail loop around Wander Lake, and keep an eye out for all manner of migratory birds, owls, chickadees and even the occasional moose.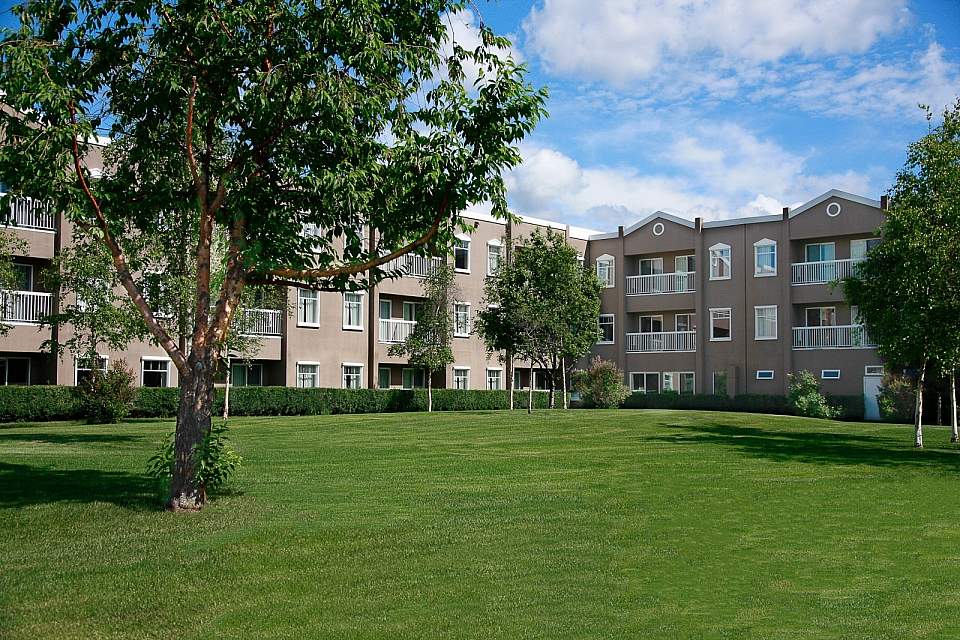 Full Service (and Free Wifi)
This summer-only hotel makes a great full-service stop on your Alaska journey. The hotel has its own restaurant, the Golden Bear Restaurant, as well as the Bear's Tale Lounge, where you can surf the Web and print. And for travelers with their own devices, free wifi makes it easy to stay connected.
A View of One's Own
The Bear Lodge rooms have their own perks, though. All of the spacious rooms (8 are ADA-certified) have their own private balconies, as well as in-room conveniences such as a mini fridge, coffee maker and bathrooms with separate vanities. Rooms are decorated in deep blues and earth tones—as well as distinct accents of green—as in, the greenery outside your window, looking out onto the resort's tree-covered grounds. (During the non-summer season—or if you need space for extended family or stays of longer than a week— you can stay in the resort's Wedgewood suites, which offer more than 300 1- and 2-bedroom residential-style suites with full kitchens.)
Vintage Cars and Activities
Aside from its new fitness center, the Wedgewood Resort offers plenty of unique resort perks, too: The grounds are home to the Fountainhead Antique Auto Museum, which showcases a large collection of fascinating autos—such as the last remaining 1920 Argonne—along with an array of authentic vintage fashions. You'll also find the Alaska Activity Island, where you can listen to stories from a lifelong Alaskan, and the Taiga Center, showing Alaska movies nightly.

The resort staff is always ready to help, too. The front desk is open 24 hours and can direct you on things to do in Fairbanks during your stay.
As another reminder that this isn't the wilderness; there are two malls, plus the University of Alaska Fairbanks, within minutes from the hotel.