Walk into the lobby of Pike's Waterfront Lodge and you'll feel like you've arrived at a remote wilderness lodge in the Alaskan bush: there's Alaskan artwork along with stuffed polar bears, moose, and caribou, as well as furniture dating from the territorial days. But really, this friendly, family-run hotel on the Chena River is pretty close to downtown Fairbanks and the Fairbanks Airport, and has plenty of big-hotel perks, such as a 24-hour fitness center and free Wi-Fi.
Homesteader History
Pike's began in 1959, when Lloyd Pike built the restaurant Pike's Landing. He had homesteaded the area under the U.S. Homestead Act just after WWII. Since then, the restaurant has washed down the river once, been rebuilt again, and is on its fourth owner, who added Pike's Waterfront Lodge to the property in 2000.
Today, the 208-room Pike's Waterfront Lodge offers free shuttles to both Fairbanks Airport and Alaska Railroad. You can choose one of the 180 rooms, or treat yourself to one of the 28 log cabins. Some of them overlook the river, where you'll find a walkway and 600 feet of perennial and annual flower gardens.
Green Energy, Mini Golf, and Ducks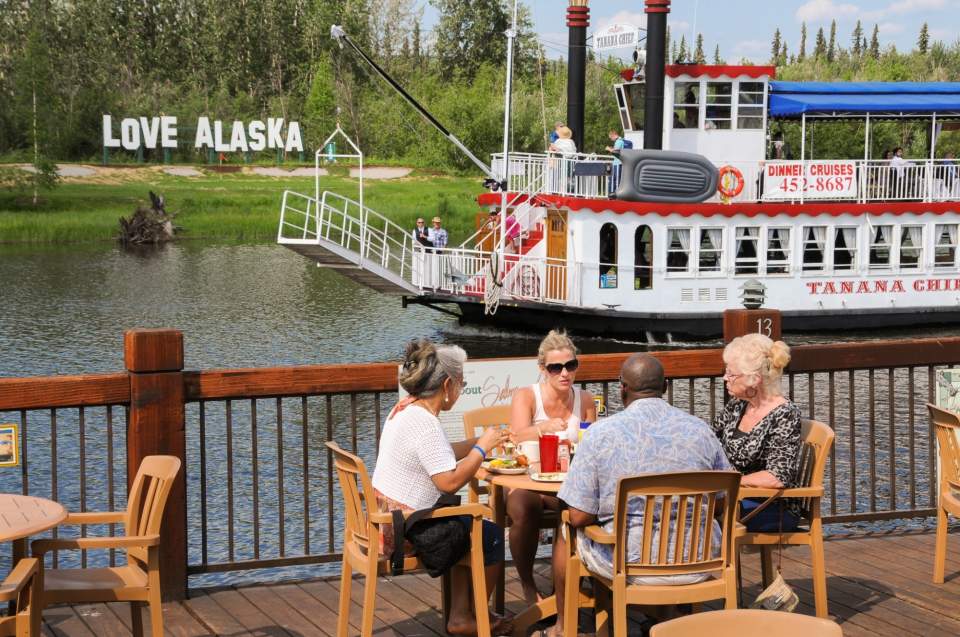 The grounds, too, have some fun, contemporary surprises. Admire the hydroponically grown lettuce, cucumbers, and tomatoes in the greenhouse. Play Bocce Ball on on of two regulation size courts overlooking the river; it's free to hotel guests Or, practice your swing on the complimentary putting green and miniature golf course. If you can get the ball across the river, it's a hole in one.
Also, be sure to admire the lodge's seasonal tenants—the ducks. They even have their own mini-hotel called the Lucky Duck Hotel which has free cable TV. Dinner for the ducks, meanwhile, is provided by you. Another energy efficient feature: Pike's has just added solar panels to reduce its carbon footprint.
Great Riverside Dining
You'll also want to take advantage of some of the many amenities at the lodge, including a winter-only complimentary continental breakfast with a make-your-own-waffle bar, an exercise room, steam, and a business center. You can enjoy American-fare lunches and dinners in the Binkley Room, and wind down with a cocktail at the "Captain's Lounge," named after Captain Jim Binkley of the Riverboat Discovery. Whenever the riverboat would go upstream, it would always dock in front of Pike's, because that was as far upriver as the boat could travel. For a real treat, though, sit down to fine dining at Pike's Landing—a local favorite—either inside or out on the deck overlooking the river.