Photo Credit: Fannie Q's Saloon
You'll find lots of great dining choices in Denali. Many restaurants are conveniently located within or attached to hotels, making for a convenient dining experience. But don't limit yourself to your hotel's offerings—everything is so close together that you can easily pop over to another property and explore its delectable menu as well. Denali also boasts some culinary gems, like the renowned 49th State Brewery just north of the park in Healy. And for a truly unforgettable evening, indulge in a delicious dinner accompanied by a captivating show at one of the two area dinner theaters. You'll simultaneously enjoy a good meal and learn about the park's rich history, presented in a delightful musical format. Locat­ed along­side the McKin­ley Creek­side Cab­ins, this café offers the space to relax and enjoy the moun­tain views while sip­ping an Alaskan beer or espres­so. Serves break­fast, lunch, and din­ner. Their hal­ibut and salmon are ocean caught and come direct from Homer, Alas­ka. They can also pre­pare food to-go for day tour and any oth­er adven­tures you have planned while vis­it­ing Denali Nation­al Park. Hours Open Dai­ly from 6am-10pm ...more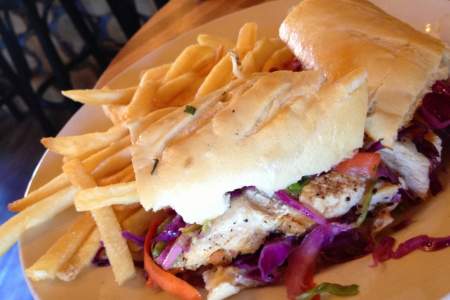 Tucked behind big wood­en doors, Prey looks pret­ty unas­sum­ing from the road — you might even miss if you weren't look­ing for it. But this restau­rant at the Denali Cab­ins — not too far from the Denali Nation­al Park entrance — is a gem with both tourist and locals.